A Hunger Like No Other
Series: Immortals After Dark #1
Author: Kresley Cole
Published: April 1 ,2006
360 Pages
Reviewed By: Kim
Kim's Rating: 4 stars
Book Description:
After enduring years of torture from the vampire horde, Lachlain MacRieve, leader of the Lykae Clan, is enraged to find the predestined mate he's waited millennia for is a vampire. Or partly one. Emmaline Troy is a small, ethereal half Valkyrie/half vampire, who somehow begins to soothe the fury burning within him.
Sheltered Emmaline finally sets out to uncover the truth about her deceased parents—until a powerful Lykae claims her as his mate and forces her back to his ancestral Scottish castle. There, her fear of the Lykae—and their notorious dark desires—ebbs as he begins a slow, wicked seduction to sate her own dark cravings.
Yet when an ancient evil from her past resurfaces, will their desire deepen into a love that can bring a proud warrior to his knees and turn a gentle beauty into the fighter she was born to be?
Kim's Review:
Oh glorious smut! Paranormal romance is my new jam and I love it! I'll admit that Emma's chip on her shoulder about nobody treating her like an adult got a little tiresome, but the steamy sex scenes totally made up for it. I also really like Lachlain as an alpha male Lykae; he's just hot, what can I say. The plot is far more complicated than any romance book I read before and I can't wait to continue the series to learn more!
Purchase Links:
Amazon US
Amazon UK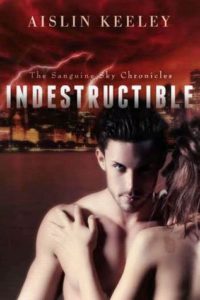 Author: Aislin Keeley
346 Pages in Kindle
Published: September 06, 2014
Dates Read: September 14-29, 2014
My Rating: 4 Stars
Book Summary from Amazon:
Baptized in battle and bathed in blood, the Emain Macha have lived among humans in silence for the past six thousand years as they pledge their lives to protect them from enslavement at the hands of a maniacal vampire known as The Host. None are more dedicated than Jaden Payne. He has a personal vendetta against his enemy and has vowed to avenge his family's deaths at all costs. But Jaden faces a new challenge with the emergence of the Firebrand. An ultimate tool of destruction, the Firebrand has the power to eliminate any obstacle in her path, vampires and humans alike.
Alice Roarke knows she's different than everyone around her. All she wants is a normal life and to fade into the background, but her blackout episodes make it harder for her to fit in. She is unwillingly thrown into the vampire world when Jaden and her paths collide because of a demon who has come back from her past to haunt her again. There's an undeniable attraction as Jaden keeps her under his care even though they are both damaged souls.
Jaden is in a race against time to keep The Host from harnessing Alice's powers as well as losing the woman who has found her way into his heart. As passions run high and time runs out, Alice and Jaden will fight the most dangerous battle of all: trusting each other.
---
My review in 2014:

Full disclosure: I have known Aislin Keeley since high school and she is still a good friend. I was a lucky one of her "Sanguine Sirens" that had the opportunity to read this book in an early draft and give my thoughts as she was writing it! I am a huge supporter of hers. Here is my review of Indestructible I wrote in 2014:
Alice is your average woman trying to move on from her past. Jaden is a vampire warrior. Their two lives intersect.
There is a different take on the vampire mythology in Indestructible. And that was a nice change. I like it when authors take vampires and change it around in some way for their story purposes.
Indestructible is for paranormal romance readers, so it isn't my "typical genre". It pulls you in from the first page and it hard to put down! I didn't know how it was going it end. And there was a twist I didn't see coming. The sex scenes were hot too! There is also some action in the book. Knowing what Alice went through in her past, it's hard to imagine how much that changes a person. She's a tough lady! I liked both Alice and Jaden. I look forward to more books in the series.
[Top]