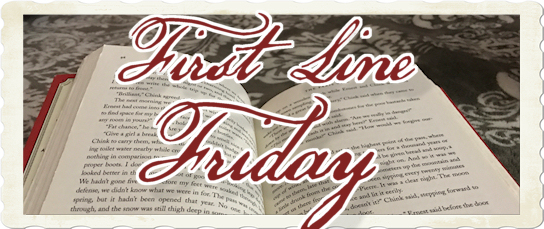 Today's First Line Friday is the first book in a very good series. I am in high anticipation for the next one as the last one left you hanging! I want to know what's going to happen next! This one is now a miniseries on BBC One that I hope to see at some point.
The buzz in the street was like the humming of flies.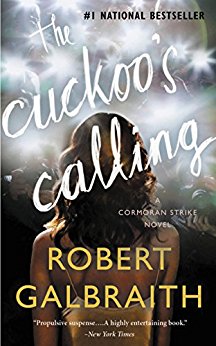 A brilliant mystery in a classic vein: Detective Cormoran Strike investigates a supermodel's suicide.
After losing his leg to a land mine in Afghanistan, Cormoran Strike is barely scraping by as a private investigator. Strike is down to one client, and creditors are calling. He has also just broken up with his longtime girlfriend and is living in his office.
Then John Bristow walks through his door with an amazing story: His sister, thelegendary supermodel Lula Landry, known to her friends as the Cuckoo, famously fell to her death a few months earlier. The police ruled it a suicide, but John refuses to believe that. The case plunges Strike into the world of multimillionaire beauties, rock-star boyfriends, and desperate designers, and it introduces him to every variety of pleasure, enticement, seduction, and delusion known to man.
You may think you know detectives, but you've never met one quite like Strike. You may think you know about the wealthy and famous, but you've never seen them under an investigation like this.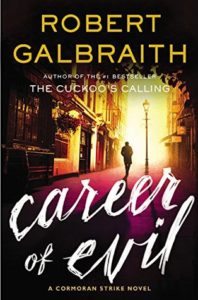 Career of Evil (Cormoran Strike #3)
Author: Robert Galbraith
498 pages in Kindle
Published: October 20, 2015
Dates Read: November 4- December 3, 2015
My Rating: 4 Stars
Book Summary from Amazon:
When a mysterious package is delivered to Robin Ellacott, she is horrified to discover that it contains a woman's severed leg.
Her boss, private detective Cormoran Strike, is less surprised but no less alarmed. There are four people from his past who he thinks could be responsible–and Strike knows that any one of them is capable of sustained and unspeakable brutality.
With the police focusing on the one suspect Strike is increasingly sure is not the perpetrator, he and Robin take matters into their own hands, and delve into the dark and twisted worlds of the other three men. But as more horrendous acts occur, time is running out for the two of them…
Career of Evil is the third in the highly acclaimed series featuring private detective Cormoran Strike and his assistant Robin Ellacott. A fiendishly clever mystery with unexpected twists around every corner, it is also a gripping story of a man and a woman at a crossroads in their personal and professional lives.
---
My review in 2015:
This is the third Cormoran Strike novel. I have read all three.  I have grown attached to both Strike and Robin. These books are very good! I enjoy a good murder mystery, so I have enjoyed these books!
I liked that we got more background for both Strike and Robin. We finally know more about Robin. And that ending!?!?! What a cliffhanger!! I need the next book…NOW!!!!
I highly recommend this series and I am anxiously awaiting the next in the series!!
[Top]