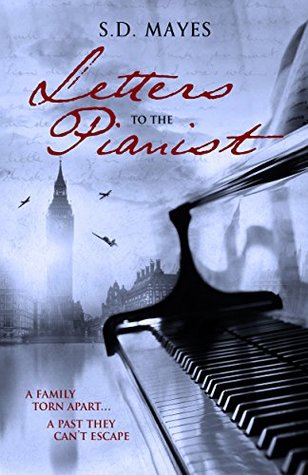 Author: S.D. Mayes
Published: September 19, 2017
487 pages
Reviewed By: Jessica
Dates Read: August 28- September 12, 2017
Jessica's Rating: 5 stars
Book Description from Amazon:
A FAMILY TORN APART … A PAST THEY CAN'T ESCAPE
In war torn London, 1941, fourteen-year-old Ruth Goldberg and her two younger siblings, Gabi and Hannah, survive the terrifying bombing of their family home. They believe their parents are dead, their bodies buried underneath the burnt remains – but unbeknownst to them, their father, Joe, survives and is taken to hospital with amnesia.
Four years on, Ruth stumbles across a newspaper photo of a celebrated pianist and is struck by the resemblance to her father. Desperate for evidence she sends him a letter, and as the pianist's dormant memories emerge, his past unravels, revealing his true identity – as her beloved father, Joe. Ruth sets out to meet him, only to find herself plunged into an aristocratic world of sinister dark secrets.
Can she help him escape and find a way to stay alive?
LETTERS TO THE PIANIST is a compelling page turner packed with drama, intrigue and suspense. If you loved The Book Thief, The Boy in the Striped Pyjamas or The Pianist, then you will love this exciting new novel.
Jessica's Review:
S.D. Mayes took a three year journey of meticulous research to bring us her labor of love with Letters to the Pianist. As you read, you can tell she put her heart and soul into this novel.  Letters to the Pianist pulls you in from the beginning by placing you in London during WWII.
We go on this journey with Ruth, her siblings, and also the mysterious pianist.  I really felt the hardships all these characters go through.  There is much more to this novel than the mystery of whether this pianist is actually Ruth and her sibling's father or not.  He questions his whole past and then his present life takes us in an unexpected direction that spirals towards the fast paced conclusion.
All the characters are extremely well developed and you will like some and some you will not.  You feel all the emotions these characters do. S.D. Mayes did a superb job! These are flawed characters as you deal with family issues, and most of all love.
If you are a fan of Historical Fiction, especially World War II then you MUST read this novel!  Letters to the Pianist is recommended.
I received an arc copy from S.D. Mayes.  Thank you so much for offering this to me for a review!