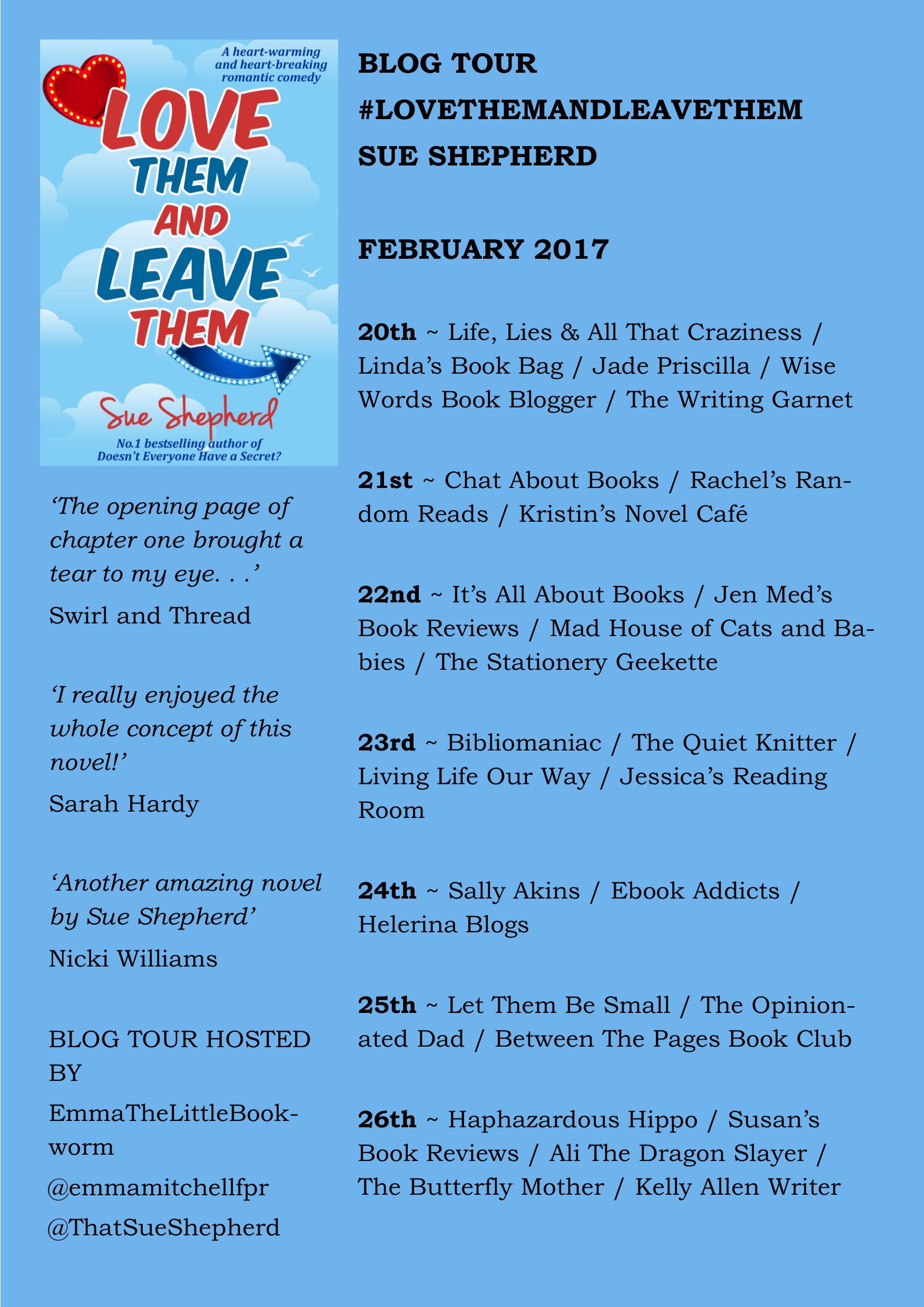 Today is my part in the blog tour for Love Them and Leave Them by Sue Shepherd. Today I am interviewing her!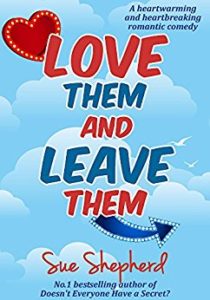 Purchase Love Them and Leave Them:
Amazon US
Amazon UK
Description of Love Them and Leave Them:
Sometimes you have to leave the one you love … sometimes you're the one who's left behind. The new heart-warming and heart-breaking romantic comedy from the No.1 bestselling author of Doesn't Everyone Have a Secret?
On his way home, Ed makes a split-second decision that changes the lives of all those who love him.
Six years on, Ed's daughter, Jessie, is stuck in a job with no prospects, her dreams never fulfilled. It will take more than her unreliable boyfriend, Chris, and temperamental best friend, Coco, to give her the confidence to get her life back on track.
But what if Ed had made another decision? It could all have been so different …
Six years on, Ed's daughter, Jessica, has a successful career, loving boyfriend, Nick, and a keen eye on her dream home. But when new clients, a temperamental Coco, and her unreliable boyfriend, Chris, walk into her life, Jessica's perfect world soon starts to unravel.
Love Them and Leave Them is a story of love, families, friendship and a world of possibilities. Whichever decision Ed makes, the same people are destined to come into his daughter's life, sometimes in delightfully different ways. And before they can look forward to the future, they will all have to deal with the mistakes of the past.
JRR (Jessica's Reading Room): What is the first book you remember reading or having read to you?
Sue: Charlotte Sometimes by Penelope Farmer. I doubt it's the first book I read by myself, but it's certainly the first one that really had an impact on me. Charlotte goes to bed in a new boarding school and wakes up 40 years in the past. She then switches back and forth through time with a girl called Clare. The book is a product of the sixties, like me! Reading it sparked my life-long obsession with all things time-travel. I remember pondering the paradoxes and trying to work it all out. It's a beautifully written piece of work, which not only gave me the interest in time-travel but also moved me. The relationship between Charlotte and Clare's sister, Emily, who Charlotte spends a lot of time with, is incredibly touching. I still read it every few years and I always feel the same excitement and see the same images in my head.
JRR: That sounds interesting! If you could only take one book with you on a desert island, which would it be?
Sue: Well now, given my answer to the first question, it won't surprise you to hear that I'd choose the novel 'The Time Traveler's wWife' by Audrey Niffenegger. I've lost count of the number of times I've read it. For me, the fact that the first time Clare meets Henry is not the first time Henry meets Clare is wonderfully enticing. Yes, I still need to keep checking, where are we? Who are we? What's going on? But I love it.
JRR: I'm not surprised with that answer. What's the best advice you have ever received?
Sue: I'd say that was a tip I received during a Creative Writing Course – 'End every chapter at a point where your reader is unable to put the book down.' It's very tempting when you're writing, to tie everything up nicely at the end of a chapter, and then move onto the next part of the story. But, seeing it from the reader's viewpoint, that becomes a brilliant place to put the book down and turn off the light. As a writer one of the best compliments I can receive is 'I couldn't put it down. I just had to know what was going to happen next.' This feeling of desperation to read on is not created by nicely rounded off chapters. For me, one of the fun parts during the editing stage is to go through the book deciding where a chapter might end. As I add a page break, I can hear my friends saying. 'Oh, for goodness sake, what a place to stop!'
JRR: Oh yes! I love books where you don't ever want to put them down! I'm a slower reader and I also like short chapters. Those make me feel like I'm reading faster. Shorter chapters also make it harder to put a book down. "Oh the next chapter is just four pages. I'll keep going!"
Now for the opposite of the last question: What's the worst advice you have ever received?
Sue: This would have to be the advice I receive from my husband every time we go on the Isle of Wight ferry. "You can drink that coffee now, it's not too hot." I fall for this advice every time, and I am here to tell you, those lattes are damn near nuclear. Each trip to the mainland starts with a burnt lip. I never learn!
JRR: Shame on your husband! Now, who would you like to star in the film of your life?
Sue: This is an amusing question because I cannot for one minute imagine anyone wanting to watch a film of my life. I mean, yes, it's been fun so far, and there have been many high points. Travelling around Australia in my youth, having babies, getting married, seeing my books published – they're all wonderful things. But, jeez, what a boring film! However, I will answer the question because you asked so nicely. What I will say here is that I am incredibly clumsy. I have fallen over whilst walking the dog on many, many occasions and I break everything I touch. Therefore, whoever plays me would absolutely have to be a comedy actress. I'm going to say someone like Jessica Hynes . I think she'd make a good job of the comedy falls. She'll need a bit of help from the make-up department to do the more recent scenes though, because she's younger than me.
JRR: She has a great name! 😉 If you could be invisible for a day, what would you do?
Sue: I asked this question at a blog party recently and I was given the answer that the person would watch her son at school, to see how he gets on. I think I would have to agree with that answer. My youngest son is thirteen and I can say, without bias, that he's an amazing mimic. He makes us laugh with his accents and comedy sketches. He provides me with lots of material for the young male characters I write about. So, if I was invisible, I'd like to watch him at one of his drama classes. Sometimes he comes home and tells me about a bit of improvisation they've done and I really wish I could've see it.
JRR: Good choice! If I joined you on your perfect day, what would we be doing?
Sue: Well it would be a Sunday for a start. We'd kick off with a lovely full English breakfast, with plenty of tea and toast at the end. My husband and I refer to those meals as 'Agatha Christie breakfasts', because many of her characters lived in beautiful country houses and enjoyed elaborate breakfasts. Then, we'd walk the dog on the local beach. His name is Forrest and he's a two-year-old standard poodle. We keep him cut short, no fancy pom-poms for Forrest, they wouldn't suit his nutty nature. Next, I'd rather like to spend a couple of hours working on my latest novel. I try to write every day, but don't always manage it. But, seeing as this is my perfect day, there will definitely be time. After I've effortlessly written a couple of thousand words, we'll have a late lunch in a lovely old pub. I'd choose the roast, of course. There's something about a roast dinner that says comfort. Lastly, we'll all head home and choose a film to watch together. Sadly, as our boys are now teenagers, the chances of finding a film that we'd all like are slim. But we might just manage to find a good comedy. By the way, there may be a glass or two of wine with the film.
JRR: That sounds good! I'm from America so I would enjoy a little bit of the 'English experience' you could give me! What do you think is the best thing about social media?
Sue: As a writer who's on her own all day, social media is kind of like my work colleagues. I can check in with other authors, bloggers and my friends, whenever I need to. People ask me, 'Don't you get bored on your own all day?' But I honestly don't feel alone. I have Forrest for physical company and, thanks to social media, I have a world of people to chat to, as and when I choose.
JRR: And the worst…?
Sue:  I hate it when I get caught up watching videos. Someone will have shared one video which is funny and I'll enjoy it, but then Facebook will start to play me another, and then another. Time runs away with you when you're watching those short clips and before you know it the family are home and you have to put the laptop away. The other thing I cannot abide about social media is the individuals who use other people's photographs to get likes or comments. Sharing photographs of a poorly child you've never met and asking people to type amen ought to be a crime. It's sadly one of the things that Facebook don't seem to be able, or willing, to crack down on. Obviously, I don't follow those kind of accounts, but they still manage to pop up on my newsfeed occasionally.
JRR: Yes those can be some of the negatives with social media. And also the 'trolls' that are out there.
**Thank you Sue for your time! I enjoyed getting to know you through this interview!**
About Sue:
Sue Shepherd writes contemporary romance and enjoys creating novels with heart, laughs and naughtiness. She doesn't pull any punches when choosing her subjects, but manages to handle her characters' challenging situations with sensitivity and humour. Her debut novel, Doesn't Everyone Have a Secret? was published by Corazon Books in March 2015. It reached the top 10 UK Kindle chart, and also topped the romantic comedy, contemporary romance and humour charts. It became available in paperback on Amazon in November 2015.
Sue's second novel, Love Them and Leave Them, was published in September 2016.
Sue lives on the picturesque Isle of Wight with her husband, two sons and a standard poodle. Her passions in life are: her family, writing, the sea-side and all the beautiful purple things her sons have bought her over the years. Ask Sue to plan too far in advance and you'll give her the heebie-jeebies and she'd prefer you not to mention Christmas until at least November!
Contact Sue:
Facebook
Twitter
Website

WIN Love them and Leave Them: a Rafflecopter giveaway