Author: Minka Kent
Published: January 9, 2017
Audiobook
Reviewed By: Jessica
Dates Read: November 10-16, 2017
Jessica's Rating: 5 stars
Book Description from Amazon:
Press, tap, refresh…
When Autumn Carpenter stumbles upon the social media account of the family who adopted her infant daughter years ago, she finds herself instantly drawn into their picture-perfect existence.
From behind a computer screen, Autumn watches Grace's every memory, from birthdays to holidays to bedtime snuggles. But what starts as an innocent fascination soon spirals into an addictive obsession that comes to a screeching halt the day the McMullen family closes their Instaface account without so much as a warning.
Frantic and desperate to reconnect with her daughter, Autumn applies for a nanny position with the McMullens, manipulating herself into Grace's life under false pretenses. And it's only then that Autumn discovers pictures lie, the perfect family doesn't exist, and beautiful people? They have the ugliest secrets.
Jessica's Review:
The premise of The Memory Watcher caught my attention and I really wanted to read this one.  You can see this kind of thing happening in reality since we are becoming a society heavily relying on social media.  Is social media a good thing or bad thing? That's up to you to decide.
This is the Minka Kent's debut and it's a good one! I look forward to her future novels.   There are constant twists in The Memory Watcher and then there is that ending…
You don't really need to know much about this book other than the premise.   There are two points of view: Autumn and Daphne (Mrs. McMullen).  I listened to the audiobook and we have two different narrators, one for Autumn and one for Daphne. Both narrators did a great job performing.  Both POV's are well written and I was interested in both sides.  Nothing is as it seems! What seems to be a perfect life as shown on social media is anything but that.  I will admit that the book picked up for me about 70% in. Before then it was good, but that last 30% is what made me award it five stars. I did not want to finish listening to it!   If you are a Suspense/Thriller fan then go read this book!
The twist ending tends to be one that I don't usually prefer, but Kent blew me away with the ending. Great job!
The Memory Watcher is recommended.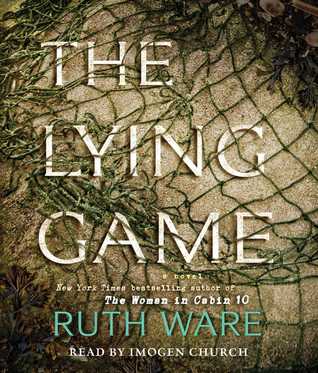 Author: Ruth Ware
Published: July 25, 2017
Audiobook
Reviewed By: Jessica
Dates Read: September 20- October 8, 2017
Jessica's Rating: 3 stars
Book Description from Amazon:
From the instant New York Times bestselling author of blockbuster thrillers In a Dark, Dark Wood and The Woman in Cabin 10 comes Ruth Ware's chilling new novel, The Lying Game.
On a cool June morning, a woman is walking her dog in the idyllic coastal village of Salten along a tidal estuary known as the Reach. Before she can stop him, the dog charges into the water to retrieve what first appears to be a wayward stick, but to her horror, turns out to be something much more sinister…
The next morning, three women in and around London—Fatima, Thea, and Isabel—receive the text they had always hoped would NEVER come, from the fourth in their formerly inseparable clique, Kate, that says only, "I need you."
The four girls were best friends at Salten, a second rate boarding school set near the cliffs of the English Channel. Each different in their own way, the four became inseparable and were notorious for playing the Lying Game, telling lies at every turn to both fellow boarders and faculty, with varying states of serious and flippant nature that were disturbing enough to ensure that everyone steered clear of them. The myriad and complicated rules of the game are strict: no lying to each other—ever. Bail on the lie when it becomes clear it is about to be found out. But their little game had consequences, and the girls were all expelled in their final year of school under mysterious circumstances surrounding the death of the school's eccentric art teacher, Ambrose (who also happens to be Kate's father).
Atmospheric, twisty, and with just the right amount of chill that will keep you wrong-footed—which has now become Ruth Ware's signature style—The Lying Game is sure to be her next big bestseller.
Jessica's Review:
I have enjoyed Ruth Ware's previous novels, my favorite of hers being The Woman in Cabin 10.  The Lying Game just wasn't for me. It is about four girls who become friends and they play 'The Lying Game'. There are five rules to the game:
Tell a lie
Stick to your story
Don't get caught
Never lie to each other
Know when to stop lying
Books with unreliable narrators are hit-or-miss with me and the premise of the novel deals with unreliability: lying. Therefore, I knew going in that it may be hit-or-miss for me, but having read the book description and also enjoying Ware's other novels had me wanting to read this one.
Isa is our narrator and she goes between the past and present.  She has lost contact with her friends until Kate sends them all a text saying "I need you". The other women drop what they are doing and rush to help their friend Kate out. They all share a secret, but has one of them been breaking their own rules for seventeen years?
Over the course of the novel we learn what happened in the past. In the present Isa is a new mother, her daughter Freya is constantly with her and Isa's only concern.
There was promise with The Lying Game. It is a slow burning, character driven novel that is well written. At times it seemed too long for me with too much narrative. I liked Fatima and wanted more of her in the novel. Even though I was not fully involved in the story, I wanted to know what was going to happen, but when it was over I did not feel anything.  Again, there is nothing wrong with Ware's writing; this novel was just not for me. There is also a lot of foul language in The Lying Game. This doesn't usually bother me, but I just got tired of hearing the 'f' word so many times.   I will continue to read Ware's future novels and I do recommend The Woman in Cabin 10. Imogene Church has narrated all of Ware's novels (I have listened to all of them) and she is perfect! I really enjoy her narrations even though my husband teases me by calling them "tea and crumpets" books due to Church's accent!  LOL
[Top]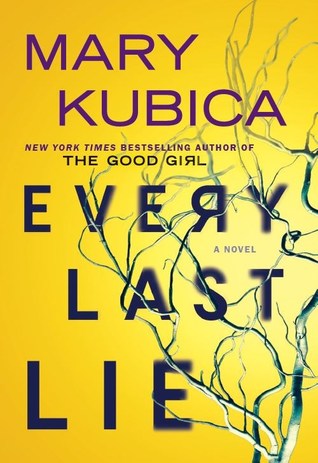 Author: Mary Kubica
Published: June 27, 2017
AUDIOBOOK
Reviewed By: Jessica
Dates Read: August 6-21, 2017
Jessica's Rating: 3 Stars
Book Description from Amazon:
Clara Solberg's world shatters when her husband and their four-year-old daughter are in a car crash, killing Nick while Maisie is remarkably unharmed. The crash is ruled an accident…until the coming days, when Maisie starts having night terrors that make Clara question what really happened on that fateful afternoon.
Tormented by grief and her obsession that Nick's death was far more than just an accident, Clara is plunged into a desperate hunt for the truth. Who would have wanted Nick dead? And, more important, why? Clara will stop at nothing to find out—and the truth is only the beginning of this twisted tale of secrets and deceit.
Told in the alternating perspectives of Clara's investigation and Nick's last months leading up to the crash, master of suspense Mary Kubica weaves her most chilling thriller to date—one that explores the dark recesses of a mind plagued by grief and shows that some secrets might be better left buried.
Jessica's Review:
Mary Kubica may not be the author for me.  I did enjoy her first book The Good Girl, but I figured out the big twist to it. I wish I had not as I would have enjoyed it much more. I have read all of her books except Don't You Cry and I do still plan to give it a chance and read it.  The book description of Every Last Lie intrigued me and I was excited to find out my library offered it as an audiobook. Knowing there are two narrators (Nick from before the accident and also Clara), I was ready for this book! I am a huge fan of multiple points of views in books.
Nick dies in a car crash while his and Clara's young daughter Maisie survives unharmed. The crash is ruled an accident but Clara has her doubts and believes that someone killed Nick. She has no idea why someone would kill Nick. She starts digging and discovering secrets that her husband had that makes her wonder if she ever really knew him.
Days before Nick dies in the accident Clara gives birth to their second child.  Giving birth and also dealing with Nick's death, Clara experiences a wide range of emotions throughout the novel.  Mary Kubica got these emotions spot on!  I actually had to stop listening to the audiobook for a short time as the emotions Clara experienced affected me.  Those emotions felt 100% real and I started to identify with them.  Once I was in a better place, I picked the audiobook back up and started it over.
It is a slower paced novel but I never lost interest in it. I really wanted to know what happened with Nick. The direction that the author chose to go with was not for me.  It was an unexpected route that people will either like or dislike.  For me it was a big build up to get to the conclusion, which not deliver.  There are some other things I did not like about the novel: There are several times that Clara leaves her children in the car alone while she 'investigates'.  No child should ever be left in car alone, especially small children, with one being an infant.  There was also one decision that Clara made towards the end that was a bit extreme for me. Nick also ends up having so many secrets it seems unrealistic that Clara would not have known something was going on.
Every Last Lie was not for me, so I can't recommend it.
[Top]