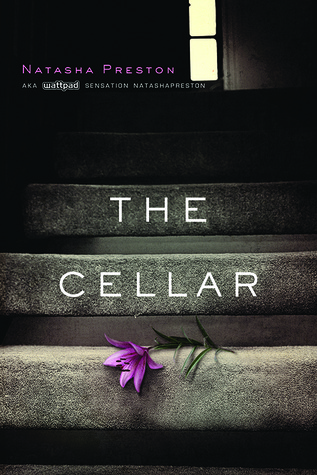 Author: Natasha Preston
374 pages
Published: March 1, 2014
Reviewed By: Kim
Kim's Rating: 5 Stars
Description from Amazon:
"Lily?"
My stomach dropped as a tall, dark-haired man stepped into view. Had he been hiding between the trees?
"No. Sorry." Gulping, I took a step back. "I'm not Lily."
He shook his head, a satisfied grin on his face. "No. You are Lily."
"I'm Summer. You have the wrong person." You utter freak!
I could hear my pulse crashing in my ears. How stupid to give him my real name. He continued to stare at me, smiling. It made me feel sick.
"You are Lily," he repeated.
Before I could blink, he threw his arms forward and grabbed me. I tried to shout, but he clasped his hand over my mouth, muffling my screams. My heart raced. I'm going to die.
For months Summer is trapped in a cellar with the man who took her—and three other girls: Rose, Poppy, and Violet. His perfect, pure flowers. His family. But flowers can't survive long cut off from the sun, and time is running out…
Kim's Review:
I've been seeing Preston's books on the shelves for months and for some reason, I only just picked them up recently. And I'm so glad I did! I read Awake a few weeks ago and loved it, so when I saw The Cellar at Target, I grabbed it. I'm a huge fan of Criminal Minds and to the annoyance of my family and friends, I totally consider myself to be an amateur profiler, and yes, I love showing off my skills. ? However, no Criminal Minds episode has ever awakened more empathy than this book did. Getting into the mind of both the criminal and the victim was fascinating! Watching Summer fight to hold onto her identity and her innocence was inspiring and heartbreaking, all at the same time. Seeing the other girls losing themselves in the fantasy that "Clover" set up for them gives such insight into real life kidnapping plights. If you like psycho thrillers, then this book is for you! And even if you don't, this is an empathetic and educational read that I would recommend to anyone.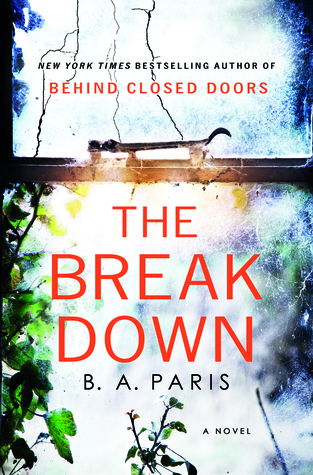 Author: B.A. Paris
328 pages in Paperback
Published: US: Today, July 18, 2017  UK: February 9, 2017
Reviewed by: Jessica
Dates Read: July 2, July 9-14, 2017
Jessica's Rating: 4 stars
Description from Amazon:
If you can't trust yourself, who can you trust?
Cass is having a hard time since the night she saw the car in the woods, on the winding rural road, in the middle of a downpour, with the woman sitting inside—the woman who was killed. She's been trying to put the crime out of her mind; what could she have done, really? It's a dangerous road to be on in the middle of a storm. Her husband would be furious if he knew she'd broken her promise not to take that shortcut home. And she probably would only have been hurt herself if she'd stopped.
But since then, she's been forgetting every little thing: where she left the car, if she took her pills, the alarm code, why she ordered a pram when she doesn't have a baby.
The only thing she can't forget is that woman, the woman she might have saved, and the terrible nagging guilt.
Or the silent calls she's receiving, or the feeling that someone's watching her…
Jessica's Review:
I first started reading this over the July 4th weekend along with Behind Closed Doors (BCD), which is also written by B.A. Paris.  I very quickly read the first 100 pages of The Breakdown.  I put it on hold to finish BCD first. Once finished with BCD I continued with The Breakdown.
The Breakdown has a strong opening: Cass is heading home alone in a bad storm. Instead of going home the way her husband wants, she cuts down a dark, wooded road which is a shortcut to home.  While driving, she sees a car pulled over. She can tell it's a woman and debates on stopping to see if she needs assistance. Cass does not and continues home.  The next day she finds out that the woman was killed overnight.  Cass is torn between feelings of guilt and self-preservation; if she had stayed to help would the woman still be alive, or would they both be dead?
Beyond her guilty conscience, Cass is also having memory problems and they are progressively getting worse.  Her mother had dementia and Cass is beginning to wonder if she is facing early onset dementia.  And then there are the silent phone calls that have started.  Did the killer see Cass that night and he is taunting her, or is something else going on?
Once I saw that Cass was going to be dealing with memory issues throughout the novel, I did not know what to think. Sometimes these novels with the 'unreliable narrator' work for me (Jack Jordan's My Girl and Ruth Ware's The Woman in Cabin 10) and sometimes they don't (Paula Hawkin's The Girl on the Train). Cass' memory issues become the focus in the novel and I struggled with it. My thoughts were: "Yeah, yeah…things keep being delivered from the home shopping network that she doesn't remember ordering; she keeps forgetting how to work things… I get it! Come one move on from this." As I was reading I came to realize the double meaning of the title of the novel: The breakdown of the car and Cass' mental breakdown. Even as I was struggling through The Breakdown I kept reading because I wanted to know what the final twist was going to be. When I finally got there I was glad I kept going. Everything that B.A. Paris wrote had a purpose and she knew what she was doing! I thought the twist was going to go in one direction, but I was wrong. I did not see the twist coming.
Despite struggling through part of the novel, The Breakdown is recommended.
Thank you so much to St. Martin's Press for providing me an arc copy for review!
[Top]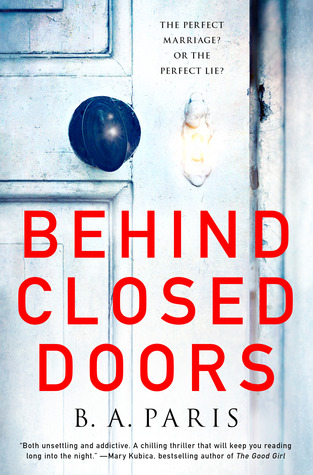 Author: B.A. Paris
293 pages in Hardback
Published: August 9, 2016
Dates Read: July 1-7, 2017
Reviewed By: Jessica
My Rating: 5 Stars
Description from Amazon:
Everyone knows a couple like Jack and Grace. He has looks and wealth; she has charm and elegance. He's a dedicated attorney who has never lost a case; she is a flawless homemaker, a masterful gardener and cook, and dotes on her disabled younger sister. Though they are still newlyweds, they seem to have it all. You might not want to like them, but you do. You're hopelessly charmed by the ease and comfort of their home, by the graciousness of the dinner parties they throw. You'd like to get to know Grace better.
But it's difficult, because you realize Jack and Grace are inseparable.
Some might call this true love. Others might wonder why Grace never answers the phone. Or why she can never meet for coffee, even though she doesn't work. How she can cook such elaborate meals but remain so slim. Or why she never seems to take anything with her when she leaves the house, not even a pen. Or why there are such high-security metal shutters on all the downstairs windows.
Some might wonder what's really going on once the dinner party is over, and the front door has closed.
My Review:
Things are not always how they appear and we never truly know what goes on with another couple behind their closed doors…
Grace meets Jack and he is perfect. He even has no issue that Grace has a sister with Down's Syndrome and that down the road she will have to care for her. Her friends also like Jack. Very quickly Jack and Grace become engaged and marry. But from the moment they say 'I do' he does a complete 180 and very quickly Grace's life becomes a living nightmare.
That is really all I want to say about the premise of Behind Closed Doors. If you say too much, you will give something away.  This is a domestic abuse nightmare and I was pulled in from the beginning of the novel. Behind Closed Doors chapters flip between the past and the present and it all comes together in the conclusion.
Warning:  This will not be a book for everyone.  The mental abuse that Grace experiences is horrific and it may be too much for some readers.  Discretion is heavily advised on this novel.  There is abuse that involves an animal that we find out after the fact.  There is not much physical violence, but Behind Closed Doors really shows how bad mental abuse can be.
Behind Closed Doors will disturb you and it made me thankful for my husband.  I told him a couple of times "I'm glad you aren't a psycho!" while I was reading this.  His answer: "Not that you know of…" (In an evil sounding voice of course… LOL) It might even affect your dreams, it did with mine.
I was pulled into this story from the beginning and it was a quick read for me. It only took me seven days to read. As I was reading, I often wondered how Grace would find a way to get away, especially when she discovers Jack's true intentions. It really seemed to me that there was no way out. And if she did somehow get away, how will Jack get what he deserves?
Behind Closed Doors shows how a person who is stuck in a domestic violence situation realizes they need to get away, but faces that big question of "how?" and "what could happen if I try to get away and fail?"
And the ending: I loved it!
B.A. Paris, thank you for a brilliant debut, and I am currently reading your second novel The Breakdown to be released July 18th here in the US.
Thank you to Saint Martin's Press for providing me a copy of Behind Closed Doors.
[Top]