She's My Dad: A Father's Transition and a Son's Redemption
Author: Jonathan S. Williams (With Paula Stone Williams)
Published: November 8, 2018
214 Pages
Reviewed By: Jessica
Dates Read: February 10-17, 2019
Jessica's Rating: 4 stars
Book Description:
Jonathan S. Williams was three months into pastoring a new, evangelical church plant when his father confessed a secret: he was transgender. His father, Paul, a prominent evangelical pastor, soon became Paula, and Jonathan's life and ministry went into a tailspin. Feeling betrayed by his mentor and confidante and scared that his church would lose funding and support if Paula's secret was exposed, Jonathan sunk into depression and alcoholism.
She's My Dad explores Jonathan's long and winding journey toward reconciliation, forgiveness, and acceptance of his father as well as his church's journey to become one of the few fully LGBTQ-inclusive, evangelical churches in America. Jonathan and Paula offer insight and encouragement for those with transgender family members, empathizing with the feelings of loss and trauma and understanding that even being LGBTQ-affirming doesn't mean the transition of a family member will be easy. Jonathan writes of his family's continuing evolution, the meaning of remaining loyal to one's father even when she is no longer a man, the ongoing theological evolution surrounding transgender rights and advocacy in the church, and the unflinching self-scrutiny of a pastor who lost his God only to find God again in his father's transition.
Jessica's Review:
These are the words that no one expects to hear from a loved one, let alone from a parent to an adult child: "I am transgender".
She's my Dad is the memoir of Jonathan S. Williams, whose father Paul 'came out' and confessed that secret to his family. She's my Dad is Jonathan's story of his shock, dealing with or the lack thereof the situation, and eventual acceptance of Paul becoming Paula. A confession such as this would be a shock in the first place, but what made Paul's more complicated was both Jonathan and Paul's occupation: evangelical pastors. Jonathan had also just started a new church plant a few months before Paul's confession.
When we read transgender stories, we don't tend to receive a family member's perspective, just the one undergoing the transition. But it is not just the trans person that goes through transition: it is the whole family as they all have to go through countless changes. Jonathan and Paul's story is compounded because of their occupations as they have to deal with many more consequences of this confession so Paula can be her true self. Every transition story will be different and important.
Most of the memoir discussed the church. For me, this seemed to drag on for a too long and I found myself skimming over the church mentions. Williams may have been trying to show how much Paula's transition would affect everyone involved, but so much of it seemed like he was repeating himself. Williams had a very difficult time accepting his father becoming Paula and lamented to an extreme which included drinking. Unlike what many believe, pastors are human and are not perfect.
I did like that we got to also hear from Paula in some chapters in sections called "Paula Responds". This way we get both sides of the story.
All a person who is undergoing transition wants is acceptance from themselves, their family, and even the church. Hopefully the church can be accepting to those who are transgender: They are people just like us. Think about it: If an evangelical pastor can eventually accept his father for who she actually is, maybe we all can.
She's my Dad is recommended. I received a copy from Westminster John Knox Press via NetGalley. Thank you for my copy!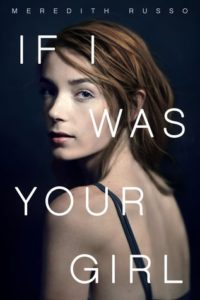 Author:  Meredith Russo
Audiobook
Published: May 3, 2016
Dates Read: January 1-11, 2017
My Rating: 5 Stars
Book Summary from Amazon:
Amanda Hardy is the new girl in school. Like anyone else, all she wants is to make friends and fit in. But Amanda is keeping a secret, and she's determined not to get too close to anyone.
But when she meets sweet, easygoing Grant, Amanda can't help but start to let him into her life. As they spend more time together, she realizes just how much she is losing by guarding her heart. She finds herself yearning to share with Grant everything about herself, including her past. But Amanda's terrified that once she tells him the truth, he won't be able to see past it.
Because the secret that Amanda's been keeping? It's that at her old school, she used to be Andrew. Will the truth cost Amanda her new life, and her new love?
My Review:
If I Was Your Girl is powerful and important book. It is Amanda's story: She is transgender and finishing her senior year of high school living with her dad after an incident occurred while she was living with her mom. It has been many years since she has seen her father. The chapters alternate between the past and present to give us Amanda's full story in the order we need to learn everything.
If I was Your Girl is a Young Adult novel, but I think everyone should read this book. For those of us that are not transgender we can be called 'cisgender' (a person whose identity and gender corresponds with their biological sex) and we can see a fictionalized story of what transgender people can go through. The author, Meredith Russo is a transgender woman. She does a very good job getting us in the head of a teenage transgender girl. We see Amanda's pain when she was Andrew. We grow to love Amanda and root for her. We see all sides of Amanda's journey: her parents facing the fact that they are 'losing' their son, but gaining a daughter, Amanda's new friends, and a possible love. Amanda does her best to keep her distance from Grant and keeping her secret from her friends. She doesn't know how they will react if they know she was Andrew. She is torn with this, especially when it comes to Grant, as they get closer.
Meredith Russo wrote an afterword that answers some questions the reader may have had as they were reading the book, and even some answers to questions you may not have even realized you had! She writes to both her 'cisgender readers' and 'trans readers' and explains why she wrote the book the way she did. She explains that she is a story teller, not an educator. Her story is very different from Amanda's and doesn't want us to take Amanda's story as fact. Every transgender person has a different story, and they can be as varied as ours. The Author's Notes (narrated by the author) is just as important as the novel and needs to be read.
The narrator of the audiobook is Samia Mounts and she does a superb job. A narrator can make or break an audiobook and she shines through the novel! Her voice is perfect for Amanda and the performance is phenomenal. You really feel everything Amanda feels through Samia Mounts' narration.
The original cover which is shown at the beginning of this post is of transgender model Kira Conley. She is beautiful and I actually pictured her as Amanda as I was listening to the book.
If I Was Your Girl is a novel that will make you think. It is highly recommended. Another book I recommend is Becoming Nicole by Amy Ellis Nutt. This is a true story of a transgender girl, her twin brother and her fight for acceptance.
[Top]