Authors:
Neal Shusterman
Jarrod Shusterman
Published: October 2, 2018
Audiobook
Reviewed By: Jessica
Dates Read: April 10-17, 2019
Jessica's Rating: 5 stars
Book Description:
When the California drought escalates to catastrophic proportions, one teen is forced to make life and death decisions for her family in this harrowing story of survival from New York Times bestselling author Neal Shusterman and Jarrod Shusterman.
The drought—or the Tap-Out, as everyone calls it—has been going on for a while now. Everyone's lives have become an endless list of don'ts: don't water the lawn, don't fill up your pool, don't take long showers.
Until the taps run dry.
Suddenly, Alyssa's quiet suburban street spirals into a warzone of desperation; neighbors and families turned against each other on the hunt for water. And when her parents don't return and her life—and the life of her brother—is threatened, Alyssa has to make impossible choices if she's going to survive.
Jessica's Review:
Between reading Hanna Jameson's The Last and now Dry and watching 'Walking Dead' type shows/movies I now want to stock up on everything and be ready for the end of civilization! Especially water: You cannot live without water after a few days.  Dry has totally freaked me out and I want to be prepared!  Everything about Dry felt real to me. It takes place in southern California (OMG, this happened in the USA!) and the water has run completely out.  The desperation of everyone is captured brilliantly and we see how people become in impossible situations. 
Our protagonists are young adults, so they will come with immaturity, but I was completely drawn into the story! You don't know what is going to happen and who will die or live.  For a while I thought we were going to have a 'Mist movie type ending' and OMG, that would be jaw dropping as it is so realistic and not a happy ending. 
Shusterman does such a wonderful job making you think about things long after you have finished his books.  He continues this with Dry.  Dry has you thinking about what you will do and who will you become when the Tap-Out eventually happens.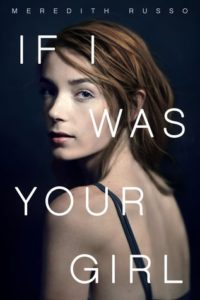 Author:  Meredith Russo
Audiobook
Published: May 3, 2016
Dates Read: January 1-11, 2017
My Rating: 5 Stars
Book Summary from Amazon:
Amanda Hardy is the new girl in school. Like anyone else, all she wants is to make friends and fit in. But Amanda is keeping a secret, and she's determined not to get too close to anyone.
But when she meets sweet, easygoing Grant, Amanda can't help but start to let him into her life. As they spend more time together, she realizes just how much she is losing by guarding her heart. She finds herself yearning to share with Grant everything about herself, including her past. But Amanda's terrified that once she tells him the truth, he won't be able to see past it.
Because the secret that Amanda's been keeping? It's that at her old school, she used to be Andrew. Will the truth cost Amanda her new life, and her new love?
My Review:
If I Was Your Girl is powerful and important book. It is Amanda's story: She is transgender and finishing her senior year of high school living with her dad after an incident occurred while she was living with her mom. It has been many years since she has seen her father. The chapters alternate between the past and present to give us Amanda's full story in the order we need to learn everything.
If I was Your Girl is a Young Adult novel, but I think everyone should read this book. For those of us that are not transgender we can be called 'cisgender' (a person whose identity and gender corresponds with their biological sex) and we can see a fictionalized story of what transgender people can go through. The author, Meredith Russo is a transgender woman. She does a very good job getting us in the head of a teenage transgender girl. We see Amanda's pain when she was Andrew. We grow to love Amanda and root for her. We see all sides of Amanda's journey: her parents facing the fact that they are 'losing' their son, but gaining a daughter, Amanda's new friends, and a possible love. Amanda does her best to keep her distance from Grant and keeping her secret from her friends. She doesn't know how they will react if they know she was Andrew. She is torn with this, especially when it comes to Grant, as they get closer.
Meredith Russo wrote an afterword that answers some questions the reader may have had as they were reading the book, and even some answers to questions you may not have even realized you had! She writes to both her 'cisgender readers' and 'trans readers' and explains why she wrote the book the way she did. She explains that she is a story teller, not an educator. Her story is very different from Amanda's and doesn't want us to take Amanda's story as fact. Every transgender person has a different story, and they can be as varied as ours. The Author's Notes (narrated by the author) is just as important as the novel and needs to be read.
The narrator of the audiobook is Samia Mounts and she does a superb job. A narrator can make or break an audiobook and she shines through the novel! Her voice is perfect for Amanda and the performance is phenomenal. You really feel everything Amanda feels through Samia Mounts' narration.
The original cover which is shown at the beginning of this post is of transgender model Kira Conley. She is beautiful and I actually pictured her as Amanda as I was listening to the book.
If I Was Your Girl is a novel that will make you think. It is highly recommended. Another book I recommend is Becoming Nicole by Amy Ellis Nutt. This is a true story of a transgender girl, her twin brother and her fight for acceptance.
[Top]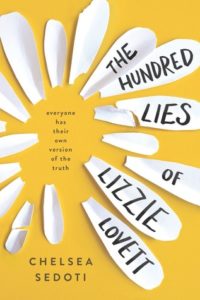 Author: Chelsea Sedoti
400 pages in Kindle
Publish Date: 01/03/2017
Dates Read: December 12-21, 2016
My Rating: 2 Stars
Book Summary from Amazon:
Hawthorn wasn't trying to insert herself into a missing person's investigation. Or maybe she was. But that's only because Lizzie Lovett's disappearance is the one fascinating mystery their sleepy town has ever had. Bad things don't happen to popular girls like Lizzie Lovett, and Hawthorn is convinced she'll turn up at any moment-which means the time for speculation is now.
So Hawthorn comes up with her own theory for Lizzie's disappearance. A theory way too absurd to take seriously…at first. The more Hawthorn talks, the more she believes. And what better way to collect evidence than to immerse herself in Lizzie's life? Like getting a job at the diner where Lizzie worked and hanging out with Lizzie's boyfriend. After all, it's not as if he killed her-or did he?
Told with a unique voice that is both hilarious and heart-wrenching, Hawthorn's quest for proof may uncover the greatest truth is within herself.
My Review:
Hawthorn is a high school senior loner and I personally pictured her dressed like a goth. Hawthorn is misunderstood like goths can be in that kind of life. She pretends things do not bother her, or that she doesn't care about things when she actually does. One day Lizzie Lovett disappears. She is three years older than Hawthorn, was the popular teenager when she was in high school, and her older brother had dated Lizzie briefly.
Everyone at school comes up with their own theories as to what happened to Lizzie, including Hawthorn. She also beings to immerse herself in Lizzie's life which includes getting a job where Lizzie works and beginning to hang out with Lizzie's boyfriend. Hawthorn does this so much it becomes an obsession. I found it odd, especially since Hawthorn barely knew Lizzie. I couldn't help but wonder why she was doing this. At some times, it seemed like she wanted to become Lizzie.
As you read in the book description above, Hawthorn's theory about Lizzie is described as 'absurd'. It truly is absurd, much to the detriment of the book, especially for a book in the YA (Young Adult) contemporary genre. Hawthorn seemingly believes her theory and word about her theory gets around town.
The only reason I kept reading The Hundred Lies of Lizzie Lovett was that I really wanted to know what happened to Lizzie. I did not have any kind of attachment to Lizzie. We do find out the answer to what happened to her. Once we find out what happened, the book and Hawthorn take a different turn. The last 13% of the book deals with an important issue for teenagers. If only the rest of the book was like the last 13%. That last 13% held my attention more than the other 87%.
I can not recommend The Hundred Lies of Lizzie Lovett.
I received an arc copy from NetGalley.
[Top]