The Beginning of Everything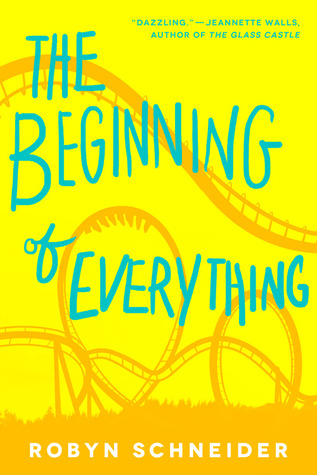 Author: Robyn Schneider
335 Pages
Published: August 27, 2013
Reviewed By: Kim
Kim's Rating: 4 Stars
Description from Amazon:
Robyn Schneider's The Beginning of Everything is a witty and heart-wrenching teen novel that will appeal to fans of books by John Green and Ned Vizzini, novels such as The Perks of Being a Wallflower, and classics like The Great Gatsby and The Catcher in the Rye. Varsity tennis captain Ezra Faulkner was supposed to be homecoming king, but that was before—before his girlfriend cheated on him, before a car accident shattered his leg, and before he fell in love with unpredictable new girl Cassidy Thorpe. As Kirkus Reviews said in a starred review, "Schneider takes familiar stereotypes and infuses them with plenty of depth. Here are teens who could easily trade barbs and double entendres with the characters that fill John Green's novels." Funny, smart, and including everything from flash mobs to blanket forts to a poodle who just might be the reincarnation of Jay Gatsby, The Beginning of Everything is a refreshing contemporary twist on the classic coming-of-age novel—a heart-wrenching story about how difficult it is to play the part that people expect, and how new beginnings can stem from abrupt and tragic endings.
Kim's Review:
Another doozy of a book! I read Extraordinary Means, also by Schneider, earlier this year and loved it! So I picked up The Beginning of Everything and I loved it almost as much! I did give this book only 4 stars because I find teenage drama annoying. But I don't think the story would have existed without all those high school problems that teenagers believe will just end their lives!! As an adult, I found a lot of those problems petty and easy, compared to real life. However, I do remember being in high school where trying to get people to like me was a full time job.
This book was also a little more philosophical than I was expecting. I had no idea what a panopticon was until I read this book. The idea that we are all just living one big surveillance experiment does describe high school efficiently! The book started out with Ezra going from golden boy to social outcast after he is injured in a car accident. He has to deal with all the pity and stares and trying to figure out what his life is now that his old one has been destroyed. He meets Cassidy Thorpe, who is full of mischief and mystery, and like all high schoolers, he falls in love. And everything goes fine, until one crucial detail comes out. I did roll my eyes a little at how dramatic both Ezra and Cassidy can be, thinking that life in high school reflects the rest of your life. But it was an interesting twist that Cassidy resists Ezra's glorification of her. She doesn't want the credit of changing him, when, in reality, he was changing himself.
Basically this is a book of a bunch of kids learning to grow up and their reactions to having to do so. This is actually a good one for high schoolers to read. The language wasn't bad and any "steamy scenes" were few and far between, along with not being very detailed. Those who have finished high school will probably read this with amusement. But overall, a very good book!