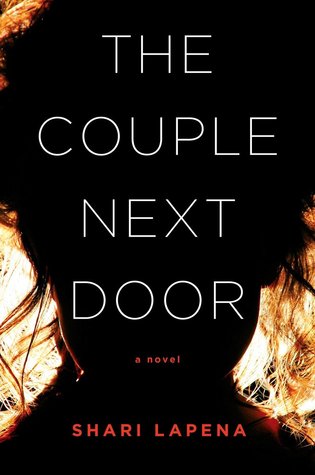 Author: Shari Lapena
Audiobook
Published: August 23, 2016
Dates Read: June 11-20, 2017
My Rating:  5 stars
Book Description from Amazon:
It all started at a dinner party. . .
A domestic suspense debut about a young couple and their apparently friendly neighbors—a twisty, rollercoaster ride of lies, betrayal, and the secrets between husbands and wives. . .
Anne and Marco Conti seem to have it all—a loving relationship, a wonderful home, and their beautiful baby, Cora. But one night when they are at a dinner party next door, a terrible crime is committed. Suspicion immediately focuses on the parents. But the truth is a much more complicated story.
Inside the curtained house, an unsettling account of what actually happened unfolds. Detective Rasbach knows that the panicked couple is hiding something. Both Anne and Marco soon discover that the other is keeping secrets, secrets they've kept for years.
What follows is the nerve-racking unraveling of a family—a chilling tale of deception, duplicity, and unfaithfulness that will keep you breathless until the final shocking twist.
My Review:
I loved The Couple Next Door!  I listened to the audio book version. It was intriguing, there were twists, and I never wanted to stop listening to it!  You really get a sense of human greed, selfishness, and self-centeredness all while dealing with a parent's worst nightmare: something happening to their child.
The basic premise is this: Anne and Marco Conti go next door to a 'party' and leave their child home alone.  They do check on the baby often, but once they get home for the night the baby is gone.  Baby Cora is just six months old, so it isn't like she got up and walked away; something happened to her. The rest of the book centers around the police and the parents trying to figure out what happened to Cora.  There are many twists and you don't really know what is going to happen next.  Once everything is revealed you are left with a 'OMG' feeling as everything comes together and makes sense.
I did have some issues with the parents and feeling sympathetic towards them.  It was their fault for leaving the baby alone. What parent leaves their baby alone to go to a party? Also, the novel kept referring to it as a 'party'.  For me it wasn't really a party; it was two couples having dinner and hanging out into the late hours of the night.  I did not understand why the neighbor would not let them bring the baby with them after finding out the baby was left alone.  To me that is not a friend if they won't let you bring your child. This comes back to the greed and self-centeredness shown throughout the novel.
You could feel Anne's anguish as the novel progresses. She was really suffering at the loss of her daughter. Once I was over my initial dislike for her over leaving Cora alone, I felt sympathetic towards her.
I had suspicions early on with one character's involvement in the disappearance, I just was not sure what the motivation was. I was never sure what direction the novel was going to go in and what the conclusion was going to be. I had no idea if Cora was going to be found or not. And if she was to be found would she be ok or not?
I listened to the audiobook version of The Couple Next Door and really enjoyed the narrator.  To me she sounded like Diane Sawyer, so it was like I was listening to an episode of a true crime story on 20/20 or Primetime Live.  For me, that enhanced my experience of the novel and almost gave me an 'after the fact' feeling to the novel. The only thing was when the 'F' word was said I giggled because to me it was like it was Diane Sawyer saying that which wouldn't be professional for a reporter. I found it entertaining.   The 'F' word was said maybe a handful of times in the novel.
My interest was held for the entire novel up through the final twist at the end.  I had to listen to that final track again once the book was over, as my mouth dropped at the unexpected ending.
The Couple Next Door is recommended, and I would also recommend the audiobook version.