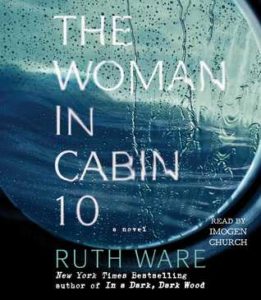 Author: Ruth Ware
AUDIOBOOK
Published: July 19, 2016
Dates Read: August 25- September 8, 2016
My Rating: 4 Stars
Book Summary from Amazon:
In this tightly wound, enthralling story reminiscent of Agatha Christie's works, Lo Blacklock, a journalist who writes for a travel magazine, has just been given the assignment of a lifetime: a week on a luxury cruise with only a handful of cabins. The sky is clear, the waters calm, and the veneered, select guests jovial as the exclusive cruise ship, the Aurora, begins her voyage in the picturesque North Sea. At first, Lo's stay is nothing but pleasant: the cabins are plush, the dinner parties are sparkling, and the guests are elegant. But as the week wears on, frigid winds whip the deck, gray skies fall, and Lo witnesses what she can only describe as a dark and terrifying nightmare: a woman being thrown overboard. The problem? All passengers remain accounted for—and so, the ship sails on as if nothing has happened, despite Lo's desperate attempts to convey that something (or someone) has gone terribly, terribly wrong…
With surprising twists, spine-tingling turns, and a setting that proves as uncomfortably claustrophobic as it is eerily beautiful, Ruth Ware offers up another taut and intense read in The Woman in Cabin 10—one that will leave even the most sure-footed reader restlessly uneasy long after the last page is turned.
My Review:
This is Ruth Ware's second novel. I have not read her first (I will soon since my local library offers it on audiobook). The premise interested me: Lo Blacklock has the opportunity to go on the maiden voyage on a small cruise ship. One night she hears a body being thrown overboard…. But no one is reported missing on the ship- employees or passengers.
The novel starts out slow. There is a break-in at Lo's apartment and she is dealing with PTSD issues from the break-in. I wanted her to hurry up and get on the ship! The novel does pick up once she got onboard.
One thing about Lo: She is not likeable. She is yet another female protagonist who has various issues and she also likes to drink… A lot. Since Lo is the narrator of the novel, you can't help but wonder if the events described are actually happening. Is the alcohol affecting what she experiences, or is someone actually behind everything? Is she doing things during her blackouts or is someone doing something to her?
Despite Lo not being likeable, Ruth Ware is able to pull you in to the story! She writes the fear and paranoia that Lo experiences very well! I was feeling the paranoia that Lo was feeling.
There is a twist which I did not see coming. The twist does not happen at the very end like most novels do. I actually had no idea what direction the novel was going to go in. I was satisfied with the ending.
I do recommend this novel!