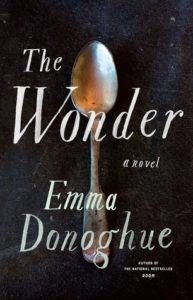 Author: Emma Donoghue
AUDIOBOOK
Published: September 20, 2016
Dates Read: October 10-24, 2016
My Rating: 4 stars for the novel, audiobook version receives 2 stars
Book Summary from Amazon:
In the latest masterpiece by Emma Donoghue, bestselling author of Room, an English nurse brought to a small Irish village to observe what appears to be a miracle-a girl said to have survived without food for months-soon finds herself fighting to save the child's life.
Tourists flock to the cabin of eleven-year-old Anna O'Donnell, who believes herself to be living off manna from heaven, and a journalist is sent to cover the sensation. Lib Wright, a veteran of Florence Nightingale's Crimean campaign, is hired to keep watch over the girl.
Written with all the propulsive tension that made Room a huge bestseller, THE WONDER works beautifully on many levels–a tale of two strangers who transform each others lives, a powerful psychological thriller, and a story of love pitted against evil.
My Review:
I enjoyed The Wonder. It is slow to start, but once it gets going I had to know what was going to happen!
English nurse Lib is brought the Ireland to watch 11 year old Anna O'Donnell. She is believed to not have eaten anything since her eleventh birthday, which was four months ago. Word has gotten out about Anna and people are traveling from everywhere to see or meet "The Wonder". Anna believes she is surviving on manna from Heaven and has no need to eat. Lib is a skeptic. Is Anna actually not eating or is food being sent to her secretly to eat in private? That is Lib's job: To not leave Anna alone for a moment to discover the truth.
There is an answer to this question, and once we have the answer, there is still more book to read! It becomes more than what the answer is as Lib tries to save Anna's life.
This book is very well written. Well done Emma Donoghue! You can sense the tension between Lib, Anna's family, and doctor. The book takes place in the year 1859 and much of the tension is that of the Irish vs English. You also see the honest faith of a child that Anna has, but is it misguided? You must read the book to find out! There is definitely more to this novel than you think going into it.
Audiobook Review:
I listened to the audiobook version of The Wonder. I don't usually write a review for the audiobook, but I feel I need to in this case. The narrator is Kate Lock. I had difficulty understanding some of the characters as the Irish accents were too strong for me. There were times when the mother was yelling- and I could not understand what was said. Also, at times I could not understand Anna. Lib is the main character in the novel, I had no problems understanding her. There were other characters where I had this problem as well.
I know with this difficulty that I missed some of what happened in the novel, so I can not recommend the audio version. If you choose to read The Wonder, stay away from the audio version and read the book.
The Wonder is recommended!