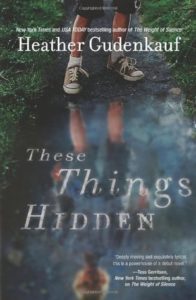 Author: Heather Gudenkauf
337 Pages in Paperback
Published: January 18, 2011
Dates Book was Re-Read: February 18-March 7, 2016
My Rating: 5 Stars
Book Summary from Amazon:
When teenager Allison Glenn is sent to prison for a heinous crime, she leaves behind her reputation as Linden Falls' golden girl forever. Her parents deny the existence of their once-perfect child. Her former friends exult her downfall. Her sister, Brynn, faces whispered rumors every day in the hallways of their small Iowa high school. It's Brynn—shy, quiet Brynn—who carries the burden of what really happened that night. All she wants is to forget Allison and the past that haunts her.
But then Allison is released to a halfway house, and is more determined than ever to speak with her estranged sister.
Now their legacy of secrets is focused on one little boy. And if the truth is revealed, the consequences will be unimaginable for the adoptive mother who loves him, the girl who tried to protect him and the two sisters who hold the key to all that is hidden.
---
My Review:
I first listened to the audio book version of These Things Hidden several years ago. With having read/listened to These Things Hidden, Heather Gudenkauf became my favorite author. I enjoy the multiple points of view that she writes to tell the whole story.
I did not want to put this book down. It is very intense. I wish I had been able to read it quicker. I had forgotten the twists in the books as well, so for most of the book, it was as if I was reading it for the first time.  You wonder what actually happened that night.
These Things Hidden is highly recommended!