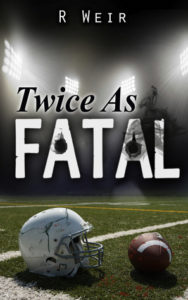 Author: R. Weir
232 Pages in Kindle
Published: May 29, 2015
Dates Read: October 11-20, 2016
My Rating: 4 Stars
Book Summary from Amazon:
Twice the business, twice the danger and Twice as Fatal. PI Jarvis Mann has two cases he is working, making his professional and personal life twice as difficult.
Ray Malone is a promising college football star whose career is derailed by injuries. When he disappears, close friend Jarvis is recruited by Ray's father to locate him. After tracking him down a video is sent of Ray with the warning of it going public, threatening his career and those that love him.
Case two has landlord Kate Tanner hiring Jarvis to gather evidence against her cheating, thieving husband so she can divorce him. As Jarvis investigates he learns of the husband's connection to a powerful man, with a dangerously perverted agenda that crosses into Kate's life with deadly consequences.
Across the Rocky Mountain Front Range Jarvis tries to balance both cases, each dragging him deeper into different sleazy underworlds, jeopardizing him, his clients and their families. With danger and death all around him, he somehow must rescue everyone before this fatal business claims the lives of all involved, his life and the one he is growing to love.
My Review:
Jarvis Mann is back! Twice as Fatal is the second full length novel by R. Weir. The first was a short story introduction to Jarvis. Twice as Fatal picks up where Tracking a Shadow concluded. This time Jarvis is working two cases:
1. His landlord Kate is convinced her husband is cheating on her and she wants evidence of that.
2. His friend Bill's son Ray has gone missing.
Of course the two cases end up being connected and R. Weir does a good job connecting them.
We are really getting to know Jarvis as a person now. He is a flawed man whose weakness is women. And he really likes looking at pretty women. He sees a lot of that in this book. It is a nice change to see that the protagonist of the novel is not perfect, as none of us are. We also see where certain things happen in the cases that make Jarvis uncomfortable. That was welcome to see as he hasn't become jaded in his job.
Jarvis' relationship with Melissa is continued, but is strained. She is working a lot of hours on a court case and is thinking about going to school to become a lawyer. You can't help but to root for Jarvis and Melissa to work out. He does become conflicted some in the book and you see he doesn't want to mess up again like he did previously. I was hoping Jarvis wouldn't make that same mistake again!
**A warning to potential readers**:
The book does take a turn of an adult nature. A "gentleman's club" is involved. There are a variety of sexual exploits including S&M and violence including torture. There is also a lot of profanity. It is graphic with some of those activities. This book is definitely not for the kids! If you have issues with those types of activities, you may want to stay away from this novel. Some of it was a little difficult for me to read.
Twice as Fatal could be read as a standalone novel, but you would not see everything connected from the previous novels. I would recommend reading the others before reading Twice as Fatal. I also recommend Twice as Fatal.
I do like Jarvis and look forward to reading the next in the series: Blood Brothers!
**I received a copy from R. Weir in exchange for an honest review.