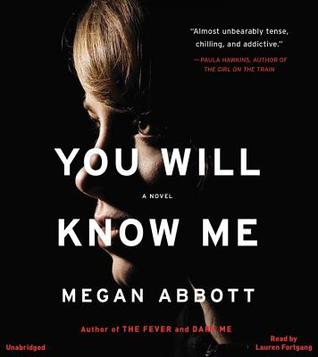 Author: Megan Abbott
AUDIOBOOK
Published: July 26, 2016
Dates Read: January 30- February 10, 2017
My Rating: 3.5 Stars
Book Summary from Amazon:
How far will you go to achieve a dream? That's the question a celebrated coach poses to Katie and Eric Knox after he sees their daughter Devon, a gymnastics prodigy and Olympic hopeful, compete. For the Knoxes there are no limits–until a violent death rocks their close-knit gymnastics community and everything they have worked so hard for is suddenly at risk.
As rumors swirl among the other parents, Katie tries frantically to hold her family together while also finding herself irresistibly drawn to the crime itself. What she uncovers–about her daughter's fears, her own marriage, and herself–forces Katie to consider whether there's any price she isn't willing to pay to achieve Devon's dream.
My Review:
You Will Know Me is my first book by Megan Abbott. She does a great job of pulling the reader into the very cliquish and highly competitive world of gymnastics. Katie and Eric Knox's daughter Devon is a gymnastics prodigy. They bring Devon and their whole family into this world and it overtakes them. Their whole lives become about gymnastics. They pay exorbitant gym membership fees and take out a second mortgage on their home that they can't afford. For them, Devon, and her coach it becomes about one thing: Olympic gold. And they will do whatever it takes to get there.
The Knox's also have a young son, Drew, who is smart, yet left to his own for the most part. Eric and Katie's focus is solely on Devon. I listened to the audio book and had some issues with the voice of Drew in the narration. The narrator gave him a bit of a lisp, which I did not like. I could understand him with no problem, I just did not like that part of the narration.
Things seem to be going fine until there is a death that stuns everyone at the gym where Devon is training. It appears to not be an accident and this is the mystery of the book. I was not in suspense while listening to the book. It was more of a mystery for me. I had an idea of who I thought the killer was, and I am glad to report I was wrong. The book did go in a direction I did not see coming, which Megan Abbot did a great job with. I was shocked as one character was with a few twists that occurred. She expertly revealed the passion, jealousy, and merciless ambition these girls and their families have in this world.
(**SPOILER**: Ultimately I was not satisfied with the ending as the killer is not caught or punished for the death. I do see why Megan Abbot wrote the ending the way she did. But I can not go into this without giving away who the killer is. **END SPOILER**)
I have mixed feelings with recommending this book. I did enjoy getting a look at the world of gymnastics, but with the unsatisfying ending, it keeps me from saying, read this book. This will be one I will leave to you if you choose to read.