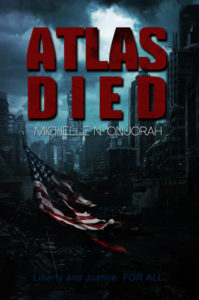 Author:  Michelle Onouorah
310 Pages in Kindle
Published: July 29, 2015
Dates Read: July 29th- August 29th, 2015
My Rating: 4 Stars
Book Summary from Amazon:
USA circa 2628. The only thing unchanged? Those three letters.
There are no states.
There is no freedom.
Lobbyists make all the laws.
And a government of the people, by the people, and for the people died many, many years ago.
The nation is now split in two: wealthy Atlas residents and impoverished Commons workers. The middle class, an endangered species, accounts for less than 1% of the already-shrunken population. Ravaged by stagnant wages, exorbitant taxation and limited education, Commoners, the majority of USA citizens, struggle to survive. The political and civil inequity has transformed "the land of the free" to "the home of the miserable" and destinies are no longer self-determined. The very values the nation once held dear have languished for centuries in history books no one has taken the time to read.
No one except Decker Channing.
A 32-year-old police officer, Decker has silently witnessed systematic oppression his entire life and knows it is the antithesis of what the founding fathers stood for. When a life or death situation forces him to make a split decision, Decker realizes he can no longer remain silent. Unwilling to watch his country descend into further tyranny, he rallies the men and women around him to rise up and take a stand. Drawing strength from the ideals of the abandoned Constitution, he and a mysterious dark eyed woman fight to restore the USA to what it once stood for: life, liberty and the pursuit of happiness. But in order to do this, one thing becomes clear.
Atlas must die.
***Please note this story is 70% action and 30% romance, told from the hero's POV. This story would primarily appeal to readers who like action, dystopia, politics, and a thriller element alongside romantic themes.***
**Please also note that there are instances of profanity, mild violence, and unapologetic themes of religion, politics and spirituality within this work of fiction. Reader discretion is advised.**
---
My review in 2015:
I am a huge fan of Michelle Onouorah! This is her newest novel. And this is another good one written by her. This dystopian novel really makes you think about where our country may be going, and not for the better……
This book really made me think and I teared up a little towards the end.
I can't wait to read more from this author!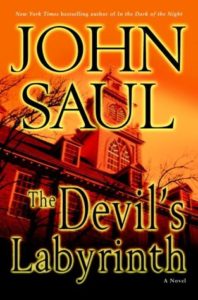 Author: John Saul
AUDIOBOOK
Published: July 17, 2007
Dates Read: June 25- July 8, 2016
My Rating: 1 Star
Book Summary from Amazon:
After his father's untimely death sends fifteen-year-old Ryan McIntyre into an emotional tailspin, his mother enrolls him in St. Isaac's Catholic boarding school, hoping the venerable institution with a reputation for transforming wayward teens can work its magic on her son. But troubles are not unknown even at St. Isaac, where Ryan arrives to find the school awash in news of one student's violent death, another's mysterious disappearance, and growing incidents of disturbing behavior within the hallowed halls.
Things begin to change when Father Sebastian joins the faculty. Armed with unprecedented knowledge and uncanny skills acquired through years of secret study, the young priest has been dispatched on an extraordinary and controversial mission: to prove the power of one of the Church's most arcane sacred rituals, exorcism. Willing or not, St. Isaac's most troubled students will be pawns in Father Sebastian's one-man war against evil–a war so surprisingly effective that the pope himself takes notice of the seemingly miraculous events unfolding an ocean away.
But Ryan, drawn ever more deeply into Father Sebastian's ministrations, sees–and knows–otherwise. As he witnesses with mounting dread the transformations of his fellow pupils, his certainty grows that forces of darkness, not divinity, are at work. Evil is not being cast out . . . something else is being called forth. Something that hasn't stirred since the Inquisition's reign of terror. Something nurtured through the ages to do its vengeful masters' unholy bidding. Something whose hour has finally come to bring hell unto earth.
---
My review:
I listened to the audio book version of The Devil's Labyrinth by John Saul. I purchased it for $3.00 at my local used bookstore. You can't really beat a $3.00 audiobook! The description of the book intrigued me. Exorcisms, but instead of driving out evil, evil is summoned!?!?!?
I did not really like the narrator's voice, but I was able to get over that. The voice was hard to hear at times in my car. I have hearing issues. But his voice was also deep. It could have also been my car stereo as I listened to one disc in the house and did not have as many issues with hearing the disc. At times I had to rewind a track to listen again to what the narrator said.
The beginning of the book pulled me in with the two boys and the lizard. I did like the way the author brought that together towards the end of the book. I liked Ryan's character. Overall, I was going to give the book three stars (3 stars is that the book is good- nothing particularity bad about it) UNTIL the end. I knew there were 99 tracks on each disc and it was on track 90 on the last disc and knew there was no way for the book to finish everything that had to be done. The book in fact was getting really good as it was reaching the climax….. and then it just stopped. Nothing….. No ending… No closure…. Really?!?!? I backed the tracks up several times to make sure I heard what I heard. When I say no closure I am not exaggerating. We don't know if the villain is going to get caught or get away. What is going to happen to the Pope? What's going to happen to Ryan and the other kids at St. Isaac's? WHERE IS THE ENDING!?!?!? This sudden stop point ruined what was otherwise a good book for me.
The audiobook has a "bonus disc" which is an interview with John Saul. I was hoping there was something in that interview that gave some understanding to this sudden ending. There was not. Whenever the narrator asked a question to Saul he was very coy and basically saying read the book to find out. Or that he didn't want to give anything away. Ummm… This was disc 9 – so the interview came AFTER you finish the book. At least give me something!!!
I can not recommend this book at all. Stay away from it. Now, I would be willing to read or listen to another of his books in the future. But if he did the same with that book (whatever it may possibly be) as The Devil's Labyrinth, I would not read a third by him.
[Top]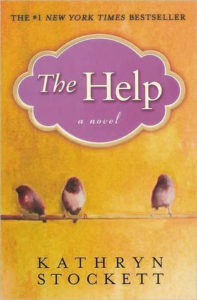 Author: Kathryn Stockett
464 Pages in Hardback
Published: February 10, 2009
Dates Read: January 15-February 7th, 2016
My Rating: 5 Stars
Book Summary from Amazon:
Three ordinary women are about to take one extraordinary step.
Twenty-two-year-old Skeeter has just returned home after graduating from Ole Miss. She may have a degree, but it is 1962, Mississippi, and her mother will not be happy till Skeeter has a ring on her finger. Skeeter would normally find solace with her beloved maid Constantine, the woman who raised her, but Constantine has disappeared and no one will tell Skeeter where she has gone.
Aibileen is a black maid, a wise, regal woman raising her seventeenth white child. Something has shifted inside her after the loss of her own son, who died while his bosses looked the other way. She is devoted to the little girl she looks after, though she knows both their hearts may be broken.
Minny, Aibileen's best friend, is short, fat, and perhaps the sassiest woman in Mississippi. She can cook like nobody's business, but she can't mind her tongue, so she's lost yet another job. Minny finally finds a position working for someone too new to town to know her reputation. But her new boss has secrets of her own.
Seemingly as different from one another as can be, these women will nonetheless come together for a clandestine project that will put them all at risk. And why? Because they are suffocating within the lines that define their town and their times. And sometimes lines are made to be crossed.
In pitch-perfect voices, Kathryn Stockett creates three extraordinary women whose determination to start a movement of their own forever changes a town, and the way women—mothers, daughters, caregivers, friends—view one another. A deeply moving novel filled with poignancy, humor, and hope, The Help is a timeless and universal story about the lines we abide by, and the ones we don't.
---
My review:
I read the book a few years ago. I highly enjoyed it. This was about the time the movie was released. I borrowed the book from a coworker who also loved it. I had also heard the audio book was very good. My local library had the audio book, so I decided to give it a listen. I am glad I did! When I read the book, I gave it 4 stars, the audio book I give 5 stars too! There are several narrators and they did a fabulous job! Listening to the audio book made me want to watch the movie again, so I borrowed it from the library as well.
The narrators in the audiobook bring the characters to life in a different way from just reading the book. I recommend listening to the audiobook!!!
[Top]