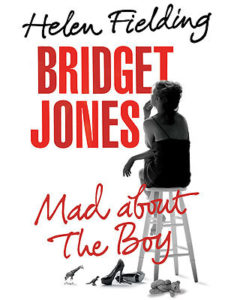 Bridget Jones: Mad About the Boy
Author:  Helen Fielding
386 Pages in Hardback
Published: March 5, 2014
Dates Read: May 7-29, 2014
My Rating: 4 Stars
Book Summary from Amazon:
What do you do when a girlfriend's 60th birthday party is the same day as your boyfriend's 30th? Is it wrong to lie about your age when online dating? Is it morally wrong to have a blow-dry when one of your children has head lice? Does the Dalai Lama actually tweet or is it his assistant? Is technology now the fifth element? Or is that wood? Is sleeping with someone after 2 dates and 6 weeks of texting the same as getting married after 2 meetings and 6 months of letter writing in Jane Austen's day? Pondering these, and other modern dilemmas, Bridget Jones stumbles through the challenges of single-motherhood, tweeting, texting and redisovering her sexuality in what some people rudely and outdatedly call 'middle age'. The long-awaited return of a much-loved character, Bridget Jones: Mad About the Boy is timely, tender, touching, witty, wise and bloody hilarious.
---
My review written in May 2014:
It has been many years since Helen Fielding wrote The Edge of Reason. I knew the direction she chose to go with for Mad About the Boy,(and knew how unhappy many readers are with this direction) but I still wanted to read it to see the new chapter in Bridget's life. I really enjoyed the book. I feel that the Helen Fielding did have the readers miss out: There could have been one, maybe two books between "Edge" and "Mad". I felt we missed out on all the details, which were briefly mentioned in the book which showed us what happened between "Edge" and "Mad". I would recommend this book for fans of the series.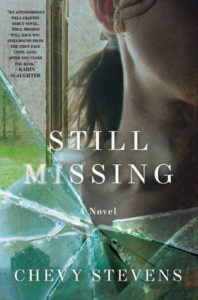 Still Missing
Author: Chevy Stevens
Listened to Audio Book
Published: July 6, 2010
Dates Read: January 10-23, 2013
My Rating: 4 Stars
Book Summary from Amazon:
On the day she was abducted, Annie O'Sullivan, a 32-year-old realtor, had three goals—sell a house, forget about a recent argument with her mother, and be on time for dinner with her ever-patient boyfriend. The open house is slow, but when her last visitor pulls up in a van as she's about to leave, Annie thinks it just might be her lucky day after all.
Interwoven with the story of the year Annie spent as the captive of a psychopath in a remote mountain cabin, which unfolds through sessions with her psychiatrist, is a second narrative recounting events following her escape—her struggle to piece her shattered life back together and the ongoing police investigation into the identity of her captor.
Still Missing is that rare debut find–a shocking, visceral, brutal and beautifully crafted debut novel.
---
My review written in January 2013:
I rarely write reviews for a book after I finish it. I listened to the audio book of Still Missing by Chevy Stevens. After I listened to the first few cds, I did not think I would be able to finish the book. She is very graphic in her writing and I could picture everything that was happening to Annie. And it was VERY TOUGH to listen to. That is the work of a talented author. And this is her first novel!!!! I am glad I finished it. It was a very good book!!! And I did not see the twist coming. Her writing blew me away, especially when I got to the last line. I would have given it five stars, but the language bothered me. I do get it that what happened to Annie did change her and that was why the language was like that. I would recommend this to people to read, as long as you can handle language and some VERY tough scenes while Annie was kidnapped.
*** Reading this review makes me want to go back and read the book again. It has been three years since I read it sometimes books are worth re-reading. This looks to be one of those! This time I will be prepared for the writing that I was not prepared for when I first read the book. Luckily, my local library does have the audiobook, so I will be listening to this book again soon!
[Top]
Thank you for visiting Jessica's Reading Room! Sit back, relax, and enjoy my website!!
If you know me then you know I am a big reader. I read a lot when I was younger, and I guess I stopped reading for enjoyment with school/college. Then one day my aunt gave me a copy of Can You Keep a Secret by Sophie Kinsella. And that started me back to reading!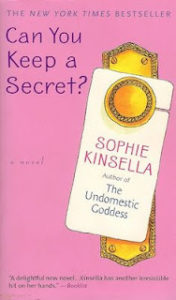 I began keeping track of the books I was reading in 2009. There is a separate page on this website showing those books by year. I joined the Goodreads site in April of 2011. In the past couple of years I began writing reviews on some of the books I read on Goodreads and Amazon. In February of 2016, I became the third admin on the Bookies Facebook page. I assist the page by posting anything book related. Anything I post on the page ends with the tag JPJ so the "bookies" (fans) of the page know which admin has posted. I am also in charge of a weekly post called "Weekly Wonders". Once a week, I will highlight and review a book of my choosing. In June of 2016, I became a NetGalley member. NetGalley is a site where if you meet certain requirements you can join the site and request ARCs (Advance Reader Copies) of books in exchange for reviews and promote new and upcoming books.
With all of that going on, I decided that I wanted to have my own website to post my reviews and occasionally other book related posts. And now we have this website!!! While the site is mainly for me, if others visit the website that will be great!!!
***I don't read one particular genre. If I am interested in a book I will read it, and I will read most genres. My favorite author is Heather Gudenkauf.
The reviews on this site are 100% my opinion. I don't set a word limit on my reviews.
This site will be a work in progress for a while as I go through Goodreads to post my past reviews on here. Once I catch up then posts will be reviews of the books I am currently reading and whatever else I can think of!
Any book summary posted on this site is provided by Amazon. Pictures of book covers are provided by Goodreads.
Thank you for visiting Jessica's Reading Room. I hope you will come back!
Thanks to Mojo Web Hosting for hosting this website!!