Do you enjoy reading horror, especially at Halloween? Do you like to read short stories? Today I am talking about two horror short stories! They are 32 and 33 pages long, so they are quick to read. I enjoyed them both and they both received 5 star reviews from me. E.J. Bennett and Ginny Clyde are the authors and are currently having a release party going on Facebook, and it ends today. You can check out their release party HERE.
Which will these stories be? Tricks or treats? You will have to read them to see!
For now, let's say they are treats and enjoy my reviews. Then do yourself a favor and get these stories from Amazon! They are worth the small cost.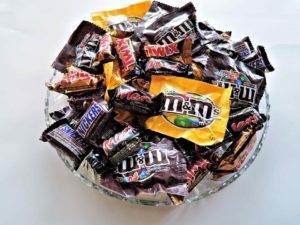 ---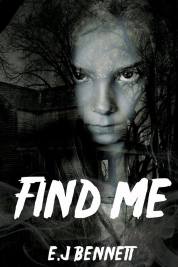 Find Me
Author: E.J. Bennett
33 Pages in Kindle
Published: October 28, 2016
Date Read: September 29, 2016
My Rating: 5 stars
Short Story Summary from Amazon:
With no one to believe her, Mia finds herself thrust from college and into her deceased Grandmother's decrepit home. Returning to the place she swore she'd never return, her haunting childhood comes back with a vengeance. Forced to stay in the deadly house, will she uncover the house's haunting past before it's too late? What bone chilling secrets does the house hide?
My Review:
Find Me is a short story (33 pages) that pulls you in from the beginning and you don't want to put it down! It took me just over an hour to read it. This story is available today and comes out at the perfect time since Halloween is just a few days away! The house is truly creepy and I didn't know what was going to happen. There is a conclusion to Find Me, but I wanted more! Whether extending it or more of Mia's back-story.
It is recommended. If you like ghost stories, or something to spook you that is not long, definitely check it out.
I received a copy from E.J. Bennett in exchange for a review. Thank you E.J!
---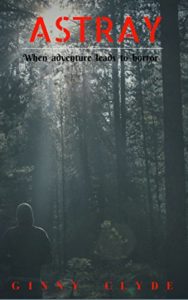 Astray: When Adventure Leads to Horror
Author: Ginny Clyde
32 Pages in Kindle
Published: October 26, 2016
Date Read: October 24, 2016
My Rating: 5 Stars
Short Story Summary from Amazon:
When a travel adventure turns into a horrific misadventure…
Kevin and his three friends decided to go to Scotland for a summer adventure. The highlight of the trip is to follow the trail to the top of Ben Nevis, the highest mountain peak in the British Isles. They are warned against going astray, to not wander off the marked path in the tourist maps but the spirit of adventure lures them towards something sinister.
Find out what happens to them in this chilling horror story…
My Review:
I loved this short story! Four young men decide to go to Scotland and during their vacation they decide to hike up Ben Nevis. They are warned to stay on the trail. Of course they don't. This is the story of what happened…. I can't really say much without spoilers. I'll just say when I was done I had to look and see if the "something sinister" was real or if Ginny Clyde created it.
Astray is highly recommended. I did not want to put it down; I wanted to know what was going to happen!
I received a copy from Ginny Clyde in exchange for an honest review. Thank you Ginny!
---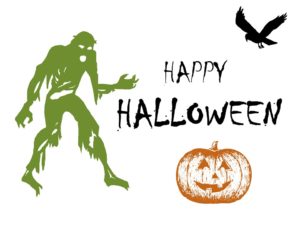 Whatever you may do this Halloween weekend have fun, be safe, and don't eat too much candy!! This weekend the hubby, my sister-in-law, niece, and I are all going to Walker Stalker Con in Atlanta!! I will be on the lookout for zombies and Negan! And hopefully get my goodbye from Abraham…..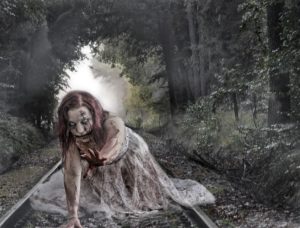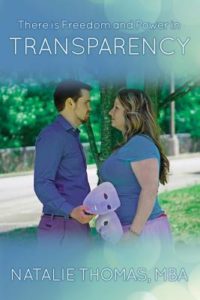 There is Freedom and Power in Transparency
Author: Natalie Thomas, MBA
110 Pages in Paperback
Published: August 3, 2016
Dates Read: October 21-23, 2016
My Rating: 3 stars
Book Summary from Amazon:
When most people experience God, it's through the love of family and friends, and even the kindness of strangers. For Natalie Thomas, MBA, God's presence was much more tangible.
In this deeply personal memoir, Thomas details her life story and firsthand encounters with supernatural forces. Be prepared to open your eyes to how demons tried to deceive her family and angels offered blessed guidance.
Like Jesus miraculously feeding a crowd with fish and bread, God supernaturally provided Thomas's family with food and money. By keeping her ears attuned to God's still, small voice, she gained invaluable insight about her troubled marriage and her husband's addiction.
As you walk with Thomas through her life, you'll soon discover how God has always had a hand in yours.
My Review:
There is Freedom and Power in Transparency is Natalie Thomas' memoir. It begins with her childhood experiences with angels and demons. The memoir also continues through part of her college experience, her very troubled marriage, and ends in present day. Through the many tough times she faced, she still had her faith.
I personally know Natalie, I used to go to church with her and at one time was in the same Sunday School class as her. At that time she was not the teacher, but I heard some of her story. I did not know all of her story until I read this memoir and I felt I got to know her more as I read it. If you do not know her personally you will definitely get to know her as you read There is Freedom and Power in Transparency.
As previously mentioned, Natalie shares her experiences with angels and demons during her childhood and teen years. She then goes to college and meets the man she will marry. They do marry, but it is a troubled marriage. I won't go into what happens in that marriage, you will have to read the book to find that out. You do begin to wonder what else is going to happen. I found myself wondering what her life would have been like if she had not married her husband. It would have been a very different life! Natalie's journey was a hard one where many people would have doubted their faith or even lost it, but Natalie persevered with her faith intact.
The only critique I can give is that at times it had a raw, unfinished feel to it. There could be a little more editing done to the book.
I liked that when Natalie referenced Bible verses that she included the version of the Bible that she used. While reading Transparency, it seemed hard to believe that it is a memoir.
There is Freedom and Power in Transparency is recommended.
I was given a copy from Natalie Thomas in exchange for a review.  An interview will also be forthcoming.
[Top]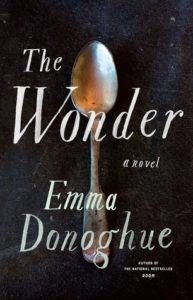 Author: Emma Donoghue
AUDIOBOOK
Published: September 20, 2016
Dates Read: October 10-24, 2016
My Rating: 4 stars for the novel, audiobook version receives 2 stars
Book Summary from Amazon:
In the latest masterpiece by Emma Donoghue, bestselling author of Room, an English nurse brought to a small Irish village to observe what appears to be a miracle-a girl said to have survived without food for months-soon finds herself fighting to save the child's life.
Tourists flock to the cabin of eleven-year-old Anna O'Donnell, who believes herself to be living off manna from heaven, and a journalist is sent to cover the sensation. Lib Wright, a veteran of Florence Nightingale's Crimean campaign, is hired to keep watch over the girl.
Written with all the propulsive tension that made Room a huge bestseller, THE WONDER works beautifully on many levels–a tale of two strangers who transform each others lives, a powerful psychological thriller, and a story of love pitted against evil.
My Review:
I enjoyed The Wonder. It is slow to start, but once it gets going I had to know what was going to happen!
English nurse Lib is brought the Ireland to watch 11 year old Anna O'Donnell. She is believed to not have eaten anything since her eleventh birthday, which was four months ago. Word has gotten out about Anna and people are traveling from everywhere to see or meet "The Wonder". Anna believes she is surviving on manna from Heaven and has no need to eat. Lib is a skeptic. Is Anna actually not eating or is food being sent to her secretly to eat in private? That is Lib's job: To not leave Anna alone for a moment to discover the truth.
There is an answer to this question, and once we have the answer, there is still more book to read! It becomes more than what the answer is as Lib tries to save Anna's life.
This book is very well written. Well done Emma Donoghue! You can sense the tension between Lib, Anna's family, and doctor. The book takes place in the year 1859 and much of the tension is that of the Irish vs English. You also see the honest faith of a child that Anna has, but is it misguided? You must read the book to find out! There is definitely more to this novel than you think going into it.
Audiobook Review:
I listened to the audiobook version of The Wonder. I don't usually write a review for the audiobook, but I feel I need to in this case. The narrator is Kate Lock. I had difficulty understanding some of the characters as the Irish accents were too strong for me. There were times when the mother was yelling- and I could not understand what was said. Also, at times I could not understand Anna. Lib is the main character in the novel, I had no problems understanding her. There were other characters where I had this problem as well.
I know with this difficulty that I missed some of what happened in the novel, so I can not recommend the audio version. If you choose to read The Wonder, stay away from the audio version and read the book.
The Wonder is recommended!
[Top]