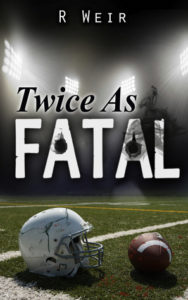 Author: R. Weir
232 Pages in Kindle
Published: May 29, 2015
Dates Read: October 11-20, 2016
My Rating: 4 Stars
Book Summary from Amazon:
Twice the business, twice the danger and Twice as Fatal. PI Jarvis Mann has two cases he is working, making his professional and personal life twice as difficult.
Ray Malone is a promising college football star whose career is derailed by injuries. When he disappears, close friend Jarvis is recruited by Ray's father to locate him. After tracking him down a video is sent of Ray with the warning of it going public, threatening his career and those that love him.
Case two has landlord Kate Tanner hiring Jarvis to gather evidence against her cheating, thieving husband so she can divorce him. As Jarvis investigates he learns of the husband's connection to a powerful man, with a dangerously perverted agenda that crosses into Kate's life with deadly consequences.
Across the Rocky Mountain Front Range Jarvis tries to balance both cases, each dragging him deeper into different sleazy underworlds, jeopardizing him, his clients and their families. With danger and death all around him, he somehow must rescue everyone before this fatal business claims the lives of all involved, his life and the one he is growing to love.
My Review:
Jarvis Mann is back! Twice as Fatal is the second full length novel by R. Weir. The first was a short story introduction to Jarvis. Twice as Fatal picks up where Tracking a Shadow concluded. This time Jarvis is working two cases:
1. His landlord Kate is convinced her husband is cheating on her and she wants evidence of that.
2. His friend Bill's son Ray has gone missing.
Of course the two cases end up being connected and R. Weir does a good job connecting them.
We are really getting to know Jarvis as a person now. He is a flawed man whose weakness is women. And he really likes looking at pretty women. He sees a lot of that in this book. It is a nice change to see that the protagonist of the novel is not perfect, as none of us are. We also see where certain things happen in the cases that make Jarvis uncomfortable. That was welcome to see as he hasn't become jaded in his job.
Jarvis' relationship with Melissa is continued, but is strained. She is working a lot of hours on a court case and is thinking about going to school to become a lawyer. You can't help but to root for Jarvis and Melissa to work out. He does become conflicted some in the book and you see he doesn't want to mess up again like he did previously. I was hoping Jarvis wouldn't make that same mistake again!
**A warning to potential readers**:
The book does take a turn of an adult nature. A "gentleman's club" is involved. There are a variety of sexual exploits including S&M and violence including torture. There is also a lot of profanity. It is graphic with some of those activities. This book is definitely not for the kids! If you have issues with those types of activities, you may want to stay away from this novel. Some of it was a little difficult for me to read.
Twice as Fatal could be read as a standalone novel, but you would not see everything connected from the previous novels. I would recommend reading the others before reading Twice as Fatal. I also recommend Twice as Fatal.
I do like Jarvis and look forward to reading the next in the series: Blood Brothers!
**I received a copy from R. Weir in exchange for an honest review.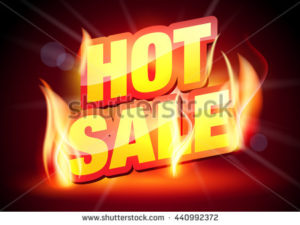 The Cobb County Library has their three day book sale every March and October. All profits from the sale go to buying more items for the 16 libraries in Cobb County. The book sale was this past weekend and it was my third time attending the sale.
I go on Sunday since it is BYOB (Bring Your Own Box) Day! For $20 you can fill up a 'box' of any size! And they mean 'box' loosely. I have seen people bring trashcans: They fill them up, go to their car, empty the trashcan, then go back in!
 Sunday at the Book Sale:
I was ready with my suitcase to find some treasures!: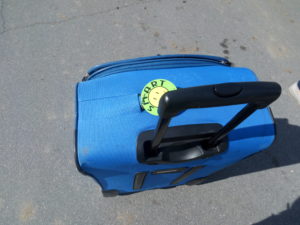 The book sale began at 1pm, and I got there a little after 12:30. The line wasn't too long when I got there as you can see: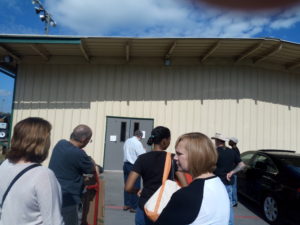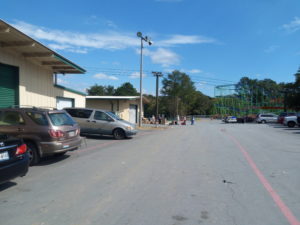 Then people started to show up and the line began to get longer….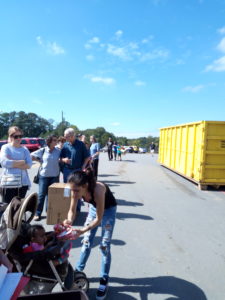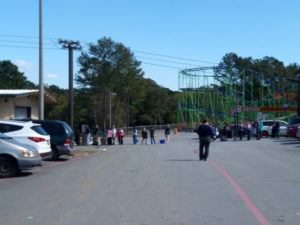 Then the doors opened and it was time to shop!!!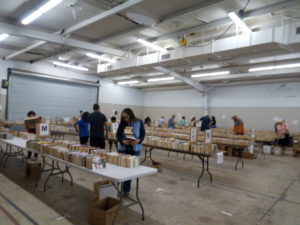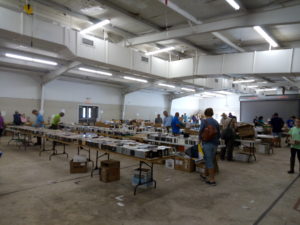 Anyone want some Twilight?  (In March there was an overabundance of the 50 Shades of Grey series):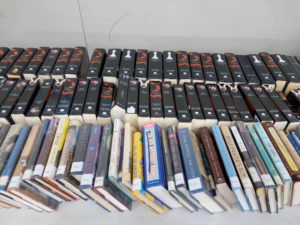 As I was leaving I noticed all the people that were now shopping- the room with the hardback books had a LOT of people!!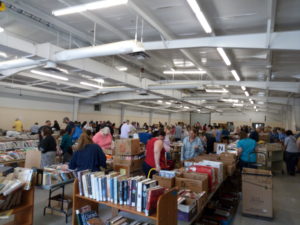 My treasures that I picked out: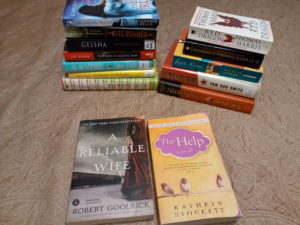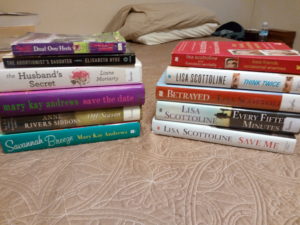 The hubby had to work, so I got him these: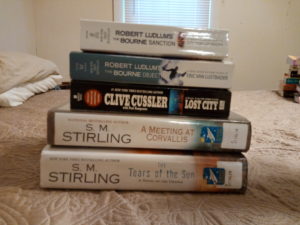 I was very happy with the book sale.  All of that for just $20! What a deal!! Now to figure out where to put them…..
[Top]
Book: Ten
Author: R.E. Carr
Series: Book Three in the Rules Undying Series
Release Date: October 25, 2016
R.E. Carr took over the Bookies Facebook page last night and premiered the cover of the third book in her Rules Undying series: Ten. And now I get to do the cover reveal on this site! The covers are designed by Reginald Atkins.
So there is no more waiting, here is the cover of Ten: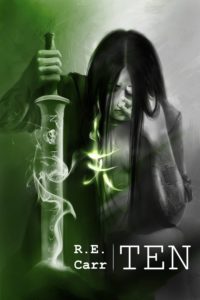 Ten will be available on Amazon on October 25th
Ten's Description:
Caring for a vampire is a dirty job, but Georgia Sutherland is just the gal to do it. She settles in as the go-to gal for her recovering master, and has everything a girl can dream of – except for the man that she loves, Ren. Still, she refuses to give up hope, and is willing to rekindle her relationship with the rival vampire family, just for a chance at bliss.
Meanwhile, halfway across the country, Paige DeMarco has given up her old name and her old life, and finally found a man worth her time. Unfortunately for her, werewolf relationships aren't as simple as she hoped, especially when her vampire ex rolls into town.
Both women have to face the facts, once you get involved with vampires, life becomes complicated. As their lives intertwine, ghosts of the past rise up to haunt them. The only question is, can there ever be a happily ever after for those entangled with the undying?
The rest of the Rules Undying Series are just $2.00 on Amazon for the month of October: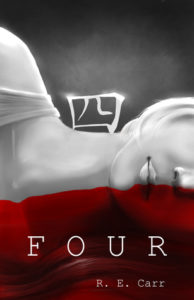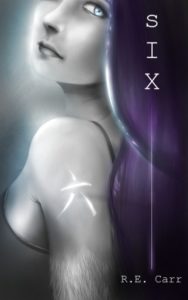 Buy Four and Six here:
Also, R.E. Carr is participating in Vampire Books for Blood this month. This event is where authors and publishers of vampire-themed books have pledged to make a financial donation to the American Red Cross or Canadian Blood Services during the month of October. R.E. Carr is donating $1.00 of every copy of Four and Six sold this month to the American Red Cross! So far she will be donating at least $500. This does include UK purchases.
You are already getting a deal with Four and Six being just $2.00 this month and then $1.00 goes to the Red Cross! Everyone benefits from this. So go ahead and purchase Four and Six today!! And look for Ten on October 25th!
Contact R.E. Carr:
Facebook
Website
[Top]