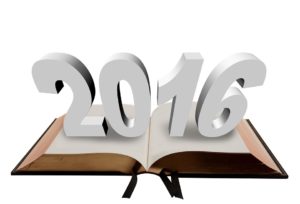 It is hard to believe that 2016 is over. Here is my 2016 in review 'book-wise':
In February, I became an admin of the Bookies Facebook page. As an admin, I began a weekly post called "Weekly Wonder" where I posted a review of a book I read. If I had not read it gave it a mention as I found it one I wanted to read. The Weekly Wonder could be a negative or positive review. As I began doing the Weekly Wonder I started posting reviews more on Goodreads. From there, I started slowly posting reviews more on Amazon.
I started getting more involved in the 'book community' and began 'meeting' more fellow books lovers. Most of them happen to be in the UK. I 'met' Chelsea, a fellow blogger from Georgia whose site The Suspense is Thrilling Me is great!  I look up to her and hope to 'grow up and be like her' one day!  She also introduced me to The Book Club on Facebook ( #TBConFB) in August or September. I thank her so much for that! They are a great community of fellow authors, readers, and reviewers, with twisted minds and senses of humor 😉 ! I have read two books for review from them. I plan to get more involved with TBC in 2017.
In June, I began using a website called NetGalley where you can get arc books in exchange for review. This is a great site! Publishers use it to get their books out there months in advance for those early reviews. I have read some books I love (Jack Jordan's My Girl) and others I did not enjoy.
As I was getting involved with all of this, one day it hit me that I wanted to do more with my reviews: I wanted to start a blog! I told my husband this, and he helped me get set up with this site mid July. I started this blog for me first, but I do hope to get more followers. I am still learning about blogging. If you subscribe to this blog then you get a big THANK YOU! If you don't subscribe, please do. Please pass this blog around to others. I would love to have some more subscribers; as of now I have 32. I would love to see 2017 end with many more! I have posted, reviews, interviews, and even a participated in a weekend 'blog blitz'. The biggest thing that came out of my blog for me, was an interview with my favorite author, Heather Gudenkauf! Interviewing her was like a dream come true. I 'fangirled' a little when she said yes to the interview. I honestly did not expect a yes from her. My blog had only been around for two weeks at that time. THANK YOU so much for doing that interview with me Heather!  My interview with Heather is here.
In November, I began a Twitter account. Occasionally a 'personal' tweet may be tweeted.
I am anticipating 2017 and I hope it will be another big year 'book wise' for me. I plan to continue my reviews, and hope to continue to do more of everything else!  I already have several 'blog tours' set up in early 2017. I am continuing to catch up on reading the books I have received for reviews. I am hoping that will be finished by March at the latest. Until then, I will not accept more books for review. But I will still accept everything else!
Without further ado, here is my list of books I read in 2016!:
****= short story
1. ****Yet to Be Determined- John Meany- Kindle- 16 pages
2. Total Money Makeover- Dave Ramsey- AUDIOBOOK- 3 Discs- 220 minutes
3. The Good Girl- Mary Kubica- Kindle- 352 pages
4. If You Could Be Mine- Sara Farizan- AUDIOBOOK- 5 Discs- 315 minutes
5. Pretty Baby- Mary Kubica- Kindle- 381 pages
6. The Help- Kathryn Stockett- AUDIOBOOK- 15 discs- 18 hours
7. The Weight of Silence- Heather Gudenkauf- Hardback- 373 pages
8. ****Bridget Jones's Guide to Life- Helen Fielding- Paperback- 55 pages
9. Spring Fever- Mary Kay Andrews- AUDIOBOOK- 12 Discs- 15 hours 30 minutes
10. These Things Hidden- Heather Gudenkauf- Paperback- 337 pages
11. Christmas Bliss- Mary Kay Andrews-AUDIOBOOK- 6 Discs- 7.5 hours
12. One Breath Away- Heather Gudenkauf- Paperback- 370 pages
13. Midnight Clear- Mary Kay Andrews- AUDIOBOOK- 9 Discs- 11 hours
14. ****Little Lies- Heather Gudenkauf- Kindle- 45 pages
15. Little Mercies- Heather Gudenkauf- Paperback- 304 pages
16. Beach Town- Mary Kay Andrews- AUDIOBOOK- 12 discs- 14 hours
17. Change of Scene (prequel to Beach Town)- Mary Kay Andrews- Kindle- 144 pages
18. ****Six Days- Theresa Kay-Kindle- 23 pages
19. ****The Grownup- Gillian Flynn-on phone- 66 pages
20. The Millionaire Mind- Thomas J. Stanley-AUDIOBOOK- 10 discs- 12 hours
21. Missing Pieces- Heather Gudenkauf- Hardback-284 pages
22. Summer Rental- Mary Kay Andrews- AUDIOBOOK- 12 discs- 15 hours
23. Dinner with a Perfect Stranger: An Invitation Worth Considering- David Gregory- Hardback- 100 pages
24. A Mother's Reckoning: Living in the Aftermath of Tragedy- Sue Klebold- Hardback- 284 pages
25. Deep Dish- Mark Kay Andrews- AUDIOBOOK- 12 discs- 13.75 hours
26. No Ordinary Life- Suzanne Redfearn- Paperback- 365 pages
27. The Strange and Beautiful Sorrows of Ava Lavender- AUDIOBOOK- 7 discs- 8 hours 36 minutes
28. The Happiness Effect: How Social Media is Driving a Generation to Appear Perfect at Any Cost- Donna Freitas- Kindle- 352 pages
29. The Devil's Labyrinth- John Saul- AUDIOBOOK- 9 discs- 11 hours
30. Thirteen Reasons Why- Jay Asher- AUDIOBOOK- 5 Discs- 6 hrs 25 min
31. Me Before You- Jojo Moyes- Paperback- 409 pages
32. ****The Case of the Missing Bubble Gum Card- R Weir- Kindle- 27 pages
33. Red Velvet Cupcake Murder- Joanne Fluke- AUDIOBOOK- 9 discs- 9 hrs 45 min
34. After You- Jojo Moyes- 352 pages- Paperback
35. Most Wanted- Lisa Scottoline- AUDIOBOOK- 10 discs- 12 hours 30 min
36. My Girl-Jack Jordan- Kindle- 248 pages
37. Now That It's You- Tawna Fenske- Kindle -314 pages
38. Still Missing- Chevy Stevens- AUDIOBOOK- 8 Discs- 9 hours 13 min
39. Tracking a Shadow: A Jarvis Mann Detective Novel- R Weir- Kindle- 212 pages
40. The Middle Place- Kelly Corrigan- Paperback- 272 pages
41. The Woman in Cabin 10- AUDIOBOOK
42. Marie Antoinette's Darkest Days: Prisoner No. 280 in the Conciergerie- Will Bashor-Kindle- 392 pages
43. The Husband- Dean Koontz- AUDIOBOOK- 8 Discs- 9.5 hours
44. For the Love- Jen Hatmaker- Hardback
45. ****Find Me- E.J. Bennett- Kindle-33 pages
46. The Girls- Emma Cline- AUDIOBOOK- 8 discs- 9 hours 44 min
47. SMAFU: Situation Married All F$" Up- EM Bosso- Kindle 281 pages
48. ***Special Delivery- Lia Fairchild- Kindle- 24 pages
49. Twice as Fatal- R. Weir- Kindle- 232 pages
50. There is Freedom and Power in Transparency- Natalie Thomas- Paperback- 110 pages
51. ***Astray: When Adventure Leads to Horror- Ginny Clyde- Kindle 32 pages
52. The Wonder- Emma Donoghue- AUDIOBOOK- 10 discs- 13 hours
53. The Queen of Blogging- Therese Loreskar – Kindle- 192 pages
54. Always Watching- Chevy Stevens- AUDIOBOOK- 10 Discs- 12 hours 16 minutes
55. Separate Lives – Kathryn Flett- Kindle- 401 pages
56. Room- Emma Donoghue- AUDIOBOOK- 9 discs- 10 hours 52 minutes
57. His Kidnapper's Shoes- Maggie James- Kindle- 284 pages
58. Happiness is a Commodity- The Behrg- Kindle- 108 pages
59. The Girl With All The Gifts- M.R. Carey- AUDIOBOOK- 13 hours 6 minutes
60. The Second First Time- Elisa Lorello- Kindle- 224 pages
61. The Hundred Lies of Lizzie Lovett- Chelsea Sedoti- Kindle- 400 pages
62. In a Dark, Dark Wood- Ruth Ware- AUDIOBOOK- 9.5 hours
63. Operating on Faith- Matt Weber- Kindle- 168 pages
64. My Dad the Magician- Damian Powell- Paperback- 68 pages (children's book)
Stop the World- Sherry Mayes (Began in 2016)
These are the books I awarded 5 Stars:
1. My Girl- Jack Jordan
2. Me Before You- Jojo Moyes
3. Still Missing(Audiobook version)- Chevy Stevens
4. The Weight of Silence- Heather Gudenkauf
5. These Things Hidden- Heather Gudenkauf
6. Room (Audiobook version)- Emma Donoghue
7. The Help (Audiobook version)- Kathryn Stockett
8. Missing Pieces- Heather Gudenkauf
9. The Girl with all the Gifts- M.R. Carey
10. The Queen of Blogging- Therese Loreskar
11. SMAFU: Situation Married All F$" Up- EM Bosso
12. His Kidnapper's Shoes- Maggie James
13. The Happiness Effect- Donna Freitas
Children's Book- My Dad the Magician- Damian Powell
See you in 2017!! Happy New Year! Be safe ringing in the new year tonight! 
Jessica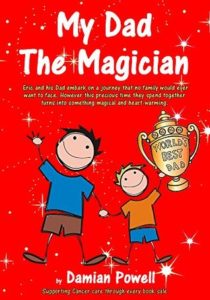 Author: Damian Powell
68 pages in Paperback
Published: 09/05/2016
Date Read: December 27, 2016
My Rating: 5 stars
Book Summary from Amazon:
Have you ever lost someone you really loved? Did you wish the news could have been delivered in a softer way? Now imagine you were 7 years old like the star of this short story, Eric Jones. His Dad is his best friend, and the journey they take together from July to Xmas day is an adventure no family should ever have to face. The bond between father and son is immeasurable, and this is put to the test when Eric's dad starts to share his incredible interest in magic with his son, leading to him revealing that he has developed the ultimate disappearing trick. Eric, throughout the next few months, learns some facts about his father's health through a magical and cleverly told tale, instead of the harsh truth that would be too much for any child to take on board, or even to understand. This precious time they spend together in those 6 months turns into something magical and heart-warming. It is a story that will touch many hearts and without doubt strike a chord with most people. The story has it's climaxes and although explores life's realities, does finish with a positive note reminding all who read it that life is short and has to be lived now and with love. A must read for any family member.
My Review:
I don't usually read children's books as I don't have children and feel I can't give a proper review because of that reason. I made an exception for My Dad the Magician when I found out what the book was about. Eric is seven years old and his dad has cancer. Instead of Eric's parents telling him this, Eric's dad introduces him to magic and tells Eric that he will be able to what the best magicians can't do: Disappear forever.
What follows is a heartbreaking cancer journey that dad experiences while trying to spend as much time as possible with Eric. Eric picks up that something is wrong with dad by seeing and hearing things that are going on around him. I couldn't help but wonder why mom and dad did not tell Eric what was going on even when Eric directly asked what's wrong with dad.
The ending is uplifting. It is meant to be read at Christmas time, and fittingly I received it as a Christmas gift. I wasn't able to read it on Christmas Day, but was able to read two days after Christmas.
Get your tissues ready because you won't have a dry eye by the end of this short children's book.
My Dad the Magician is recommended.
[Top]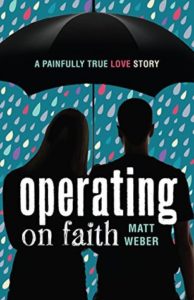 Author: Matt Weber
168 pages in Kindle
Published: 01/16/2016
Dates Read: December 22-27, 2016
My Rating: 4 Stars
Book Summary from Amazon:
"In sickness and in health . . ."
At age 29, Matt Weber was newly married to Nell, the girl of his dreams. They had bought their first house, adopted a dog, and looked forward to a blissful first year together. But shortly after his honeymoon, Matt's recurring, severe stomach troubles send him to the emergency room—and after a five-hour, life-saving surgery in which a third of his stomach is removed, Matt and Nell's plans for their new life are dramatically altered.
Forced to undergo a lengthy and painful recovery, Matt finds that his relationships with God, himself, and his wife are forever changed. Operating on Faith is the gutsy story of a happy-go-lucky Catholic guy whose life was literally burst apart then stitched back together—with faith in the God he'd always known, the sweet and inexhaustible love of his wife, and healthy if sometimes irreverent doses of humor.
For everyone who's ever had plans and expectations upset by life's events, Operating on Faith proves just how necessary love, faith, and a little grit are in facing major challenges and emerging on the other side.
My Review:
Operating on Faith is a memoir written by Matt Weber. At age 29 he got married, bought a house with his wife, honeymooned then had an emergency life changing surgery. You face a lot in your first year of marriage, but a health crisis is not what Matt or his wife had planned, especially being that young and never having health issues previously.
I am not Catholic, so I had never heard of Matt Weber. He had written a book before Operating on Faith called Fearing the Stigmata and is host of The CatholicTV Network series The Lens. I wanted to read Operating on Faith based on the premise of the book. I enjoyed it and I liked Matt's writing style. He takes his writing with humor, including the introduction to the book and even the chapter titles. The chapters are short which makes the book a very quick one to read.
You can see the struggle that Matt and his wife face dealing with his multiple health crises. I say multiple as there is a second struggle for them that happens. Through it all Matt and his wife have their love for each other and their faith. There is definitely humor in that household and you can't help but laugh at parts of the book, even through their frustrations.
The only negative that I could see with the book is that I am not Catholic, so there were a few things that I did not understand. For example, I found myself wondering what the importance of Pope Francis is to Catholics, and also what exactly a "black mass" is. I felt a little more explanation would have been nice for those not knowing about the Catholic religion.
I did enjoy Operating on Faith and would be interested in Reading Matt Weber's first book, Fearing the Stigmata.
Operating on Faith is recommended.
I received a copy from NetGalley and Loyola Press.
[Top]