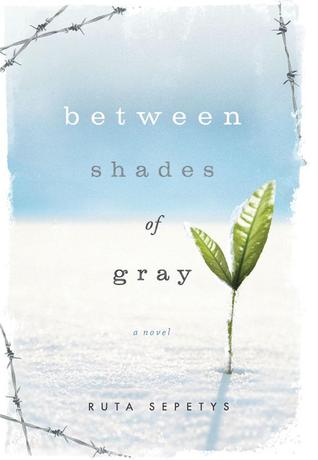 Author: Ruta Sepetys
344 Pages
Published: March 22, 2011
Reviewed By: Kim
Kim's Rating: 4 Stars
Description from Goodreads:
Lina is just like any other fifteen-year-old Lithuanian girl in 1941. She paints, she draws, she gets crushes on boys. Until one night when Soviet officers barge into her home, tearing her family from the comfortable life they've known. Separated from her father, forced onto a crowded and dirty train car, Lina, her mother, and her young brother slowly make their way north, crossing the Arctic Circle, to a work camp in the coldest reaches of Siberia. Here they are forced, under Stalin's orders, to dig for beets and fight for their lives under the cruelest of conditions.
Lina finds solace in her art, meticulously–and at great risk–documenting events by drawing, hoping these messages will make their way to her father's prison camp to let him know they are still alive. It is a long and harrowing journey, spanning years and covering 6,500 miles, but it is through incredible strength, love, and hope that Lina ultimately survives. Between Shades of Gray is a novel that will steal your breath and capture your heart.
Kim's Review:
Between Shades of Gray follows the journey of Lina Vilkas after the arrest of her family by the NVKD in 1941. Her mother, her brother, Jonas, and Lina are taken to the train station and put on a train bound for who knows where. All the Vilkas can think is that their father is not with them. They spend six weeks on the train rumbling through Soviet Russia. Hunger, thirst, lice, and the smell of filth became part of their daily lives. The Lithuanians in the train get to know one another, some encouraging friends, some griping realists. Lina meets Andrius, the boy who becomes her rock throughout most of her time in Siberia. After disembarking at the Altai Labor Camp, Lina and her family begin to adjust to life under Soviet rule. Doing everything they can to survive, they try to hold on to their compassion and humanity, despite the cruelty of their captors. After nearly a year in Altai, the family is moved deeper into the frozen tundra of primitive Russia. They meet with their hardest struggles during this time. Sickness, heartbreak, freezing polar night. Through all the pain, Lina realizes just how gray life can be.
I gave this book 4 stars, because I love the story and the characters. I became engrossed in the story, in the fact that Lina, Jonas, and Andrius never seem to lose hope. But dang!! I closed the book and wanted to throw it across the room! Years of their lives, lives that I had become invested in, weren't there! Nothing! There's a general piece of information that is given, but no details. No weddings, no journeys back, no reunions, no nothing! I hurts my heart! I want to write to Ruta and ask her to write a sequel, because I cannot live on such a lack of detail.
I absolutely recommend this book. In fact, I recommend this book to every teenager alive! One thing that struck me was how little I have to complain about. I have food on my table every day. I have a roof over my head. I live in a country where any ideas, any opinions are allowed and encouraged. And then, there's the gray in this life. Life is not black and white. I believe there are absolutes, but that does not mean that I refuse to see the gray, the complications. In this book, survival could only be found in those shades of gray. And don't forget the beauty. Lina, as an artist, never lost her eye for the beauty that could be found in all the pain and hardship. This book showed the world in all its cruelty, its beauty, and its many shades.