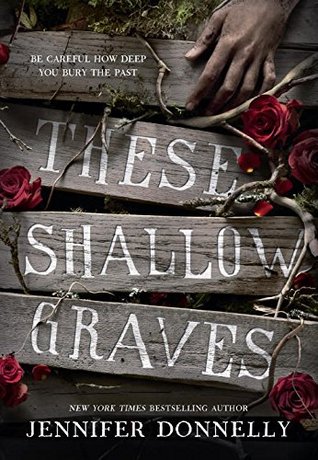 Author: Jennifer Donnelly
488 Pages
Published: October 27, 2015
Reviewed By: Kim
Kim's Rating: 5 Stars
Description from Amazon:
Jo Montfort is beautiful and rich, and soon—like all the girls in her class—she'll graduate from finishing school and be married off to a wealthy bachelor. Which is the last thing she wants. Jo dreams of becoming a writer—a newspaper reporter.
Wild aspirations aside, Jo's life seems perfect until tragedy strikes: her father is found dead. The story is that Charles Montfort shot himself while cleaning his revolver, but the more Jo hears about her father's death, the more something feels wrong. And then she meets Eddie—a young, smart, infuriatingly handsome reporter at her father's newspaper—and it becomes all too clear how much she stands to lose if she keeps searching for the truth. But now it might be too late to stop. The past never stays buried forever. Life is dirtier than Jo Montfort could ever have imagined, and this time the truth is the dirtiest part of all.
Kim's Review:
I loved this book! A good female protagonist that I actually like! I'll admit that for some reason, I usually don't like female leads. I wish I could tell you why, but I can't put my finger on that reason. But Jo Montfort is pretty fantastic. I wouldn't call her a badass, but she's well on her way. Most spoiled brats don't admit that they are spoiled. But Jo gains a self-awareness in this book that is refreshing. She starts out as a privileged, rich socialite but throughout the story, starts questioning her place in life. Does she really want to marry a guy that she doesn't love? Just to sit on her ass for the rest of her life doing nothing but entertaining and birthing babies? That may be the future for some women, and it's a noble one, but not for Jo. She wants to be a reporter, to see the world outside her small Gramercy neighborhood. Her father ends up dead, and though she is grieving, she refuses to accept the status quo of the story that the police and newspapers are selling. Then she meets Eddie Gallagher. My new book boyfriend!!!!! She crushes on him the same way that I crush on my husband. Hearing that other women are also attracted to those little parts of a man like the back of his neck, or his forearms, or that little bit of chest hair that peaks out of his open collar, makes me feel not so weird for doing so. Watching their relationship grow became one of the biggest pleasures of my life! And we haven't even gotten to the mystery yet! But I have the tendency to spoil key details, so I'll just say that it's an awesome mystery that kept me going all the way to the end. But without making me feel stupid when everything is revealed. Some things I totally called earlier in the story, other things shocked me when they came to light. I recommend this book to everybody! Especially to those who love mysteries or historical fiction. I think y'all are gonna love it!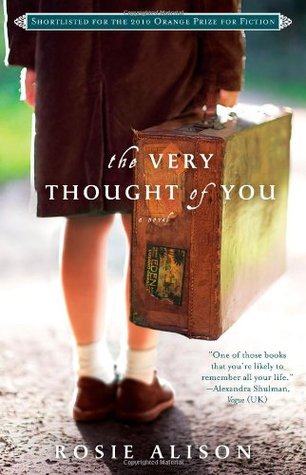 Author: Rosie Allen
340 Pages
Published: July 5, 2011
Reviewed By: Kim
Kim's Rating: 3 Stars
Description from Amazon:
England, 31st August 1939: The world is on the brink of war. As Hitler prepares to invade Poland, thousands of children are evacuated from London to escape the impending Blitz. Torn from her mother, eight-year-old Anna Sands is relocated with other children to a large Yorkshire estate which has been opened up to evacuees by Thomas and Elizabeth Ashton, an enigmatic, childless couple. Soon Anna gets drawn into their unraveling relationship, seeing things that are not meant for her eyes and finding herself part-witness and part-accomplice to a love affair with unforeseen consequences. A story of longing, loss, and complicated loyalties, combining a sweeping narrative with subtle psychological observation, The Very Thought of You is not just a love story but a story about love.
Kim's Review:
This book was ok. I got excited by the WW2 setting in an old manor house in the English countryside. Little Anna Sands is a likable, smart little girl. She's innocent and slightly emotional. I liked her. But if the story had been only about her, I probably would have liked the book better. But dang, all the affairs, and the complete disregard for the marriage vows they entered into willingly . . . this book became a list of excuses for why it's ok to cheat on your spouse. I understand gray areas and how reality can get messy and complicated, but I'd like to think that no matter what the situation is, there's never an excuse to cheat. Unfortunately, the infidelity ruined this book for me. I would probably recommend this book as a cautionary tale to anyone who is or is looking to be married. Actions, no matter how hidden or even excusable they may seem, have consequences.
[Top]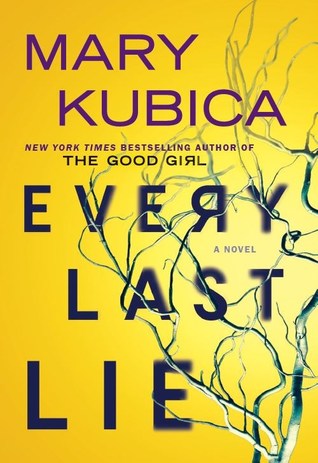 Author: Mary Kubica
Published: June 27, 2017
AUDIOBOOK
Reviewed By: Jessica
Dates Read: August 6-21, 2017
Jessica's Rating: 3 Stars
Book Description from Amazon:
Clara Solberg's world shatters when her husband and their four-year-old daughter are in a car crash, killing Nick while Maisie is remarkably unharmed. The crash is ruled an accident…until the coming days, when Maisie starts having night terrors that make Clara question what really happened on that fateful afternoon.
Tormented by grief and her obsession that Nick's death was far more than just an accident, Clara is plunged into a desperate hunt for the truth. Who would have wanted Nick dead? And, more important, why? Clara will stop at nothing to find out—and the truth is only the beginning of this twisted tale of secrets and deceit.
Told in the alternating perspectives of Clara's investigation and Nick's last months leading up to the crash, master of suspense Mary Kubica weaves her most chilling thriller to date—one that explores the dark recesses of a mind plagued by grief and shows that some secrets might be better left buried.
Jessica's Review:
Mary Kubica may not be the author for me.  I did enjoy her first book The Good Girl, but I figured out the big twist to it. I wish I had not as I would have enjoyed it much more. I have read all of her books except Don't You Cry and I do still plan to give it a chance and read it.  The book description of Every Last Lie intrigued me and I was excited to find out my library offered it as an audiobook. Knowing there are two narrators (Nick from before the accident and also Clara), I was ready for this book! I am a huge fan of multiple points of views in books.
Nick dies in a car crash while his and Clara's young daughter Maisie survives unharmed. The crash is ruled an accident but Clara has her doubts and believes that someone killed Nick. She has no idea why someone would kill Nick. She starts digging and discovering secrets that her husband had that makes her wonder if she ever really knew him.
Days before Nick dies in the accident Clara gives birth to their second child.  Giving birth and also dealing with Nick's death, Clara experiences a wide range of emotions throughout the novel.  Mary Kubica got these emotions spot on!  I actually had to stop listening to the audiobook for a short time as the emotions Clara experienced affected me.  Those emotions felt 100% real and I started to identify with them.  Once I was in a better place, I picked the audiobook back up and started it over.
It is a slower paced novel but I never lost interest in it. I really wanted to know what happened with Nick. The direction that the author chose to go with was not for me.  It was an unexpected route that people will either like or dislike.  For me it was a big build up to get to the conclusion, which not deliver.  There are some other things I did not like about the novel: There are several times that Clara leaves her children in the car alone while she 'investigates'.  No child should ever be left in car alone, especially small children, with one being an infant.  There was also one decision that Clara made towards the end that was a bit extreme for me. Nick also ends up having so many secrets it seems unrealistic that Clara would not have known something was going on.
Every Last Lie was not for me, so I can't recommend it.
[Top]