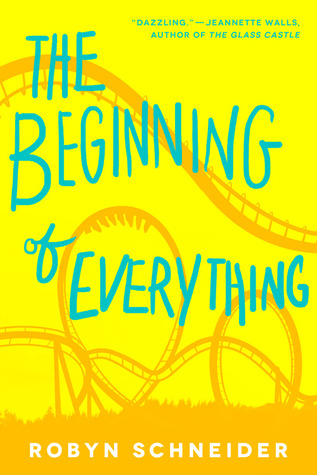 Author: Robyn Schneider
335 Pages
Published: August 27, 2013
Reviewed By: Kim
Kim's Rating: 4 Stars
Description from Amazon:
Robyn Schneider's The Beginning of Everything is a witty and heart-wrenching teen novel that will appeal to fans of books by John Green and Ned Vizzini, novels such as The Perks of Being a Wallflower, and classics like The Great Gatsby and The Catcher in the Rye. Varsity tennis captain Ezra Faulkner was supposed to be homecoming king, but that was before—before his girlfriend cheated on him, before a car accident shattered his leg, and before he fell in love with unpredictable new girl Cassidy Thorpe. As Kirkus Reviews said in a starred review, "Schneider takes familiar stereotypes and infuses them with plenty of depth. Here are teens who could easily trade barbs and double entendres with the characters that fill John Green's novels." Funny, smart, and including everything from flash mobs to blanket forts to a poodle who just might be the reincarnation of Jay Gatsby, The Beginning of Everything is a refreshing contemporary twist on the classic coming-of-age novel—a heart-wrenching story about how difficult it is to play the part that people expect, and how new beginnings can stem from abrupt and tragic endings.
Kim's Review:
Another doozy of a book! I read Extraordinary Means, also by Schneider, earlier this year and loved it! So I picked up The Beginning of Everything and I loved it almost as much! I did give this book only 4 stars because I find teenage drama annoying. But I don't think the story would have existed without all those high school problems that teenagers believe will just end their lives!! As an adult, I found a lot of those problems petty and easy, compared to real life. However, I do remember being in high school where trying to get people to like me was a full time job.
This book was also a little more philosophical than I was expecting. I had no idea what a panopticon was until I read this book. The idea that we are all just living one big surveillance experiment does describe high school efficiently! The book started out with Ezra going from golden boy to social outcast after he is injured in a car accident. He has to deal with all the pity and stares and trying to figure out what his life is now that his old one has been destroyed. He meets Cassidy Thorpe, who is full of mischief and mystery, and like all high schoolers, he falls in love. And everything goes fine, until one crucial detail comes out. I did roll my eyes a little at how dramatic both Ezra and Cassidy can be, thinking that life in high school reflects the rest of your life. But it was an interesting twist that Cassidy resists Ezra's glorification of her. She doesn't want the credit of changing him, when, in reality, he was changing himself.
Basically this is a book of a bunch of kids learning to grow up and their reactions to having to do so. This is actually a good one for high schoolers to read. The language wasn't bad and any "steamy scenes" were few and far between, along with not being very detailed. Those who have finished high school will probably read this with amusement. But overall, a very good book!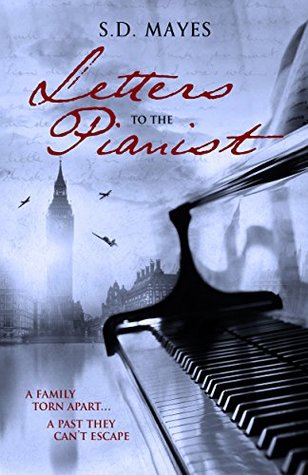 Author: S.D. Mayes
Published: September 19, 2017
487 pages
Reviewed By: Jessica
Dates Read: August 28- September 12, 2017
Jessica's Rating: 5 stars
Book Description from Amazon:
A FAMILY TORN APART … A PAST THEY CAN'T ESCAPE
In war torn London, 1941, fourteen-year-old Ruth Goldberg and her two younger siblings, Gabi and Hannah, survive the terrifying bombing of their family home. They believe their parents are dead, their bodies buried underneath the burnt remains – but unbeknownst to them, their father, Joe, survives and is taken to hospital with amnesia.
Four years on, Ruth stumbles across a newspaper photo of a celebrated pianist and is struck by the resemblance to her father. Desperate for evidence she sends him a letter, and as the pianist's dormant memories emerge, his past unravels, revealing his true identity – as her beloved father, Joe. Ruth sets out to meet him, only to find herself plunged into an aristocratic world of sinister dark secrets.
Can she help him escape and find a way to stay alive?
LETTERS TO THE PIANIST is a compelling page turner packed with drama, intrigue and suspense. If you loved The Book Thief, The Boy in the Striped Pyjamas or The Pianist, then you will love this exciting new novel.
Jessica's Review:
S.D. Mayes took a three year journey of meticulous research to bring us her labor of love with Letters to the Pianist. As you read, you can tell she put her heart and soul into this novel.  Letters to the Pianist pulls you in from the beginning by placing you in London during WWII.
We go on this journey with Ruth, her siblings, and also the mysterious pianist.  I really felt the hardships all these characters go through.  There is much more to this novel than the mystery of whether this pianist is actually Ruth and her sibling's father or not.  He questions his whole past and then his present life takes us in an unexpected direction that spirals towards the fast paced conclusion.
All the characters are extremely well developed and you will like some and some you will not.  You feel all the emotions these characters do. S.D. Mayes did a superb job! These are flawed characters as you deal with family issues, and most of all love.
If you are a fan of Historical Fiction, especially World War II then you MUST read this novel!  Letters to the Pianist is recommended.
I received an arc copy from S.D. Mayes.  Thank you so much for offering this to me for a review!

[Top]
Standalone Sunday was started by Megan over at Bookslayer Reads.

What is Standalone Sunday?
Each Sunday bloggers feature a standalone book (one that is not part of a series) that they loved or would recommend. The standalone can also be one you want to read. There is so much focus on books that are part of a series that standalone books seem to be forgotten. They can be just as great as book series!
Here is my selection for this week:
The Farm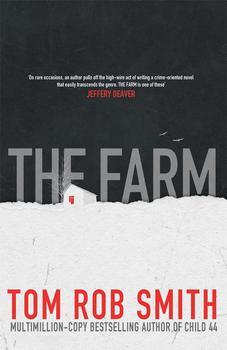 If you refuse to believe me, I will no longer consider you my son.
Daniel believed that his parents were enjoying a peaceful retirement on a remote farm in Sweden. But with a single phone call, everything changes.
Your mother…she's not well, his father tells him. She's been imagining things – terrible, terrible things. She's had a psychotic breakdown, and been committed to a mental hospital.
Before Daniel can board a plane to Sweden, his mother calls: Everything that man has told you is a lie. I'm not mad… I need the police… Meet me at Heathrow.
Caught between his parents, and unsure of who to believe or trust, Daniel becomes his mother's unwilling judge and jury as she tells him an urgent tale of secrets, of lies, of a crime and a conspiracy that implicates his own father.
---
I loved Tom Rob Smith's Child 44 series.  I was sad to say goodbye to Leo at the end of that series. Leo really grew on me, but why wouldn't he? The series was three books and decades of Leo's flawed life. I think that is why the character grew on me, he was flawed!  When I found out Tom Rob Smith wrote another book, I became excited. I can't wait to read this one as it sounds really good!
[Top]