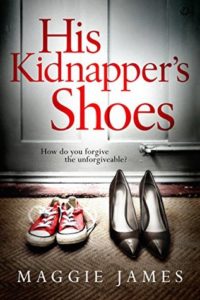 Author: Maggie James
286 pages in Kindle
Published: November 15, 2016
Dates Read: November 21-30, 2016
My Rating: 4.5 stars
Book Summary from Amazon:
Daniel is my son. He has always been mine. And he always will be.
On some level deep inside, Laura Bateman knows something is wrong. That her relationship with her son is not what it should be. That it is based on lies.
But bad things have happened to Laura. Things that change a person. Forever.
For twenty-six-year-old Daniel, the discovery that his mother is not who he thought comes close to destroying him. As his world turns upside down, he searches for sanity in the madness that has become his life. Daniel is left with nothing but questions. Why did Laura do something so terrible? Can he move past the demons of his childhood?
And the biggest question of all: can he ever forgive Laura?
My Review:
His Kidnapper's Shoes is told from two alternating points of view: The kidnapper (Laura) and the victim (Daniel). I always enjoy books written this way. My Kidnapper's Shoes begins with Laura already in jail. We go on a journey with both Laura and Daniel seeing what both of their lives are like.
We learn about Laura's past from childhood to adulthood. She did not have an easy life. For me this does not excuse what she did by kidnapping Daniel, but surprisingly I found myself understanding her through her story and I also felt empathy for her. As you read His Kidnapper's Shoes you can see that she is a damaged woman and has mental issues. You would think that Maggie James would have some kind of experience working with the mentally ill with the way that Laura is described.
Daniel also did not have an easy life. He fell victim as a child in another way other than being kidnapped. I can not say how without a spoiler, which I will not do. His childhood affected him and in some ways turned him into the person he became. He would have been a very different person if he had not been kidnapped. We can see how one decision (the kidnapping) affected so many lives in negative ways.
Maggie James does a superb job putting us in Laura's and Daniel's thoughts. We can see a very disturbed woman and a troubled young man. You can see the descent Laura has leading up to her kidnapping Daniel. We also see how troubled Daniel is. We see and understand his anger and frustration at the loss of what his life should have been compared to what it actually was.
Maggie James covers some issues that could be disturbing to some readers. There is the difficult subject matter of a kidnapping, but then there are some other issues including sexual abuse, rape, and multiple sexual partners including same sex partners. There is also language in the novel as well. This is mentioned as a disclaimer for those that may not want to read a book with these type of subjects.
There are more characters in the novel than Laura and Daniel. There is also Daniel's stepfather, his birth parents and grandparents, his nanny, Daniel's girlfriend Katie, and Annie, a bartender. They all become important in various ways in the novel.
His Kidnapper's Shoes deals with many things, but a big one is forgiveness. Can Daniel recover from what happened to him as a child and will be be able to forgive Laura for kidnapping him?
I enjoyed His Kidnapper's Shoes. Her writing is well written. I wasn't in suspense with the novel, so I can not rate it 5 stars, but it is a very close 4.5 stars. I will read more by Maggie James in the future.
His Kidnapper's Shoes is recommended!
Thanks to NetGalley for providing a copy!