A Conversation with Dan Klefstad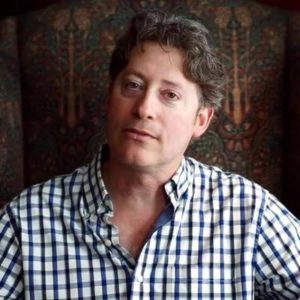 Courtesy of Dan Klefstad
A morning newscaster and the host of "Read with Me", Dan Klefstad has interviewed various authors in the past, they helped to encourage him to write his own novel Shepherd & the Professor.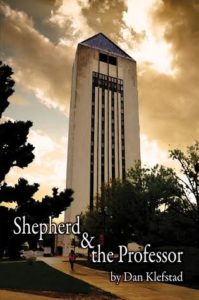 Available on Amazon
JRR(Jessica's Reading Room): Tell us a little about yourself.
Dan: I'm the morning newscaster at NPR station WNIJ which covers northern Illinois and southern Wisconsin. I'm also the host and editor for the "Read With Me" book series, which features authors from the WNIJ area. I've interviewed dozens of authors, some with international reputations, others who chose to self-publish. Each one taught me a great deal about the art of storytelling, and helped encourage me to write my own fiction.
JRR: That sounds like great influences to help encourage you to write! What inspires you to write?
Dan: I'll admit I struggled with this question and answered it last. I think I'm trying to share a part of myself with others, much like a cook keeps experimenting with recipes in hopes that one day he'll create a dish that lots of people like. But it goes beyond immediate gratification. I liken it to creating a recipe that lives on in other people's kitchens, something people will share and say, "Oh, that's the "Klefstad Souffle" or "Susan Shepherd omelet." So I guess I share more similarities with my protagonists than I realize. Thanks for pointing that out! 🙂
JRR: No problem! I always hope my questions will make you think. Who was the most influential author you read when you were growing up? Did you read a lot as a child?
Dan: I read a lot of spy novels as a teenager, which makes sense since it was the 1980s and the Cold War was still on. Ian Fleming's James Bond books, John Le Carre's Tinker, Tailor, Soldier, Spy and books by Ken Follett. One that really stood out was Gorky Park by Martin Cruz Smith, which is more of a police thriller set in Moscow. I loved every one of those books and wanted to write my own spy thriller. Maybe I will one day.
JRR: Maybe you will write a spy thriller one day! What was your journey to becoming published like?
Dan: My path is pockmarked with rejections and rewrites — and I'm better for it. I could've entered a creative writing program, or joined a writing circle where authors critique each others' manuscripts, and I'm pretty sure I would've published sooner if I had. But I wanted a unique style or "voice" for my writing, so I'm glad I didn't let others interfere with my works-in-progress. I'm not sure this approach is for everyone. I guess it depends on whether you want to publish early, and often, or if you want to change the craft — which is something I hope to do.
JRR: Every author's journey is different. It seems like so many people experience rejection many times. At least those rejections helped you in your journey so you could write the way you want. What does your writing process consist of? Do you research, do you hand write or type, music or no music?
Dan: Definitely Microsoft Word, and definitely no music — no noise at all except maybe an air purifier. I'm more of a seat-of-my pants writer. I don't outline, I don't plot things out. I develop characters first and put them in situations where they interact. Action and dialog emerge first, usually, followed by plot lines. My early drafts look a little like stage plays. Even in the final versions, my stories tend to be character- rather than plot-driven.
JRR: What kind of advice can you give to aspiring authors?
Dan: Storytelling is an essential part of who you are. It's what makes you human. But every story, just like every author, is different. Some books attract lots of readers right away, and many of these stories deserve the acclaim. Other authors take risks and try to advance the art. Their stories take longer to find a foothold. If you take this harder road, the financial rewards might not be great, and you'll endure lots of unfair criticism. But those who love the written word will be glad you took the risk — maybe not now, but soon. All you have to do is keep telling the stories you want to tell in the way you want to tell them. Your audience will catch up to you one day.
JRR: That is great encouragement!! Who is your favorite author as an adult?
Dan: I'm a big fan of Robert Hellenga, who's also from Illinois. His novel Snakewoman of Little Egypt is a personal favorite. Hellenga usually features first-person female narrators, and he gave me the courage to try that with my novel Shepherd & the Professor. I also admire the poetry of Amy Newman, whose book "Dear Editor" inspired the query letter aspect of Shepherd.
JRR: I was wondering what made you write from a female perspective for Shepard & the Professor being you are a male author. Now I know. If you could have dinner with three people (living or dead) who would they be and why?
Dan: Ernest Hemingway to start. He proved you could write a story using six words (For Sale: baby shoes. Never used). I imagine a multi-course dinner in which he and I trade six-word pieces. I'd love to have lunch with Albert Camus and try to get him to laugh — just once. And I'd like to spend one Halloween with Stephen King.
JRR: Your first novel is Shepherd & the Professor. What can you tell us about it? Where did you get the idea for this book?
Dan: The book is the fictional memoir of Susan Shepherd – Gulf War vet, cop, and single mom. She believes she made extraordinary sacrifices in life, and wants to be remembered after she succumbs to cancer. So she wrote a memoir and queried dozens of publishers – all of whom rejected her. Now down to her last publisher, she addresses her memoir to one person: the editor or intern Susan hopes will send her manuscript up the chain.
I've always been fascinated by the idea of legacies, of leaving behind a memory. I decided to explore this idea by creating a character who is very different from me, but who shares a desire not to be forgotten.
JRR: It sounds like a different kind of novel with a different kind of protagonist. We get a taste of Susan's personality in your You Tube video where you introduce Shepherd and read an excerpt:
JRR: You have a short story called The Caretaker coming out soon. What can you tell us about it? Where did the idea for it come about?
Dan: "The Caretaker" is similar to Shepherd in that it's a fictional memoir that doubles as a letter to one person. In this case, the author is a man who's about to retire after decades of working for a vampire, and the letter is to the person who'll succeed him. This is another of those "mid-life crisis" stories where the protagonist made great sacrifices to his employer, and now wants to spend his remaining years in peace and luxury. The story comes out in issue 210 of the journal Crack the Spine in about two weeks.
JRR: I am looking forward to reading that! Is there anything else you would like to share?
Dan: Thanks, Jessica, for the opportunity to share my views and experiences with your readers. And I wish everyone all the best in 2017.
JRR: Thank you for your time Dan! I wish you a great 2017 as well!
Thank you for your time with this interview Dan! Shepherd & the Professor is available now and The Caretaker will be published in Crack the Spine and will also be reviewed on this site very soon!