Katie O'Rourke is a hybrid author, which means she has both traditionally published and self-published books. Her debut novel, Monsoon Season, is being published through LittleBrown and Finding Charlie was chosen for publication by Kindle Scout. A Long Thaw was traditionally published and then re-released on her own. She launched her fourth novel, Blood & Water, this month.
Katie writes family sagas with overlapping characters, so they're all connected. The stories in these books exist on their own and can be read in any order, independently from each other. They're not sequels, but because all of the characters live in the same world, there's an opportunity to revisit the past. Readers of Monsoon Season will find a familiar face in Finding Charlie; if you're still wondering about Juliet when you finish A Long Thaw, look for her in Blood & Water.
Katie grew up in New Hampshire, went to college in Massachusetts, and has settled down in Arizona. These are the environments you'll find in her stories because she thinks having an authentic sense of place is so important when you're reading. Her work has been called women's fiction, contemporary fiction, and literary fiction. She tries not to get hung up on genre labels and just writes the kind of stories she likes to read.
---
**Published November 21, 2017:


Blood & Water
292 Pages
Tucson, Arizona is a place for runaways. Everyone comes from somewhere else and has a story about what they left behind.
Delilah arrives on her brother's doorstep with a secret. She hasn't seen David in five years. He ran away from their family long ago for reasons no one talks about and she still doesn't understand. The stress of raising his teenage daughter alone sometimes makes David envious of his deliberately childless friends, Tim and Sara, but they're runaways too, harboring secrets of their own. Blood & Water tells their stories and traces the deep connections between this unlikely group of friends.
This novel is about family, in its various manifestations: the one you're born into, the one you choose and the one you create.
Buy Blood & Water now! The Universal link is here.
---
Katie's other books are available now: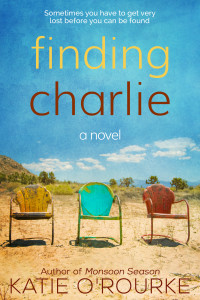 When Charlie vanishes without warning, the people who love her are worried sick. Even if the law considers her an adult at nineteen, Charlie's still the baby of her already broken family. Older sister Olivia is determined to figure out what's happened. She finds a lost cell phone, an abandoned car and a shady boyfriend she's never met before. And he's not the only secret Charlie's been keeping.
This disappearance feels uncomfortably familiar, reminding Olivia and her father of another loss years before. But this will be different, Olivia swears. Charlie's coming back.
Amazon US

Amazon UK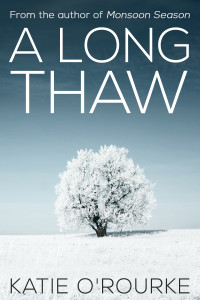 Cousins Abby and Juliet were born into one big, close family. But when Juliet's parents divorce, it tears the family apart and sends the girls in very different directions.
Juliet grows up too quickly, forced to be responsible for her younger sisters as well as an alcoholic, single mother. Abby grows up a pampered, sheltered only child. As women, they try to mend the rift and come to terms with the way their shared history connects them, in spite of the years apart.Told in alternating narrative, A Long Thaw explores how the two women are shaped by the traumas and triumphs of childhood. It's a story about the power of secrets and the unbreakable bonds of family.
Amazon US

Amazon UK
Riley refuses to call herself a battered woman – she doesn't fit the profile. When her boyfriend Ben hits her, she doesn't know what to call it. She does know to pack her things and run to the one place that feels safe – home. After a horrific accident turns Riley's world even more upside down, she's forced to accept help from those around her. Before she can begin to heal, she must learn the difference between being independent and being alone.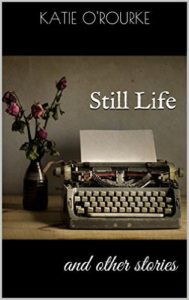 This collection of short stories is about young women negotiating their roles in family, love, and the world at large. Also included an excerpt of  Finding Charlie.
**US Readers will find this e-book is offered for free on Amazon, Barnes and Noble, and Kobo.
Amazon US

Amazon UK
Contact Katie:
Website
Blog
Facebook
Twitter @katieorourke78