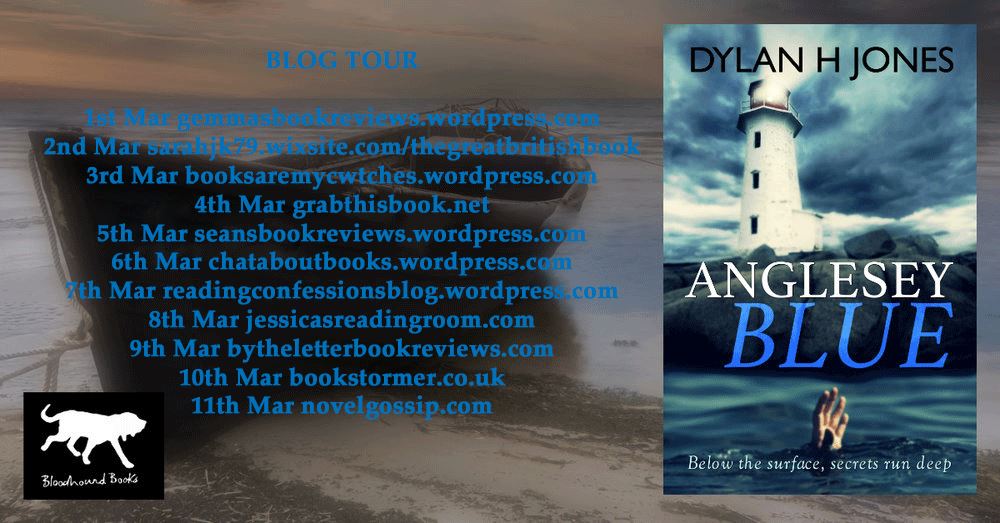 Today is my stop in the Blog Tour with Bloodhound Books for Anglesey Blue by Dylan H. Jones. Today I will be interviewing Dylan!
Book Description:
A Gripping New Serial Killer Thriller
MURDER. BETRAYAL. REVENGE.
It's not the homecoming Detective Inspector Tudor Manx was expecting, but solving the case is just the start of his problems.
Recently transferred from the London Met to the North Wales Constabulary, Detective Inspector Tudor Manx has come to Island of Anglesey hoping for a quiet life. But his hopes are dashed when a brutally mutilated body is found crucified to the bow of a fishing boat sending shockwaves through the peaceful community. Manx's faces pressure to solve the case quickly equipped with an inexperienced team.
Is the body a message or a premonition of more murders to come?
Adding to his mounting problems, Manx's troubled past returns to haunt him. Manx left the island after the disappearance of his younger sister, Miriam; a cold case that still remains unsolved. Can Manx solve the case before the body count rises? How will he cope when he is forced to choose between his family and his duty as a police officer?
This is the first book in the thrilling new DI Tudor Manx series.
Anglesey Blue is available now!
Amazon US
Amazon UK
JRR (Jessica's Reading Room): Tell us a little about yourself.
Dylan: I'm a native of Wales who now lives in Oakland, California with my wife Laura and daughter Isabella. I was actually born and spent much of my young life on the Island of Anglesey before moving to the North East of England at the age of seven. We returned to Anglesey when I was fourteen years old. I could still speak the language, but my abilities to write and read Welsh had remained at those of a seven-year-old. (Not much Welsh education to be had on the outskirts of Newcastle). I moved to Northern California in 1999, but visit the UK at least once every year.
JRR: That is great that you are able to 'return home' at least yearly! Did you always want to become an author?
Dylan: I always wanted to write: whether that was as an author, scriptwriter, journalist or anything that included putting pen to paper and putting form around ideas. I've been incredibly lucky to have had a career that allowed me to be creative and to write. I worked for Channel 4 as a producer back in the day, which was an incredibly creative environment to work in, and I've worked in TV in some form ever since. Today, I run my own video content agency.
It took me quite a few years to gain the confidence to paint on a larger creative canvas, and to even begin to attempt a novel. Now it's actually done and published, I couldn't be more thrilled an I'm off to the races on book two.
JRR: That's great that you were able to accomplish all of that! What inspires you to write?
Dylan: Many things. Other novelists, great TV drama, even just a line of a lyric can inspire an idea or spur a scene. Sometimes, it's just that niggling itch that needs to be scratched.
JRR: When that itch needs to be scratched you better do it! Which leads to my next question: What does your writing process consist of?
Dylan: I think I've whittled it down to three basic elements:
The initial story idea: which involves a lot of wandering around my own head and whispering sweet "What if's?" to myself for quite a while until the urge to write it down becomes too great.
The sketch: like a artist, I like to sketch the bones if the story down first, then begin to add the colour, shade and the lighting as I re-write.
The sweep up: going back a few pages on the story at the start of every writing day and sweeping up the bad stuff I wrote yesterday.
I'm not one for plotting the whole story out before hand. I like know the skeleton of the story when I start, and often know the very last sentence of the book, but the joy is putting flesh on the bones and enjoying the journey that leads me to that last sentence.
JRR: Even if you plot out a story the characters could, 'take over' and change everything you had planned! I like how you know what the last sentence is. That last sentence is important and can sometimes change everything in a book!
What kind of advice can you give to aspiring authors?
Dylan: It's a cliche, but just write; and of course read as much as you can. Theres no substitute for actually tying yourself down in a chair and pounding at the keyboard. It's hard work, it's sometimes joyful, oftentimes frustrating but there is no better way to earn your chops as a writer than just writing.
JRR: Good advice! Just write. Who was your favorite author as an a child and who is your favorite author as an adult?
Dylan: As a child, I loved the Famous Five stories, then graduated to the Pan Books of Horror short stories in my early teens- which may explain a lot.
As an adult, I have incredibly eclectic tastes: TC Boyle, Sadie Smith, Stephen King, Jo Nesbo, Val McDermid. I'm always looking for authors that move me with their words and can spin a great yarn. As a writer, I think you learn from every author you read, so why stick to one genre?
JRR: I'm like you. I don' stick to one genre of books. If it interests me I will read it! Anglesey Blue takes places in Anglesey, Wales where you are originally from. You now live in California. Earlier you said you still visit Anglesey. What made you want to base your novel there?
Dylan: Yes, I visit around once a year, sometimes more. My parents, sister and most of my immediate family still live there.
As a fan of Scadi-Noir, I often felt Anglesey had the same brooding undercurrents bubbling away at its core. The island is rich source of ideas and inspiration. It was voted the 2nd most popular tourist attraction in the UK last year and people often only see the island as a tourist destination. I wanted to throw a different light on the island and show that beneath the scenic beauty there is also a seam of dread and evil, albeit fictional.
JRR: That sounds good! Give a different perspective of the island, even though it is fictional. Where did you come up with the Detective Inspector Tudor Manx character? Is he based off anyone you know? What can you tell us about his character?
Dylan: He's not based on anyone I know, but he is a greatest hits compilation of many people I know. He's a deeply troubled man who's looking to alleviate the burden of guilt he's felt since the age of seventeen when his younger sister, Miriam, vanished under his supervision. That year became the most traumatic of his life and led him to move away from the island, leaving his family behind.
Over thirty years later, he's returned to the island, not by choice, but by tragic circumstance. As the DI over the island, he bears a stiff responsibility, and one he takes seriously. For Manx, it's not just about solving the cases that come his way, now he's back he has to deal with the demons of his past and the family he's neglected for three decades. He's a difficult man to get close to, as many of his colleagues discover. On the lighter side, he does have a penchant for smoking too many King Edward Cigars, enjoys single malt whisky a little too much, only listens to Americana music (Lucida Williams being a firm favorite) and has a cutting, sardonic wit. Some might call that a coping mechanism; I just call it a character trait.
JRR: If readers want to know anything else about him and get to know him then they need to read your book! 😉 What made you want to write a thriller/suspense/crime fiction novel?
Dylan: I'm a huge fan of crime fiction, whether it's written or dramatized. I think crime-fiction is often looked down upon by the more literary world, when in fact I don't think there's a better vehicle for exploring human emotions and desires.
At the end of the day, character is what drives the plot of any crime novel, and I hope in my books I'm creating complex and compelling characters that are pushed by circumstances to turn to crime and the effect this has on the people around them. Even with my most abhorrent of characters, I always want to present a three-dimensional person with lots of light and shade, after all none of us are pure evil or pure saintliness- it's the degree of how we manage those dueling aspects of our personalities that interests me.
JRR: There is something about crime fiction and true crime that just appeals to people. Anglesey Blue is going to be a series. How many books do you plan on writing?
Dylan: I really don't know at this point. I've began number two, and have a vague idea for number three. I'm definitely going for four books at this point as I always intended to set each novel in a different season, the first being set in the winter.
There's an arc that connects all the books: the mystery of what happened to Manx's sister all those years ago. I'm just beginning to figure out how many books I can stretch that mystery over without totally frustrating the reader.
Ideally, I can see the series running for many years and I'm looking forward to writing more of Manx's journey as he searches for the redemption he's looking for and hopefully a sliver of happiness somewhere along the journey.
JRR: Sounds like you have a plan and we have several books of yours to read over time!
**Thank you so much for your time Dylan!
About the Author (Courtesy of Bloodhound Books):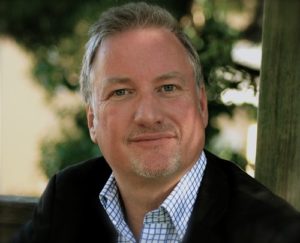 Dylan is a native, Anglesey-born Welshman who now lives in Oakland, California with his wife Laura and daughter, Isabella. He has worked as a media executive and copywriter at various TV networks and advertising agencies both in London and San Francisco. Currently, he is owner and Creative Director of Jones Digital Media, a video content agency.
Dylan was born on Anglesey and moved away when he was seven years old to the Northeast of England. His family then moved to the Wirral for several years before settling back on Anglesey when he was fourteen. Dylan studied Communication Arts and Media at the University of Leeds, then moved to Cardiff, working for S4C. In 1993 he relocated to London as a Creative Director with Channel 4 TV. Today, he lives in Oakland, California. His parents, sister and most of his immediate family still live on the island.
Anglesey Blue is the first in a series of crime novels featuring the sardonic, sharp-witted but troubled detective, Detective Inspector Tudor Manx. Dylan's life, both on and off the island, inspired him to develop the series.
"I love to use my imagination to create believable characters in a setting I know well," Dylan says. "I want DI Tudor Manx and all the supporting characters to live in readers' minds for many years. I'm looking forward to writing more of Tudor's journey as he confronts the demons of his past to find the peace and redemption he's searching for."