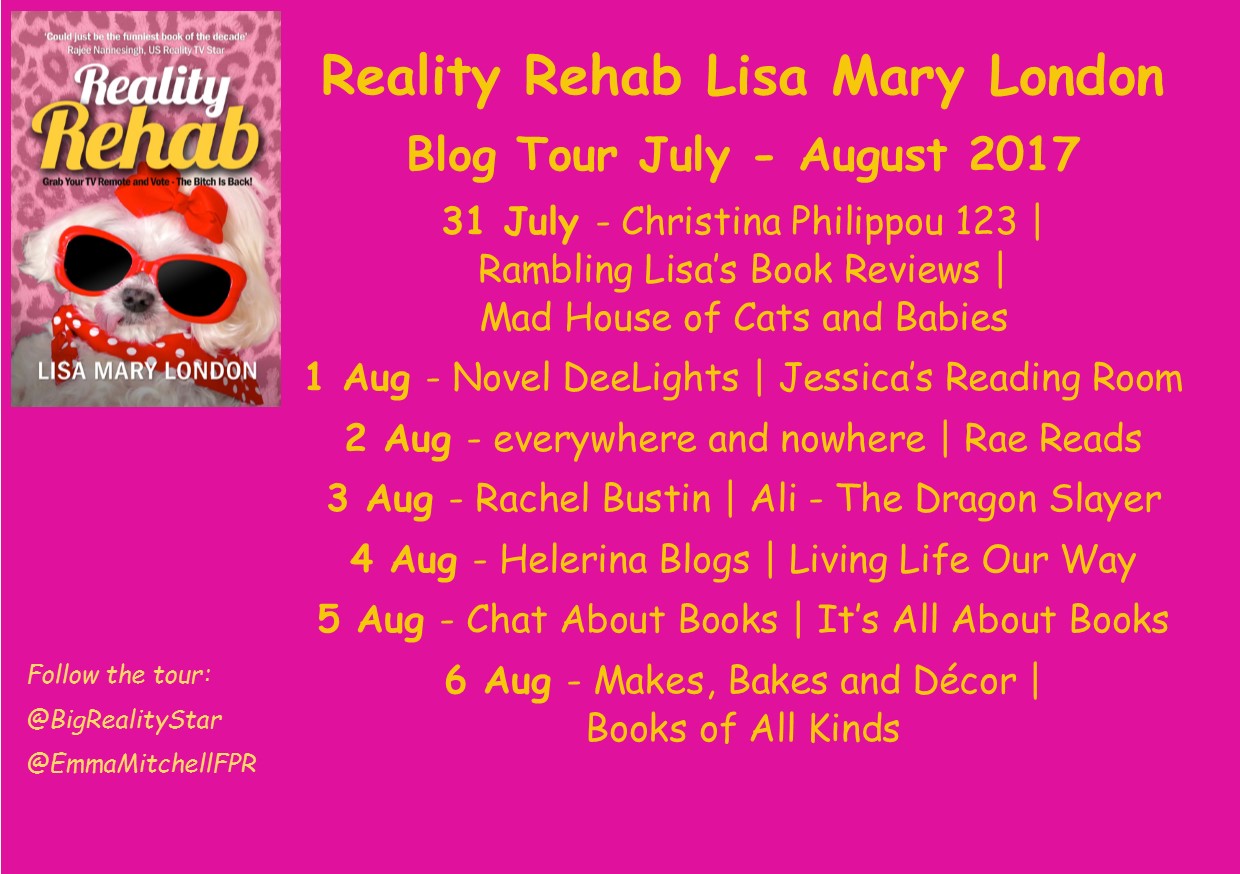 Today I am one of the stops for the blog tour Reality Rehab by Lisa Mary London.
Reality Rehab is a laugh-out-loud satire on reality TV and modern celebrity.  It's a world author Lisa Mary London knows inside out, as a former TV producer on shows including 'I'm a Celebrity… Get Me Out of Here!'
To mark the Reality Rehab launch, Lisa submits to some burning, quick fire questions and her answers may surprise you – reality is stranger than fiction!
Book Description:
Faded TV star Gloria Grayson has hit rock bottom. Sacked from her starring role in a top soap, divorced from hell-raising actor 'Mad' Tommy Mack, and obese from binge eating, her days as Britain's sexiest blonde are well and truly over.
Gloria has gained 70 lbs when a paparazzi snaps unflattering photos, and a cruel tabloid article relaunches her career. Instantly, she and her fat, feisty dog Baby-Girl are booked for TV's Reality Rehab. Gloria is locked up with an American psychotherapist, a rabble of D-list celebrities and umpteen cameras, then put on a starvation diet. But worse is to come, with the shock arrival of her alcoholic ex-husband.
Tears and tantrums ensue, as the divorced couple's joint therapy sessions take over the show and ratings soar. The other celebrities are infuriated to be sidelined and Reality Rehab fast becomes The Tommy and Glo Show. But Gloria and Tommy are hiding explosive secrets from each other and 10 million viewers – Reality is stranger than fiction!
Reality Rehab is the debut novel of Lisa Mary London, a journalist and former reality TV producer. A cast of hilarious characters, cliffhangers galore and an authentic voice that could only come from a TV insider, Reality Rehab is this year's must-read!
Buy Reality Rehab Now:
Amazon US
Amazon UK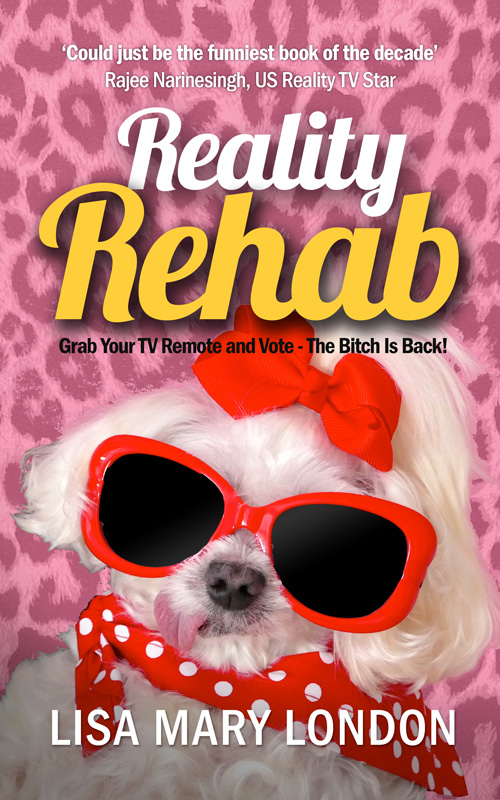 Prada or Primark?
I'm crazy about clothes and accessories but without a celebrity budget I happily hit the high street (plus Ebay and charity shops), in search of a bargain.
If I ever get a windfall, a strange thing happens – I magically find myself in the designer accessories section of Selfridges, eyes tight shut, handing a credit card to a smiling shop assistant.  Then I exit the store in a daze with a thudding heart and a ridiculously overpriced handbag.
I justify these rare extravagances with the PPW principle – that's Price Per Wear.  Like my Maltese terrier Dolly-Dog, my Chanel handbag accompanies me almost everywhere and so far I've calculated its PPW to be around £500. As Coco Chanel herself might say – "That's a bargain, non?"
Dogs or Cats?
Some of my best friends are cats and one of them, my gorgeous tomcat Tommy, weighs in at two stones (I am definitely a Feeder!)  But as my beloved Dolly-Dog is a major character in my novel Reality Rehab (and right now she's giving me a hard stare), dogs win by a nose.
I'd sum up the difference between cats and dogs like this – If you go out, a dog pines for you 'til you come home, and greets you like a returning hero: A cat doesn't even notice you left the house!
Reality Star or Movie Star?
The protagonist of Reality Rehab, feisty soap actress Gloria Grayson, thinks reality TV stars are the scum of the earth and shouldn't share a red carpet with her.  I wouldn't go that far, but as a TV producer I've met reality stars and movie stars and for my money the latter were way more interesting.
Be honest, who would you rather invite to your dinner party – Hollywood A-listers like Brad Pitt and Cameron Diaz, or the cast of TOWIE?  On second thoughts, I'll go with the Essex crew, they won't have strict dietary requirements and are sure to neck the ready meal I serve up (my family motto:  'No Microwave – No Meal').
Blonde or Brunette?
I'm a proud brunette who idolises dark haired divas of the fifties like Elizabeth Taylor and Ava Gardner.  But as Dolly-Dog and Reality Rehab's heroine Gloria Grayson both sport platinum tresses, I'd better say blonde.
Celebrity hairdresser Nicky Clarke used to tend Gloria's brunette roots, but when her TV career crashed and burned she had to budget.  That's how The Sun snapped her pushing a Tesco trolley full of 'Garnier Nutrisse Radiant Blonde' hair dye.  Oh the shame – pesky paparazzi are the bane of Gloria's life!
Sensible Shoes or Stripper Heels?
As a diminutive, 5ft 2ins glamour fan, I've always favoured towering heels, and unfortunately I've got the bunions to prove it!  I inherited my love of stilettos, and my poor, crippled feet, from my glamorous Grannie.  She had a costume and a quip for every occasion and often remarked:  'You have to suffer to be beautiful – and Lord have I suffered!'
Night On the Town or Night On the Sofa?
Like Gloria Grayson, I love getting dolled up for a glamorous dinner date at a swanky restaurant.  But when you just can't face putting on the slap and stilettos, there's nothing better than a luxurious night on the sofa.  In negligee and marabou mules obviously, with a box set or a good book. And what better book to lose yourself in, than Gloria's juicy memoirs, Reality Rehab?
Reality Rehab is without doubt the most fun you can have in a onesie.  Grab a copy of Reality Rehab, a box of chocs and a bottle of prosecco and you have the perfect ingredients for a fun night in.  That's Gloria Grayson's advice, and I wouldn't dare argue with her!
About the Author: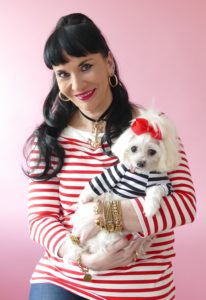 Lisa Mary London went from chief reporter on a sleepy Cotswold newspaper to become celebrity producer on some of Britain's best-loved TV shows. Her TV credits include An Audience with Ken Dodd, A BAFTA Tribute to Julie Walters, The British Comedy Awards and I'm a Celebrity… Get Me Out of Here! She's worked with stars from Kirk Douglas to Ant and Dec, and her debut novel Reality Rehab features around 200 famous names. 'There's never a dull moment when you're working with the stars,' says Lisa. 'One minute you're sipping champagne with Pierce Brosnan, the next you're standing in the Ladies' minding Barbara Windsor's handbag.' Reality Rehab is based on her real life, behind-the-screen experiences as a celebrity producer. 'I've met many old school stars like my book's protagonist Gloria, who curse reality TV and think the cast of TOWIE should be stacking shelves at Tesco, not walking the red carpet. 'She's a cross between Diana Dors, Boadicea and Miss Piggy, a glorious, garrulous anti-heroine with bags of fattitude – Gloria puts the real in reality TV!' Gloria's petulant pooch Baby-Girl is closely based on the book's cover star, Lisa's beloved Maltese, Dolly-Dog (says Lisa – 'You couldn't make her up'). Dolly-Dog won fame on ITV's Loose Women when she married Sherrie Hewson's Westie Charlie, in a ceremony officiated by John Barrowman (available on YouTube). The couple split acrimoniously and are currently fighting for custody of a chew toy. A journalist by profession, Lisa has written for the Daily Mail and was briefly a News of the World reporter, but made her excuses and left before anyone was arrested for phone hacking.