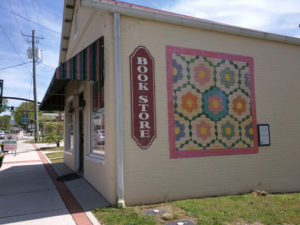 Featured today is The Bookworm in Powder Springs, Georgia.  They are a used bookstore located in the heart of the historic district of Powder Springs at 4451 Marietta Street. Their hours are from 10-6pm Monday – Saturday and they just recently opened their doors on Sunday from 12-5.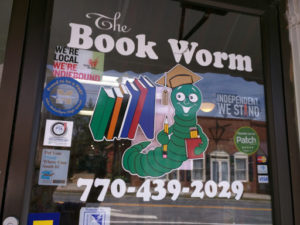 About The Bookworm
The Bookworm opened in October 2005 and has been owned almost the entire time by Susan Smelser. She is very welcoming and will talk with you as long as you want. Her employees are also very welcoming and eager to help you find all the books you want and even some you did not know you wanted!
Inventory
There is plenty to choose from at The Bookworm as they have 25,000-30,000 books plus even more inventory not in the store.  Besides books you can buy other items including bookmarks, pens, greeting cards, and DVDs and CDs.  If you look carefully, you may find some local artwork to purchase.
Their inventory is constantly changing as they accept trade-ins. They have a generous trade policy and you can use your credit on 50% of the purchase price for almost all books traded in from other customers. For more specifics on their policies look here.
You can search their inventory online and you can call them and they will pull your book and have it ready for you when you arrive to pick it up!  If there is a book you want that is not in the store, just ask and they have their special way of finding it for you.  The cost could vary depending how in demand or hard to find the book is.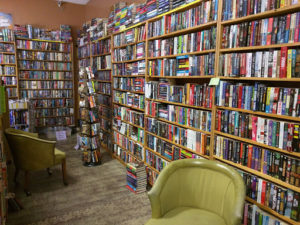 Have a seat, relax, and find a book to read!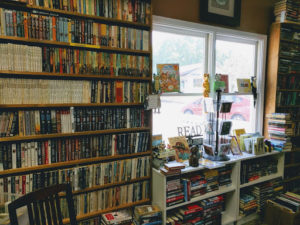 There is a huge selection of books to choose from at The Bookworm!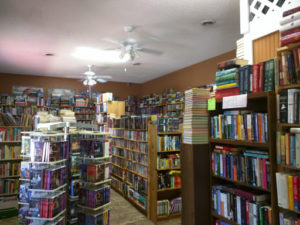 Sales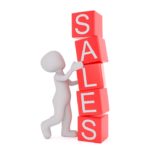 They have sales almost every day! The sales will be posted on Facebook, but be sure to mention the sale.  They almost always have "Twofer Tuesday" which is buy one get one free.  This is will be for specific sections of the store. I always find myself going on their Facebook page every Tuesday to see what the Twofer Tuesday is!  There are also monthly coupons available in the newsletter.
Sign up for the newsletter here.
Special Events
The Bookworm has special events. They have had author signings, a book club, and special events in conjunction with downtown Powder Springs. If you want them to host a special event just ask.  They have even had a cosplay event and a cooking class.
Book Club 
The Bookworm hosts a book club on the third Tuesday of every month. I have been to a couple of these meetings and have enjoyed them. There is a meetup page where you can sign up to attend a meeting and see what they are reading.
Future Plans
There are some exciting things coming to The Bookworm.  Soon you will be able to have a coffee, buy some books, and save a life:
There are plans for a coffee shop by the summer.  They will also be supporting a no kill cat rescue and will cats and kittens in the store looking for their 'furrever homes'. You can't get any better than cats and books!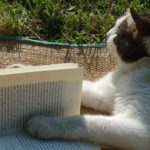 You can own The Bookworm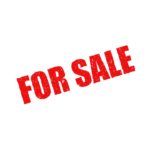 If you have the money and always wanted to own a bookstore you can buy The Bookworm.  Susan is also a health coach and feels a calling for that full time. That means selling The Bookworm and finding someone to continue her legacy. She is looking for  someone who would love to take The Bookworm over and not make too many changes as the customer base loves the store the way it is.
They have some really cool bookends at The Bookworm: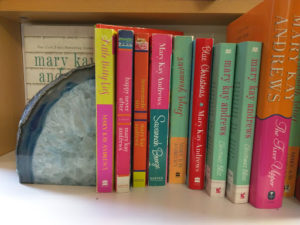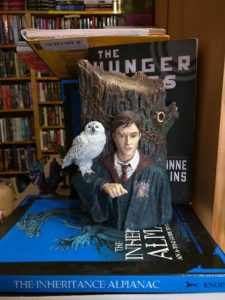 Wednesday evening my husband was kind enough to drive me to The Hunter Collective in Atlanta for the book launch for Kimberly Belle's newest book, The Marriage Lie! We arrived there early and I was thankful for that. I got to meet Kimberly, talk with her, and get all three of her books signed!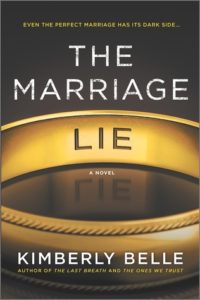 Iris and Will have been married for seven years, and life is as close to perfect as it can be. But on the morning Will flies out for a business trip to Florida, Iris's happy world comes to an abrupt halt: another plane headed for Seattle has crashed into a field, killing everyone on board and, according to the airline, Will was one of the passengers.
Grief stricken and confused, Iris is convinced it all must be a huge misunderstanding. Why did Will lie about where he was going? And what else has he lied about? As Iris sets off on a desperate quest to uncover what her husband was keeping from her, the answers she finds shock her to her very core.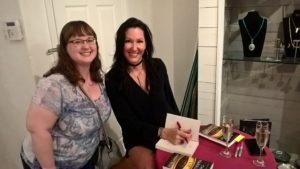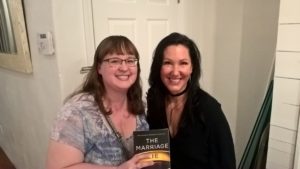 Kimberly is a super nice lady!
My husband counted around 50 people that showed up for the book launch. Kimberly was a very popular lady! She had so many people coming out to congratulate and support her! We were able to meet her husband, whom she refers to as 'The Dutchman' and also her father.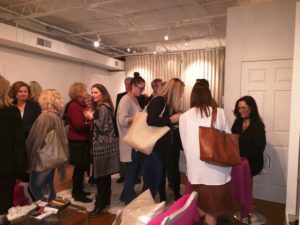 There were various goodies to eat and lots of bubbly to drink!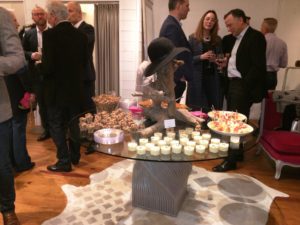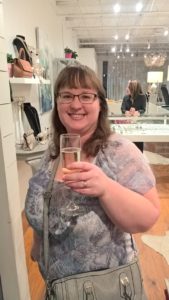 There were souvenir soaps given out that were provided by Sweet Peach Wax & Sugaring Studio.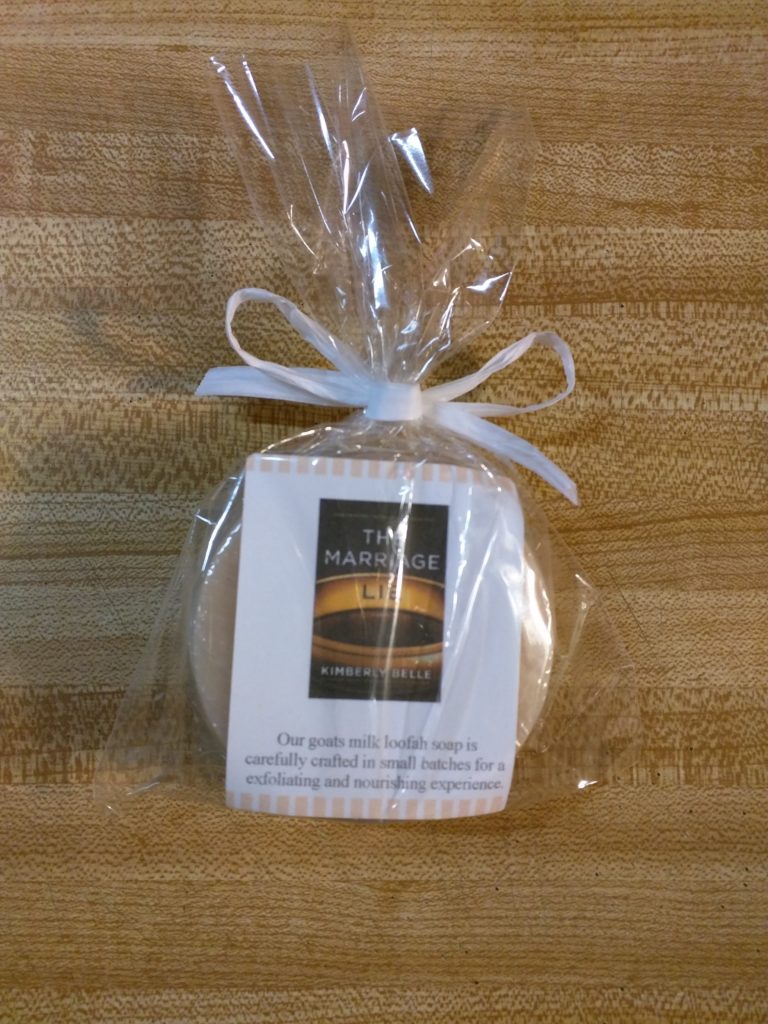 Kimberly also did a reading from The Marriage Lie. I really wish I was caught up on books to read for reviews, because if I was I would definitely be picking up this book now!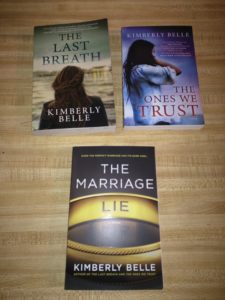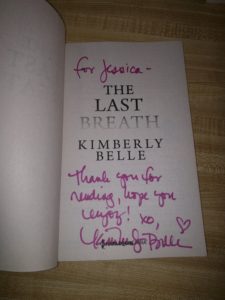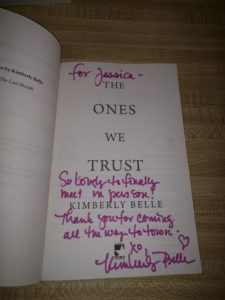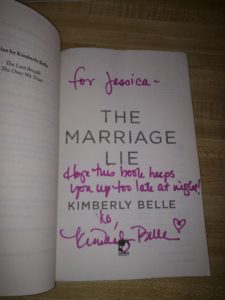 Links:
Kimberly Belle
The Hunter Collective
Sweet Pea Wax and Sugaring Studio
[Top]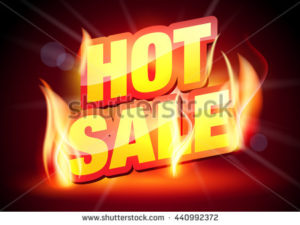 The Cobb County Library has their three day book sale every March and October. All profits from the sale go to buying more items for the 16 libraries in Cobb County. The book sale was this past weekend and it was my third time attending the sale.
I go on Sunday since it is BYOB (Bring Your Own Box) Day! For $20 you can fill up a 'box' of any size! And they mean 'box' loosely. I have seen people bring trashcans: They fill them up, go to their car, empty the trashcan, then go back in!
 Sunday at the Book Sale:
I was ready with my suitcase to find some treasures!: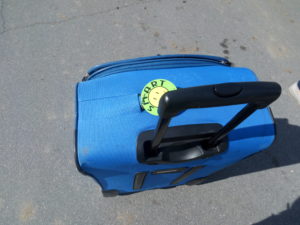 The book sale began at 1pm, and I got there a little after 12:30. The line wasn't too long when I got there as you can see: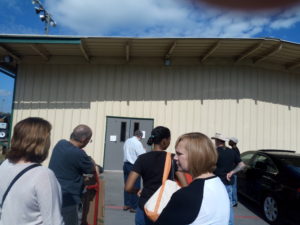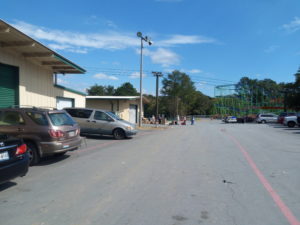 Then people started to show up and the line began to get longer….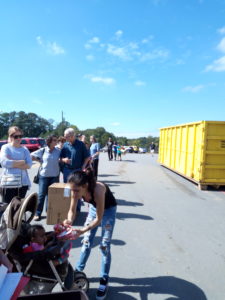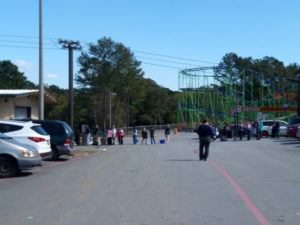 Then the doors opened and it was time to shop!!!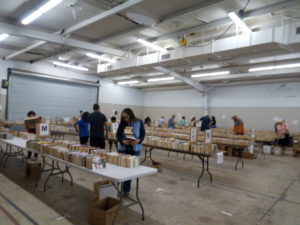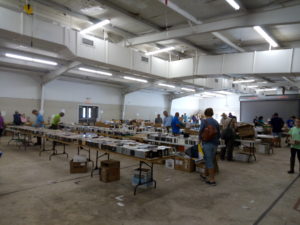 Anyone want some Twilight?  (In March there was an overabundance of the 50 Shades of Grey series):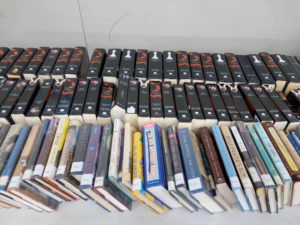 As I was leaving I noticed all the people that were now shopping- the room with the hardback books had a LOT of people!!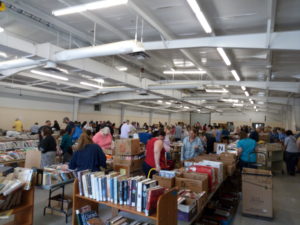 My treasures that I picked out: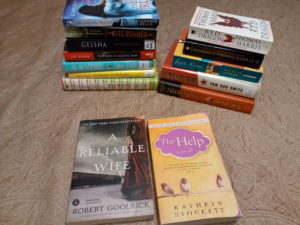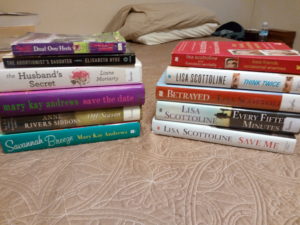 The hubby had to work, so I got him these: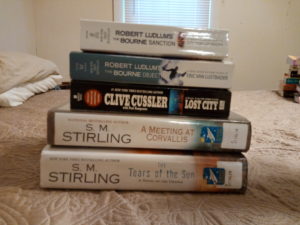 I was very happy with the book sale.  All of that for just $20! What a deal!! Now to figure out where to put them…..
[Top]