Cover Reveal: Will to Live
Book: Will to Live
Author: Rachel Amphlett
Series: Detective Kay Hunter crime thriller series
Release Date: April 4, 2017
Rachel Amphlett is back with Will to Live; the second in the Detective Kay Hunter series to be published on April 4th and I get to be part of a multi-blog cover reveal! Without further delay, here is the cover for Will to Live!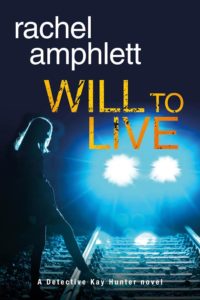 Will to Live will be available April 4, 2017
Book Description:
Reputation is Everything
When a packed commuter train runs over a body on a stretch of track known to locals as 'Suicide Mile', it soon transpires that the man was a victim of a calculated murder.
As the investigation evolves and a pattern of murders is uncovered, Detective Sergeant Kay Hunter realises the railway's recent reputation may be the work of a brutal serial killer.
With a backlog of cold cases to investigate and attempting to uncover who is behind a professional vendetta against her, Kay must keep one step ahead of both the killer and her own adversaries.
When a second murder takes place within a week of the first, she realises the killer's timetable has changed, and she's running out of time to stop him…
Will to Live is the second book in a new crime thriller series featuring Kay Hunter – a detective with a hidden past and an uncertain future…
If you like Angela Marsons, Peter James and Robert Bryndza, you will love Rachel Amphlett's new series.
**There is going to be a Facebook launch party, feel free to attend! The party will be here on April 4th!
Book One Scared to Death is available now: