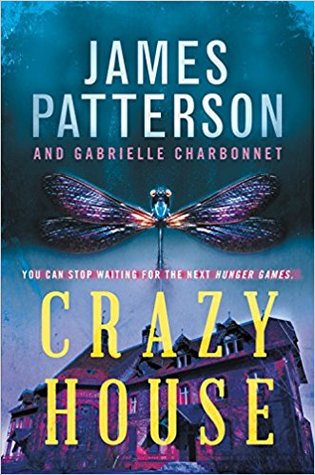 Author: James Patterson
369 Pages
Published: May 22, 2017
Reviewed By: Kim
Kim's Rating: 4 Stars
Description from Amazon:
Seventeen-year-old Becca Greenfield was snatched from her small hometown. She was thrown into a maximum-security prison and put on Death Row with other kids her age. Until her execution, Becca's told to fit in and shut her mouth… but Becca's never been very good at either. Her sister Cassie was always the perfect twin. Becca's only hope is that her twin sister will find her. That perfect little priss Cassie will stop following the rules and start breaking them, before it's too late. Because her jailers made a mistake that could get them both killed: They took the wrong twin.
Kim's Review:
I really did want to throw this book across the room when I finished it. I got so into Crazy House and the lives of Becca and Cassie and their plight inside this prison that isn't supposed to exist. The story was awesome! I hadn't read anything like it before. Sure, there's some elements from other books like The Hunger Games and Divergent, but combined in a completely original way. The buildup was anxiety-inducing and I found myself holding my breath as I turned the page. I was shocked at how quickly the pages flew by! And then, just when I couldn't handle the anxiety anymore, it just ended. No sequel, no explanation, no nothing! WHY??? Seriously, if another author does this to me, I'm gonna stop reading completely. That's the only thing keeping me from giving this book 5 stars. I loved the story, the characters, the setting . . .  and then nothing!!!!!! Mr. Patterson, please, please, PLEASE, write a sequel for this book. Despite the ending that made me want to smack my head against a wall, I would recommend this book to mature teenagers and anyone who likes an action packed read. There are some adult elements, mostly language, that keeps me from recommending this to younger readers.
Note from Jessica:
This one sounds right up my alley!  It is added to my TBR! I must read it, despite knowing the ending is frustrating…