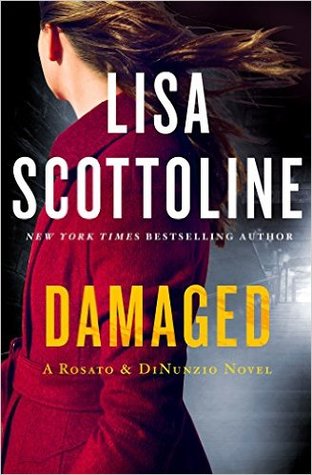 Author: Lisa Scottoline
375 pages in Paperback
Published: August 16, 2016
Dates Read: May 8- May 20, 2017
My Rating: 4 Stars
Book Summary from Amazon:
One boy. One lawyer. One chance for justice.
Ten-year-old Patrick O'Brien is a natural target at school. Shy, dyslexic, and small for his age, he tries to hide his first-grade reading level from everyone: from his classmates, from the grandfather who cares for him, and from the teachers who are supposed to help him. But the real trouble begins when Patrick is accused of attacking a school aide. The aide promptly quits and sues the boy, his family, and the school district. Patrick's grandfather turns to the law firm of Rosato & DiNunzio for help and Mary DiNunzio is on the case. Soon Mary becomes Patrick's true champion and his only hope for security and justice. But there is more to the story than meets the eye and Patrick might be more troubled than he seems. With twists at every turn and secrets about the family coming to light, Mary DiNunzio might have found the case that can make her a true protector, or break her heart…
With Lisa Scottoline's trademark emotional depth and fast-paced action, Damaged will have readers riveted to the last page as they root for the beloved characters and their fight for justice.
Review:
I won a copy of Damaged from St. Martin's Press via Goodreads. When I entered in the giveaway I did not know that it was the fourth in Lisa Scottoline's newer Rosato & DiNunzio series.  This series was preceded by the Rosato & Associates series. I enjoyed Damaged, and even though it is the latest in the series I feel I did not miss much, other than some background on the characters.
Damaged is my first legal thriller by Lisa Scottoline and it will not be my last. I will actually listen to the rest of the Rosato & DiNunzio series from the beginning on audiobook since my local library offers it. I have read several of Scottoline's books and she is becoming a favorite author of mine.
Mary DiNunzio is the focus of Damaged who is a partner at her law firm.  She is to be married in two weeks. Her fiancé Anthony and the wedding are a minor plot point in the novel though there was more attention towards the end.  I will admit I wanted more of this plot point, but the book focuses on Patrick (a ten-year-old dyslexic boy) and the cases surrounding him.  The first case is about Patrick being accused of attacking a school aide.  His schooling and disability comes into play in this case.  There is also a twist that occurs and a second more important case comes about involving Patrick.  The attorney on the other side in the school case is Nick Machiavelli and you can't help but love to hate him. I hope he makes appearances in the rest the series. He is quite the scumbag villain and I love a well written villain!
One issue I had with Damaged and this may be from not reading the rest of the series, but Mary became attached to Patrick too quickly for me; It seemed an almost instant connection/attachment.  This could just be the kind of person Mary is or Patrick is just a boy you can't help but instantly love. She advocates for Patrick very well and has his best interests at heart. She truly wants to help him.
I also liked John.  At first I did not like him, but we get to know him as Damaged progresses.  I hope he is central to future novels if he has not been a focus in the previous books in the series.
I loved Mary's extended family!  They are an Italian family and are hilarious.  They are a comic relief and it was a welcome as at times this is an emotionally charged novel.  I hope they are in more of the Rosato & DiNunzio series.
I did notice that the books in the series follow the alphabet so far:
Accused
Betrayed
Corrupted
Damaged
Exposed (To be published August 15, 2017)
It appears that Scottoline may be going the 'Sue Grafton route' with the books in this series following the alphabet.  Will she have 26 books in this series? Time will tell!
Damaged is recommended.
***Thank you St Martin's Press via Goodreads for my copy of Damaged. It was a pleasure to read and I will be starting the series from the beginning in audio next!