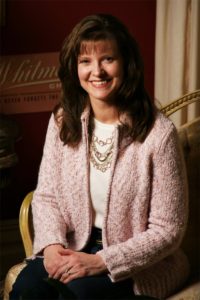 Amy Wallace has written five novels which are in the Christian Fiction genre.  They are mystery and suspense with some romance thrown in.
Her book series Defenders of Hope will be featured today. Amy and her Place of Refuge series were featured on this site in September which you can find here. I have known Amy for over 12 years. We met at the Gwinnett County Citizen's Police Academy, which is a class where you learn about your local police department.  In addition to the many things we learned, it also included a ridealong with a police officer.  You really come to appreciate what police officers do for us everyday!
Amy grew up all over the world, as a "military brat" moving every three years. But to her home was Louisville, KY. She currently lives in Georgia with her three daughters. She describes herself as: "I'm a homeschool mom, author, speaker, and avid chocoholic. I love crafting high-action suspense that delves deep into heart issues, but who I really am can be summed up in a few short words: I'm a daughter of the King learning to live and love with laughter."
In addition to her two series she is a contributing author to several books: A Novel Idea: Best Advice on Writing Inspirational Fiction, God Answers Mom's Prayers, God Allows U-Turns for Teens, Chicken Soup for the Soul Healthy Living Series: Diabetes, and A Cup of Comfort for Expectant Moms. (Source: Amazon.com)
The Defenders of Hope series is published by Multnomah :
Ransomed Dreams
Healing Promises
Enduring Justice
---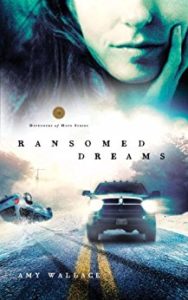 Ransomed Dreams
Published: 4/17/2007
336 Pages
Description from Amazon:
CHAINED TO YESTERDAY

When tragedy struck and Gracie Lang lost everything, her faith crumbled, and nothing but the drive for justice propelled her forward. But after two years of dead-end searching, the truth Gracie seeks is the very thing her stalker will stop at nothing to hide.
FORGIVENESS UNLOCKS THE FUTURE

An FBI agent in the Crimes Against Children Unit, Steven Kessler spends his days rescuing other people's children and nights caring for his son. He's through with God, embittered by his ex-wife who abandoned them both, and definitely doesn't expect what's coming next.
THE PAST IS THE KEY
A plot to kidnap a British ambassador's daughter dangerously intersects Steven and Gracie's worlds–a collision that demands a decision. But are they willing to pay the high ransom required to redeem dreams and reignite hope?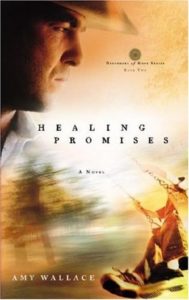 Healing Promises
Published: 4/15/2008
322 Pages
Description from Amazon:
FACING A NEW THREAT
When FBI Agent Clint Rollins takes a bullet during a standoff, it might just save his life. But not even the ugly things he's seen during his years working in the Crimes Against Children Unit could prepare him for the overwhelming powerlessness of hospital tests revealing an unexpected diagnosis. If only Sara weren't retreating into doctor mode…he needs his wife now more than ever.
FROZEN IN FEAR
Sara Rollins is an oncologist with a mission–beating cancer when she can, easing her patients' suffering at the very least. Now the life of her tall Texan husband is at stake. She never let the odds steal her hope before, but in this case, the question of God's healing promises is personal. Can she hold on to the truth she claimed to believe?
FAITH UNDER FIRE
As Clint continues to track down a serial kidnapper despite his illness, former investigations haunt his nightmares, pushing him beyond solving the case into risking his life and career. Clint struggles to believe God is still the God of miracles. Especially when he needs not one, but two. Everything in his life is reduced to one all-important question: Can God be trusted?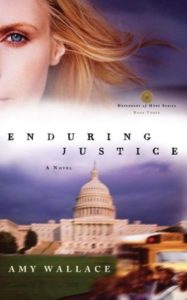 Enduring Justice
Published: 4/14/2009
336 Pages
Description from Amazon:
A PAINFUL PAST
Hanna Kessler's childhood secret has remained buried for over two decades. But when the dark shadows of her past threaten to destroy those she loves, Hanna must face the summer that changed her life and the man who still haunts her memories.
A RACIALLY-MOTIVATED KILLER
As a Crimes Against Children FBI Agent, Michael Parker knows what it means to get knocked down. Difficult cases and broken relationships have plagued his entire year. But when the system fails and a white supremacist is set free, Michael's drive for retribution eclipses all else.
A LIFE-ALTERING CHOICE
A racist's well-planned assault forces Hanna and Michael to decide between executing vengeance and pursuing justice. The dividing line between the two is the choice to heal. But when the attack turns personal, is justice enough?
---
These are books that could be read as standalone novels, but reading them as a series is recommended as it continues the story as a whole. Each book focuses on a different character from the core group of characters. I recommend both of Amy's series.
CONTACT AMY: