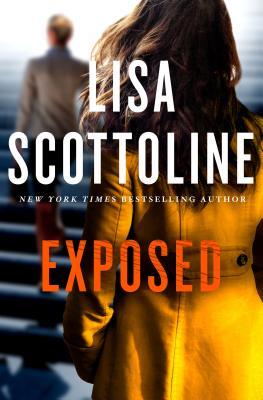 Author: Lisa Scottoline
Published: August 15, 2017
AUDIOBOOK
Reviewed By: Jessica
Dates Read: August 22- September 2, 2017
Jessica's Rating: 3.5 Stars
Book Description from Amazon:
A BATTLE FOR JUSTICE PITS PARTNER AGAINST PARTNER…
Mary DiNunzio wants to represent her old friend Simon Pensiera, a sales rep who was wrongly fired by his company, but her partner Bennie Rosato represents the parent company. When she confronts Mary, explaining this is a conflict of interest, an epic battle of wills and legal strategy between the two ensues—ripping the law firm apart, forcing everyone to take sides and turning friend against friend.
SOMETIMES LOYALTY CAN BE LETHAL.
Jessica's Review:
Exposed is the fifth book in the Rosato & DiNunzio series. They can be read as standalones and you not miss much with the backstories or even read out of order.  I have been reading them out of order as I won Damaged (the fourth in the series, my review is here) in a Goodreads giveaway not knowing it is a series. My local library has them all in audio, so I plan to listen to the other two that I have not listened to yet.
Mary is again the main lawyer featured in Exposed.  Bennie is featured some as well.  In the previous books of the series Mary's family is around a lot; in Exposed they have a smaller role. I kind of missed them as her family tends to be the comic relief in these books.
Mary wants to represent her friend Simon. He feels he was fired from his job because his child is very sick and his employer did not want to pay for the high medical bills.  Of course his employer says that is not the reason, it was his job performance.  There becomes a conflict of interest issue with Mary against Bennie since Bennie represents the parent company that Simon works for.  Exposed never dragged for me, but most of the novel focuses on this issue and it was too much 'legal talk' that did not interest me at all. Scottoline could have condensed that more to focus on the excitement of the last portion of the novel.  Exposed becomes so much more than a case about Simon and his job. It picked up for me in the last two discs.  I never thought about stopping the book as I wanted to know what was going to happen.
Scottoline ends the novel with optimism and a promising future.  I really enjoyed the ending and look forward to the next in the series.  I can't wait to see where Rosato and DiNunzio go next!
Exposed is recommended.