I Must Say Review (and Happy Birthday to Martin Short)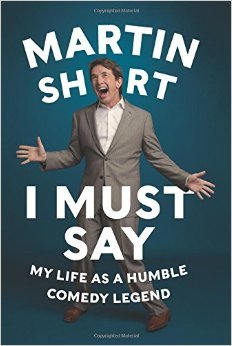 Author: Martin Short
AUDIOBOOK
Published: November 4, 2014
Dates Read: March 15-25, 2017
My Rating: 4 stars
Book Summary from Goodreads:
In this engaging memoir, written with heart, wisdom, and a huge helping of hilarity, Martin Short shares stories of his life, revealing how a Canadian kid obsessed with American show business became the comedian s comedian ("Vanity Fair").
Martin Short is one of few celebrities in show business who has continually worked hard, found success, and maintained a normal, happy family life. His memoir is a reflection on his diverse collection of experiences, both hilarious and heartbreaking.
Short takes us through his career, from his early years with Second City Toronto and "Saturday Night Live" to his movie, stage, and television stardom. He recalls how he developed some of his enduring characters manic man-child Ed Grimley, elderly Tin Pan Alley songmith Irving Cohen, slimy lawyer Nathan Thurm, and the blubbery and bizarrely insensitive Jiminy Glick. Here, too, are his movie and television appearances, from the classic " Three Amigos!" to his Emmy-nominated role in "Damages," as well as his stage productions, including his Tony Award winning performance in "Little Me." Throughout, such friends and luminaries as Steve Martin, Tom Hanks, John Candy, Gilda Radner, Lorne Michaels, Nora Ephron, Frank Sinatra, and others share the spotlight.
This deeply private man brings us into the circle of his family life, from raising his children to the legendary parties he and his wife hosted in their Los Angeles home. He recounts the pain of losing a brother and both parents by the time he was twenty and of the devastating death of Nancy, his wife of thirty years, in 2010. Despite the hardships, Short s life has been full of laughter, and he remains perennially upbeat. In this wise and entertaining memoir, he shares his irrepressible joy."
My Review:
I listened to I Must Say in the audiobook format, which I highly recommend!  Martin Short narrates I Must Say himself. I will go into why I say to listen to it versus reading the memoir later in this review.
I Must Say is Martin Short's memoir and he has definitely had a life so far!  He was born March 26th, 1950 in Canada (Happy Birthday today Martin Short!). From the beginning of his life you can see that he was always meant to be in the entertainment industry. He would tape record family arguments/ conversations as well as recording himself.  Despite most people believing he is Jewish, Short is actually Catholic, but was surrounded by Jewish friends and neighbors.
Martin suffered a lot of loss in his early life: He lost his older brother to a car accident when he was just twelve and by the time he was twenty he had lost both parents.  These losses greatly affected him.  He became friends with Eugene Levy, who was responsible for Martin getting into Hollywood.  Martin gave himself one year to try out show business. We all know how that turned out!
Martin goes through this career from early days to current as of him writing this memoir.  He goes into abundant details. He becomes friends with many Hollywood A-List celebrities and he mentions them all. At times the constant mentioning did feel like name dropping, but If I knew Tom Hanks, Rita Wilson, Kurt Russell, and more I would also mention those names!   He talks about his relationship with Gilda Radnor whom he dated for a few years before he dated his wife Nancy Dolman.   You  get a feel of what the Hollywood lifestyle is like as Martin describes with language the sex, drugs, and even rock-and-roll (Yes, he met George Harrison once).
Martin married Nancy on December 22, 1980 and they were married for almost 30 years until her death on August 21, 2010. You get the sense of how much he loved Nancy and still does today. Towards the end of the book when Martin is describing Nancy's battle with cancer you can hear in his voice the emotion he still feels of this time in his life.  It is very touching and you can't help but tear up listening to it. You can tell how much he still loves his wife today.
There are many reasons I recommend the audio version of this book. Again, Short himself narrates his memoir.  Who better to read your memoir than yourself?  His characters he is most famous for also make appearances in the audiobook. Hearing those characters' voices makes the listener laugh as it is very enjoyable. Short does some singing as well and there is a piano accompaniment.  He also does impersonations of his friends very well.
I grew up knowing him best from Innerspace and also Father of the Bride, so I really enjoyed the memoir when he was talking about those movies. I learned a lot about Martin that I did not know.  For me, in some instances in the book he is giving too much detail into his life and some parts were a bit TMI (To Much Information). Some parts of the audiobook tended to drag on and I found myself tuning out at times.
Despite a few issues I had with the memoir, I highly recommend the audio version of I Must Say. It is worth listening to for hearing his characters and impressions alone!