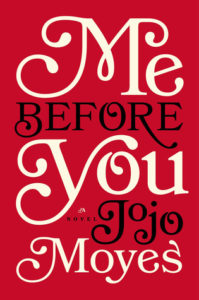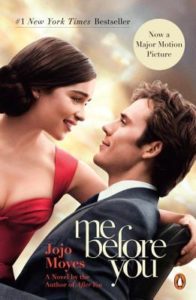 Author: Jojo Moyes
409 Pages in Paperback
Published: December 31, 2012
Dates Read: June 27- July 14, 2016
Rating: 5 Stars
Book Summary from Amazon:
They had nothing in common until love gave them everything to lose . . .
Louisa Clark is an ordinary girl living an exceedingly ordinary life—steady boyfriend, close family—who has never been farther afield than their tiny village. She takes a badly needed job working for ex–Master of the Universe Will Traynor, who is wheelchair bound after an accident. Will has always lived a huge life—big deals, extreme sports, worldwide travel—and now he's pretty sure he cannot live the way he is.
Will is acerbic, moody, bossy—but Lou refuses to treat him with kid gloves, and soon his happiness means more to her than she expected. When she learns that Will has shocking plans of his own, she sets out to show him that life is still worth living.
A Love Story for this generation, Me Before You brings to life two people who couldn't have less in common—a heartbreakingly romantic novel that asks, What do you do when making the person you love happy also means breaking your own heart?
---
My Review:
***This review will have spoilers- so stay away if you don't know the ending or what will happen in the book. Me Before You has become very popular this summer with the movie being released in June. (It will be available for digital download on August 16th, and the dvd comes out August 30th). ***
I saw the trailer for the movie and I came close to crying watching it. I knew I had to see the movie and read the book! Then I learned about the ending. I had some doubts about the book and read about the controversy, but I still wanted to read Me Before You and give it a chance and decide for myself and have my own opinion of the book. I knew I would cry at the end. Knowing the ending, I tried not to care for Will. I failed at that. As I read Me Before You, I got attached to both him and Lou.
I love the title of the book. Me Before You. So much meaning there. The title could be about either Lou or Will, or also both of their lives individually before their lives intersect. We get Lou's story as she is the protagonist of the book. We also get a small part of Will's life before the accident in the Prologue. We get a glimpse of who he was as a person before the accident.
Me Before You is not a love story. This is a life story. And the decision that one man has made and how that affects everyone around him. And two characters happen to unexpectedly fall in love.
Lou is living her life working at The Buttered Bun. Then the owner decides to sell the place and she has to find a new job. She gets the job as caregiver for Will. I found it a little hard to believe that she got that job with no experience care-giving. I feel that was Will's mother's decision because of the type of person Lou is. I feel that was Will's mom trying to find some way to get him to change his mind by hiring Lou as Will's caregiver.
Once Lou finds out what's Will's plans are she goes on a mission to show Will that life is worth living. She plans adventures and fun.
My heart got a few tugs in a few places: When Will gave Lou the bumblebee hose that he had made for her as a birthday gift. When we found out what the tattoo says that Will got at the tattoo parlor. I teared up a little there.
When Will finally admitted to Lou that he had fallen in love with her, but that it wasn't enough I was heartbroken. At this point I wish we could have gotten inside his mind as we got in the mind of Lou's sister and Mr. Traynor for some chapters. Euthanasia is a touchy subject with people. And the fact that Will had everything possible available to him and he still chose death upsets some. The book makes it apparent that Will clearly knows what his life will be like and the pain and what his health will most likely be for however long that life would have been.
Ultimately, Will did not change his mind and went through with euthanasia. It was apparent that his mind was never going to be changed, despite the fact that at the end of his life he had a woman who was willing to take care of him for the rest of his life, however long that would have been. And also a supportive family that loved him. It was ultimately Will's decision on his life and he deserves that respect. HE was the one that was in the wrong place at the wrong time. Which caused the accident to totally change HIS life when he became a quadriplegic. HE was the one who had to live in that chair. HE was the one that could barely move his had. HE was the one with the injury that he was never going to recover from. HE was the one to have pneumonia 3 times in two years. HE was the one who had attempted suicide previously. He was never going to change his mind as heartbreaking as it was to read.
Some feel that the book is negative towards the disabled. Some feel that the book says that the disabled are better off dead than alive. Some may feel that way. Every person is lives their own life and that is the decision Will made. We can not judge him as only HE knew what HIS life was like in that chair.
The end of the book does have hope to it. Lou is a different person at the end. I look forward to the sequel After You.