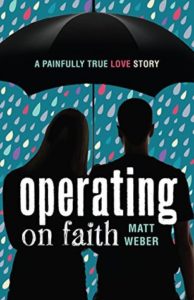 Author: Matt Weber
168 pages in Kindle
Published: 01/16/2016
Dates Read: December 22-27, 2016
My Rating: 4 Stars
Book Summary from Amazon:
"In sickness and in health . . ."
At age 29, Matt Weber was newly married to Nell, the girl of his dreams. They had bought their first house, adopted a dog, and looked forward to a blissful first year together. But shortly after his honeymoon, Matt's recurring, severe stomach troubles send him to the emergency room—and after a five-hour, life-saving surgery in which a third of his stomach is removed, Matt and Nell's plans for their new life are dramatically altered.
Forced to undergo a lengthy and painful recovery, Matt finds that his relationships with God, himself, and his wife are forever changed. Operating on Faith is the gutsy story of a happy-go-lucky Catholic guy whose life was literally burst apart then stitched back together—with faith in the God he'd always known, the sweet and inexhaustible love of his wife, and healthy if sometimes irreverent doses of humor.
For everyone who's ever had plans and expectations upset by life's events, Operating on Faith proves just how necessary love, faith, and a little grit are in facing major challenges and emerging on the other side.
My Review:
Operating on Faith is a memoir written by Matt Weber. At age 29 he got married, bought a house with his wife, honeymooned then had an emergency life changing surgery. You face a lot in your first year of marriage, but a health crisis is not what Matt or his wife had planned, especially being that young and never having health issues previously.
I am not Catholic, so I had never heard of Matt Weber. He had written a book before Operating on Faith called Fearing the Stigmata and is host of The CatholicTV Network series The Lens. I wanted to read Operating on Faith based on the premise of the book. I enjoyed it and I liked Matt's writing style. He takes his writing with humor, including the introduction to the book and even the chapter titles. The chapters are short which makes the book a very quick one to read.
You can see the struggle that Matt and his wife face dealing with his multiple health crises. I say multiple as there is a second struggle for them that happens. Through it all Matt and his wife have their love for each other and their faith. There is definitely humor in that household and you can't help but laugh at parts of the book, even through their frustrations.
The only negative that I could see with the book is that I am not Catholic, so there were a few things that I did not understand. For example, I found myself wondering what the importance of Pope Francis is to Catholics, and also what exactly a "black mass" is. I felt a little more explanation would have been nice for those not knowing about the Catholic religion.
I did enjoy Operating on Faith and would be interested in Reading Matt Weber's first book, Fearing the Stigmata.
Operating on Faith is recommended.
I received a copy from NetGalley and Loyola Press.