Release Day Review: The Breakdown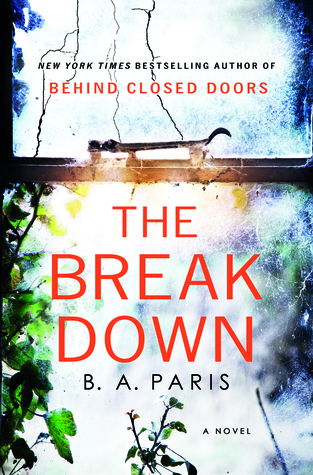 Author: B.A. Paris
328 pages in Paperback
Published: US: Today, July 18, 2017  UK: February 9, 2017
Reviewed by: Jessica
Dates Read: July 2, July 9-14, 2017
Jessica's Rating: 4 stars
Description from Amazon:
If you can't trust yourself, who can you trust?
Cass is having a hard time since the night she saw the car in the woods, on the winding rural road, in the middle of a downpour, with the woman sitting inside—the woman who was killed. She's been trying to put the crime out of her mind; what could she have done, really? It's a dangerous road to be on in the middle of a storm. Her husband would be furious if he knew she'd broken her promise not to take that shortcut home. And she probably would only have been hurt herself if she'd stopped.
But since then, she's been forgetting every little thing: where she left the car, if she took her pills, the alarm code, why she ordered a pram when she doesn't have a baby.
The only thing she can't forget is that woman, the woman she might have saved, and the terrible nagging guilt.
Or the silent calls she's receiving, or the feeling that someone's watching her…
Jessica's Review:
I first started reading this over the July 4th weekend along with Behind Closed Doors (BCD), which is also written by B.A. Paris.  I very quickly read the first 100 pages of The Breakdown.  I put it on hold to finish BCD first. Once finished with BCD I continued with The Breakdown.
The Breakdown has a strong opening: Cass is heading home alone in a bad storm. Instead of going home the way her husband wants, she cuts down a dark, wooded road which is a shortcut to home.  While driving, she sees a car pulled over. She can tell it's a woman and debates on stopping to see if she needs assistance. Cass does not and continues home.  The next day she finds out that the woman was killed overnight.  Cass is torn between feelings of guilt and self-preservation; if she had stayed to help would the woman still be alive, or would they both be dead?
Beyond her guilty conscience, Cass is also having memory problems and they are progressively getting worse.  Her mother had dementia and Cass is beginning to wonder if she is facing early onset dementia.  And then there are the silent phone calls that have started.  Did the killer see Cass that night and he is taunting her, or is something else going on?
Once I saw that Cass was going to be dealing with memory issues throughout the novel, I did not know what to think. Sometimes these novels with the 'unreliable narrator' work for me (Jack Jordan's My Girl and Ruth Ware's The Woman in Cabin 10) and sometimes they don't (Paula Hawkin's The Girl on the Train). Cass' memory issues become the focus in the novel and I struggled with it. My thoughts were: "Yeah, yeah…things keep being delivered from the home shopping network that she doesn't remember ordering; she keeps forgetting how to work things… I get it! Come one move on from this." As I was reading I came to realize the double meaning of the title of the novel: The breakdown of the car and Cass' mental breakdown. Even as I was struggling through The Breakdown I kept reading because I wanted to know what the final twist was going to be. When I finally got there I was glad I kept going. Everything that B.A. Paris wrote had a purpose and she knew what she was doing! I thought the twist was going to go in one direction, but I was wrong. I did not see the twist coming.
Despite struggling through part of the novel, The Breakdown is recommended.
Thank you so much to St. Martin's Press for providing me an arc copy for review!