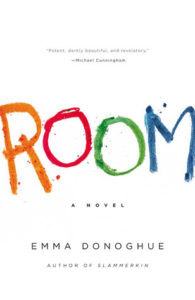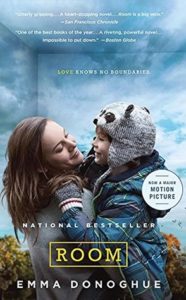 Author: Emma Donoghue
Audiobook
Published: September 13, 2010
Dates Read: November 10-24, 2016
My Rating: 5 stars
Book Summary from Amazon:
To five-year-old-Jack, Room is the world. . . . It's where he was born, it's where he and his Ma eat and sleep and play and learn. At night, his Ma shuts him safely in the wardrobe, where he is meant to be asleep when Old Nick visits.
Room is home to Jack, but to Ma it's the prison where she has been held for seven years. Through her fierce love for her son, she has created a life for him in this eleven-by-eleven-foot space. But with Jack's curiosity building alongside her own desperation, she knows that Room cannot contain either much longer.
Room is a tale at once shocking, riveting, exhilarating–a story of unconquerable love in harrowing circumstances, and of the diamond-hard bond between a mother and her child.
My Review:
I first listened to Room on audiobook just over three years ago. I decided that I want to watch the movie relatively soon, so I decided to listen to Room again so the book would be fresh in my memory.
Emma Donoghue takes a difficult subject matter (a kidnapping situation and rape multiple times) and gives us the book Room from the perspective of five year old Jack. This is a unique and original concept.
Jack has just celebrated his fifth birthday. All he has ever known in his life is Room, Ma, and Old Nick. Room is where Ma and Jack live. Ma has lived here for seven years after being kidnapped by Old Nick. Jack is the product of Ma being raped by Old Nick. Room is all that Jack knows. They do have a tv, and Jack believes that the rest of the world exists only on television. Ma does not tell him otherwise.
You can see how Jack experiences everything in Room and his curiosity about various things that all children become curious about. You can feel Ma's frustrations with their living situation and her hatred of Old Nick. Later on in the book, Old Nick informs Ma of a change in his living situation and Ma begins a plan to get her and Jack out of Room. They do escape from Room and their lives are just beginning at this point.  You can see the adjustment that Ma and Jack have to go through.
Throughout the book Jack talks about adult situations, but with the innocence of a child as he doesn't understand what is going on. But it is enough for the reader to know what is going on.
I really can not recommend this book enough! I think the book being from Jack's perspective makes it easier to read. It would have been a very different book if it had come from Ma's perspective. That would be an interesting book to read. Some authors have done that lately: rewrite their books from a different characters point of view. If Emma Donoghue ever chose to do that with Room, I would read it.
Audiobook Review:
I have listened to Room on audiobook twice now. It is superb! There are multiple narrators for Room and I find that makes it easier to listen to a book than a single narrator doing all the voices and changing their voice for the various characters. Changing their voice for multiple characters can be well done or not. I have heard both kinds of audiobooks. It really can affect your enjoyment of a book.
The narrator for Jack is Michal Friedman and she is brilliant! She voices Jack perfectly. She portrays the innocence, wonder, curiosity, and all the feelings that a five year old would express in this situation.
If I decide to read Room again in the future it will be the audiobook again. I can't imagine 'reading' it another way. The audiobook is perfect!
If you listen to audiobooks and have not read Room yet, get a copy from your local library or on Audible. If you don't really listen to audiobooks and are thinking about reading Room, give the audiobook a try!
Bonus PDF:
The audiobook I had of Room included a disc with a bonus PDF. The PDF is 'Jack's drawings' of Room. It gives you a perspective of how tiny the room that Jack and Ma lived in for his whole life and her for seven years. I am definitely looking forward to watching the movie now to see how it is interpreted onto the screen!
**If you do get the audiobook on cd, there are nine discs. I thought the ninth disc was just a bonus disc and I wondered why the book stopped suddenly at the end of the eighth disc. It was not over. The ninth disc does have more of the book on it. I'm guessing I didn't realize this three years ago when I listened to it the first time.
Room on audiobook is 100% recommended!