Standalone Sunday: Raising Stony Mayhall

Standalone Sunday was started by Megan over at Bookslayer Reads and this week I decided to join in! I'm not sure how often I will participate, but if I can I will.  The image above is hers that she is shares with others who participate.
What is Standalone Sunday?
Each Sunday bloggers feature a standalone book (one that is not part of a series) that they loved or would recommend. The standalone can also be one you want to read. There is so much focus on books that are part of a series that standalone books seem to be forgotten.  They can be just as great as book series!
Without further ado, here is my selection for Standalone Sunday:
Raising Stony Mayhall by Daryl Gregory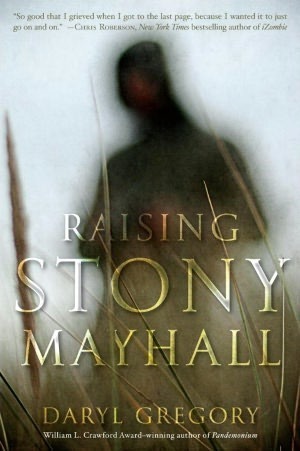 Book Description from Amazon:
In 1968, after the first zombie outbreak, Wanda Mayhall and her three young daughters discover the body of a teenage mother during a snowstorm. Wrapped in the woman's arms is a baby, stone-cold, not breathing, and without a pulse. But then his eyes open and look up at Wanda—and he begins to move.
The family hides the child—whom they name Stony—rather than turn him over to authorities that would destroy him. Against all scientific reason, the undead boy begins to grow. For years his adoptive mother and sisters manage to keep his existence a secret—until one terrifying night when Stony is forced to run and he learns that he is not the only living dead boy left in the world.
---
Raising Stony Mayhall is a novel I read back in 2012.  This was at the beginning of the 'zombie craze' and I feel the novel does not get enough credit. It is a different kind of zombie novel.  The description of the novel is what piqued my curiosity and I gave it a try and was glad I did read it! The way it ends seems like it was going to have a sequel, but as far as I know one was not written.
I hope to re-read Raising Stony Mayhall in the future so I can properly review it.  If you enjoy zombie books, give it a try!