The Proposal
Author: Jasmine Guillory
Published: October 30, 2018
Audiobook
Reviewed By: Jessica
Jessica's Rating: 2.5 stars
Dates Read: October 17-29, 2019
Book  Description:
The author of The Wedding Date serves up a novel about what happens when a public proposal doesn't turn into a happy ending, thanks to a woman who knows exactly how to make one on her own…
When someone asks you to spend your life with him, it shouldn't come as a surprise–or happen in front of 45,000 people.
When freelance writer Nikole Paterson goes to a Dodgers game with her actor boyfriend, his man bun, and his bros, the last thing she expects is a scoreboard proposal. Saying no isn't the hard part–they've only been dating for five months, and he can't even spell her name correctly. The hard part is having to face a stadium full of disappointed fans…
At the game with his sister, Carlos Ibarra comes to Nik's rescue and rushes her away from a camera crew. He's even there for her when the video goes viral and Nik's social media blows up–in a bad way. Nik knows that in the wilds of LA, a handsome doctor like Carlos can't be looking for anything serious, so she embarks on an epic rebound with him, filled with food, fun, and fantastic sex. But when their glorified hookups start breaking the rules, one of them has to be smart enough to put on the brakes…
Jessica's Review:
My friend Devin told me about this one and that it was not for her… She warned me, but did I listen to her????  Nope, not at all and I should have!  The premise of The Proposal is what made me want to read it.  Can you imagine that happening to you!?!?! 
I liked how there was diversity for the characters, but most of it came off as cliché to me. Fortunately diversity is growing in novels now whether the diversity is race, religion, sexual identity/preference, or even disability.  Unfortunately, I was not attached to these characters as they really were not likeable for me. Once the novel starts going in a certain direction you know how this story is going to ultimately end. 
There was a lot of foul language in the novel, which did not seem necessary. I do read romances from time to time and I guess I like the sweet romances a 'la Katherine Center (which hers can have some intensity to them) . I did not need all the details with the sex that occurred. We get it, Nik is having some great sex.
The reason I gave it 2.5 stars versus just 2 stars was the beginning, I loved everything about it!  Nikole was not even expecting a proposal and what happened afterwards that day was the best part of the novel.  From the beginning I thought I was in for a novel I was going to really enjoy. Sadly, the rest did not deliver for me.
This is one I just cannot recommend.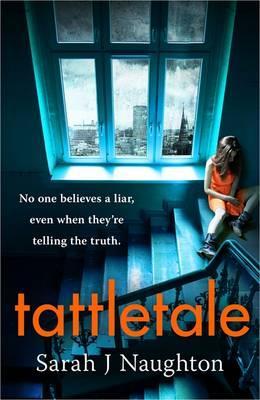 Author: Sarah J Naughton
336 pages in Kindle
Published: March 23, 2017
Dates Read: March 13-31, 2017
My Rating: 2.5 stars
Book Summary from Goodreads:
For fans of Disclaimer and I Let You Go, Tattletale is the debut psychological thriller you can't miss.
Once upon a time, there was a little girl who believed in fairytales. Now she is out to get your happy ending.
One day changes Jody's life forever.
She has shut herself down, haunted by her memories and unable to trust anyone. But then she meets Abe, the perfect stranger next door and suddenly life seems full of possibility and hope.
One day changes Mags' life forever.
After years of estrangement from her family, Mags receives a shocking phone call. Her brother Abe is in hospital and no-one knows what happened to him. She meets his fiancé Jody, and gradually pieces together the ruins of the life she left behind.
But the pieces don't quite seem to fit…
My Review:
As I started Tattletale, I was pulled into it from the beginning. There is some confusion as it just takes off without explanation as to what is happening, but you figure it out as you continue reading. Once you realize who the main cast of characters is, Tattletale gets easier to follow.
The characters that you need to know are:
Abe- in the hospital
Jody- Abe's fiancé
Mags- Abe's sister
Mira- Abe and Jody's neighbor
I wanted to like Tattletale. The description intrigued me but the novel just wasn't for me. Tattletale has multiple points of view, which I enjoy and those come from Mags, Jody and Mira. Also in the chapters are flashbacks of Abe, Mags, and Jody's lives, which are relevant to the story.
***Be warned that there are graphic scenes of child abuse and also sexual assault in this novel.
I think novels with unreliable narrators may not be for me. I have had some that I have enjoyed and others not so much. You have no idea whose side to believe in Tattletale, which I applaud Sarah J Naughton for. I sadly found myself not attached to any of the characters. Mags was not likeable at all for me, I did begin to feel some sympathy for Jody as the novel progressed, I wanted to know more about Mira and her life, but the one character I would have loved to hear about and get to know was Abe, whom unfortunately we are unable to do.
I struggled around the halfway mark but continued, but then I almost gave up with Tattletale at 82%. What kept me going was the curiosity as to what exactly happened to Abe. It was good that I decided to continue as when I reach 85% then the novel went somewhere for me. From this point on I didn't want to put Tattletale down. It goes in a direction that I did not see coming and I had no idea what was going to happen. Things do get unbelievable and unrealistic towards the end. I can't really say why without revealing some spoilers.
Even though Tattletale was not for me I would be willing to read another of Sarah J Naughton's books in the future.
Thank you to NetGalley and TBConFB for my copy.
[Top]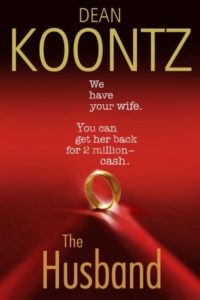 Author: Dean Koontz
Audiobook
Published: May 30, 2006
Dates Read: September 12-22, 2016
My Rating: 2.5 Stars
Book Summary from Amazon:
What would you do for love? Would you die? Would you kill?
We have your wife. You can get her back for two million cash. Landscaper Mitchell Rafferty thinks it must be some kind of joke. He was in the middle of planting impatiens in the yard of one of his clients when his cell phone rang. Now he's standing in a normal suburban neighborhood on a bright summer day, having a phone conversation out of his darkest nightmare.
Whoever is on the other end of the line is dead serious. He has Mitch's wife and he's named the price for her safe return. The caller doesn't care that Mitch runs a small two-man landscaping operation and has no way of raising such a vast sum. He's confident that Mitch will find a way.
If he loves his wife enough. . . Mitch does love her enough. He loves her more than life itself. He's got seventy-two hours to prove it. He has to find the two million by then. But he'll pay a lot more. He'll pay anything.
From its tense opening to its shattering climax, The Husband is a thriller that will hold you in its relentless grip for every twist, every shock, every revelation…until it lets you go, unmistakably changed. This is a Dean Koontz novel, after all. And there's no other experience quite like it.
---
My Review:
The premise of the book catches your attention and pulls you in. The actual novel not so much.
The Husband is divided into three parts. The first part is very good. Mitchell (Mitch) Rafferty is a landscaper and working a job when he receives a call that his wife has been kidnapped. And the kidnappers want $2 Million cash. He has 60 hours to get the money and they know he is a gardener with limited means. They let him know they are serious by shooting a man walking a dog. And like other novels similar to this, no cops or they kill his wife.
Here starts Mitch's journey to rush to get the money. Will he make it to the deadline? Will he get the money? Will he save his wife? What will happen?
The book's direction falls flat. There is a twist that you find out early on who is responsible for this happening.
There are several subplots, one involves his family and his childhood. This includes a sense-deprivation room that his parents used on Mitch and his siblings growing up. You do get to see how experiencing that affects them in both extremes, good and bad. This could be a fabulous plot to be used… in another book.
Overall, I could not recommend this book. I did keep listening to it to see what would happen. When I finished it I did not really have an opinion of the book. This was disappointing as I was hoping it would keep me on the edge of my seat and have me wanting more.
This is my second Koontz book, the first was Life Expectancy which I had rated four stars. Despite being disappointed in The Husband, I will read Koontz again.
[Top]