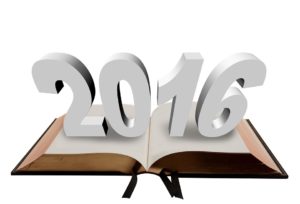 With just a few days remaining in 2016, I have come up with my Top 10 list of books read for 2016!
The list will begin with 10 and end with my #1 choice for 2016!:
10.  The Queen of Blogging by Terese Loreskar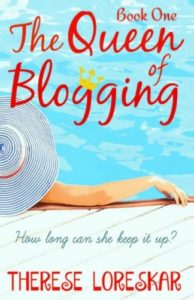 The Queen of Blogging is a fast paced, entertaining story about making ends meet when you have toddlers, a husband that works too much and showing off your life on a blog for the outside world to see.
Kajsa runs Sweden's largest Health and Fitness blog. There's only one small problem; it's all a big lie. Between her blog entries on healthy nutritious porridge and flashy running shoes, she lies on the sofa watching TV and eating sweets. Her only exercise is using the remote control.
Her life seems perfect: A beautiful house in an attractive suburb of Stockholm, three children, a loving husband and loads of money.
However, things start to crumble when she accidently writes on her blog that she is best friends with a famous Hollywood personal trainer. The problem is he's never met, let alone heard of her.
An ambitious journalist, who doesn't believe Kajsa has been honest about her blog or her friendship with the personal trainer, sets out to destroy her.
Besides having to handle the annoying journalist, she must also deal with Peter, "the blog following hunk", and a bizarre and outrageous priest who keeps spreading Kajsa's secrets all over town!
Bestselling Swedish author Therese Loreskar writes with a never-ending sense of humour and energy.
The Queen of Blogging is for anyone who enjoys a comic read that also explores the downside of our generation's constant use of social media.
—
Terese Loreskar did a great job making me laugh with The Queen of Blogging. Kajsa is Sweden's Bridget Jones!  If you like Bridget you will like Kajsa!
9. The Girl with all the Gifts by M.R. Carey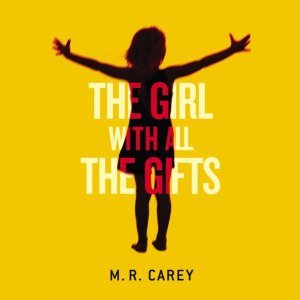 Melanie is a very special girl. Dr. Caldwell calls her "our little genius."
Every morning, Melanie waits in her cell to be collected for class. When they come for her, Sergeant Parks keeps his gun pointing at her while two of his people strap her into the wheelchair. She thinks they don't like her. She jokes that she won't bite, but they don't laugh.
Melanie loves school. She loves learning about spelling and sums and the world outside the classroom and the children's cells. She tells her favorite teacher all the things she'll do when she grows up. Melanie doesn't know why this makes Miss Justineau look sad.
—
Wow, just wow! I adored Melanie. I enjoyed reading a different take on zombies again. (I need to re-read Raising Stony Mayhall now!)  I wish the movie was out on DVD NOW!!!
8. Missing Pieces by Heather Gudenkauf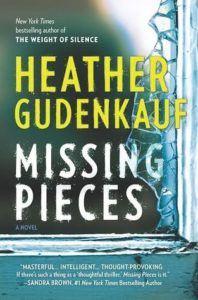 Sarah Quinlan's husband, Jack, has been haunted for decades by the untimely death of his mother when he was just a teenager, her body found in the cellar of their family farm, the circumstances a mystery. For years Jack has avoided returning home, but when his beloved aunt Julia is in an accident, Jack and Sarah are forced to confront the past that they have long evaded.
Upon arriving, Sarah and Jack are welcomed by the family Jack left behind all those years ago. But as facts about Julia's accident begin to surface, Sarah realizes that nothing about the Quinlans is what it seems. Sarah dives deep into the puzzling rabbit hole of Jack's past, but the farther in she climbs, the harder it is for her to get out. And soon she is faced with a deadly truth she may not be prepared for.
—
Heather Gudenkauf's newest book.  I enjoy a murder mystery. And of course she is my favorite author! She made this list three times. She was the queen this year!!
7. The Help (Audiobook version) by Kathryn Stockett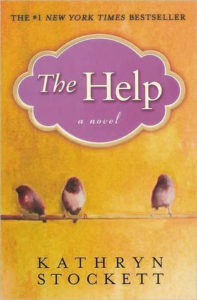 Aibileen is a black maid in 1962 Jackson, Mississippi, who's always taken orders quietly, but lately she's unable to hold her bitterness back. Her friend Minny has never held her tongue but now must somehow keep secrets about her employer that leave her speechless. White socialite Skeeter just graduated college. She's full of ambition, but without a husband, she's considered a failure. Together, these seemingly different women join together to write a tell-all book about work as a black maid in the South, that could forever alter their destinies and the life of a small town.
—
I read this several years ago.  My sister-in-law enjoyed the audiobook.  There are multiple narrators and they do a great job!
6. Room (Audiobook version) by Emma Donoghue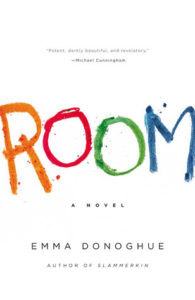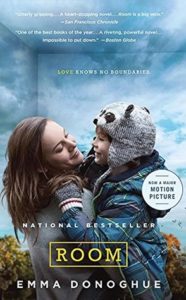 To five-year-old-Jack, Room is the world. . . . It's where he was born, it's where he and his Ma eat and sleep and play and learn. At night, his Ma shuts him safely in the wardrobe, where he is meant to be asleep when Old Nick visits.
Room is home to Jack, but to Ma it's the prison where she has been held for seven years. Through her fierce love for her son, she has created a life for him in this eleven-by-eleven-foot space. But with Jack's curiosity building alongside her own desperation, she knows that Room cannot contain either much longer.
Room is a tale at once shocking, riveting, exhilarating–a story of unconquerable love in harrowing circumstances, and of the diamond-hard bond between a mother and her child.
—
This is the second time I have listened to Room in audiobook.  I wanted to watch the movie, so I decided to listen to it again. The narrator of the audiobook is BRILLIANT with her portrayal of Jack!!! I will only 'read' this book in the audiobook format! The movie stayed fairly true to the book. It was also very well done.
5. These Things Hidden by Heather Gudenkauf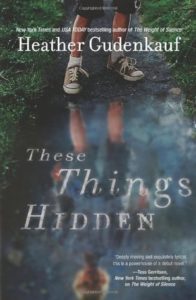 When teenager Allison Glenn is sent to prison for a heinous crime, she leaves behind her reputation as Linden Falls' golden girl forever. Her parents deny the existence of their once-perfect child. Her former friends exult her downfall. Her sister, Brynn, faces whispered rumors every day in the hallways of their small Iowa high school. It's Brynn—shy, quiet Brynn—who carries the burden of what really happened that night. All she wants is to forget Allison and the past that haunts her.
But then Allison is released to a halfway house, and is more determined than ever to speak with her estranged sister.
Now their legacy of secrets is focused on one little boy. And if the truth is revealed, the consequences will be unimaginable for the adoptive mother who loves him, the girl who tried to protect him and the two sisters who hold the key to all that is hidden.
—
Heather Gudenkauf's second book.  Such suspense!!
4. The Weight of Silence by Heather Gudenkauf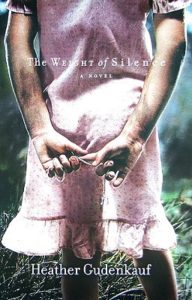 It happens quietly one August morning. As dawn's shimmering light drenches the humid Iowa air, two families awaken to find their little girls have gone missing in the night.
Seven-year-old Calli Clark is sweet, gentle, a dreamer who suffers from selective mutism brought on by tragedy that pulled her deep into silence as a toddler.
Calli's mother, Antonia, tried to be the best mother she could within the confines of marriage to a mostly absent, often angry husband. Now, though she denies that her husband could be involved in the possible abductions, she fears her decision to stay in her marriage has cost her more than her daughter's voice.
Petra Gregory is Calli's best friend, her soul mate and her voice. But neither Petra nor Calli has been heard from since their disappearance was discovered. Desperate to find his child, Martin Gregory is forced to confront a side of himself he did not know existed beneath his intellectual, professorial demeanor.
Now these families are tied by the question of what happened to their children. And the answer is trapped in the silence of unspoken family secrets.
—
This was Heather Gudenkauf's debut book. SUPERB!!!!  You must read this book!!!
3. Still Missing (Audiobook version) by Chevy Stevens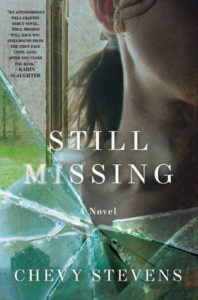 On the day she was abducted, Annie O'Sullivan, a thirty-two year old realtor, had three goals—sell a house, forget about a recent argument with her mother, and be on time for dinner with her ever- patient boyfriend. The open house is slow, but when her last visitor pulls up in a van as she's about to leave, Annie thinks it just might be her lucky day after all. Interwoven with the story of the year Annie spent as the captive of psychopath in a remote mountain cabin, which unfolds through sessions with her psychiatrist, is a second narrative recounting events following her escape—her struggle to piece her shattered life back together and the ongoing police investigation into the identity of her captor.
The truth doesn't always set you free.
Still Missing is that rare debut find–a shocking, visceral, brutal and beautifully crafted debut novel.
—
This is the second time I have listened to Still Missing.  The narrator does such a great job portraying Annie!  This is a hard book to listen to as it deals with very difficult subject matter, but Chevy Stevens is WONDERFUL!
2. Me Before You by Jojo Moyes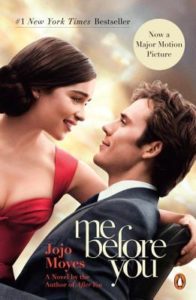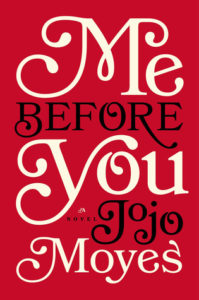 Louisa Clark is an ordinary girl living an exceedingly ordinary life—steady boyfriend, close family—who has barely been farther afield than their tiny village. She takes a badly needed job working for ex–Master of the Universe Will Traynor, who is wheelchair bound after an accident. Will has always lived a huge life—big deals, extreme sports, worldwide travel—and now he's pretty sure he cannot live the way he is.
Will is acerbic, moody, bossy—but Lou refuses to treat him with kid gloves, and soon his happiness means more to her than she expected. When she learns that Will has shocking plans of his own, she sets out to show him that life is still worth living.
—
I know, everyone read this one this year with the movie coming out.  Very well done and deals with a controversial issue.  Many call it a love story; to me it is not, it is a life story. I plan to watch the movie soon.  The sequel is good, but does not live up to the original.
And my top choice of 2016 is  My Girl by Jack Jordan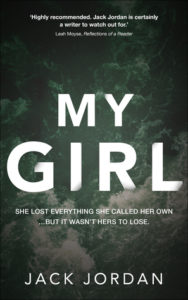 Paige Dawson: the mother of a murdered child and wife to a dead man. She has nothing left to live for… until she finds her husband's handgun hidden in their house.
Why did Ryan need a gun? What did he know about their daughter's death?
Desperate for the truth, Paige begins to unearth her husband's secrets.But she has no idea who she is up against, or that her life isn't hers to gamble – she belongs to me.
From the bestselling author of Anything for Her, Jack Jordan's My Girl is the new chilling thriller that you won't want to miss.
—
What can I say? Jack Jordan, OMG!!!  At first I  thought we were dealing with another Rachel from The Girl on a Train and was not expecting much from this book.  Then that unexpected twist happens! Jack, you are BRILLIANT and I can not wait to read your first novel Anything for Her, which I did receive as a kindle gift. I hope your third book comes along soon!