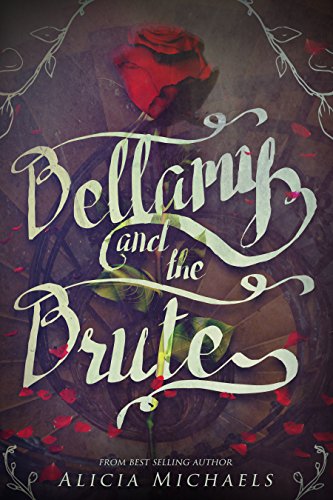 Bellamy and the Brute: A retelling inspired by the story of Beauty and the Beast
Author: Alicia Michaels
344 pages
Published: March 13, 2017
Reviewed By: Kim
Kim's Rating: 4 Stars
Description from Amazon:
A fresh twist on the classic story of Beauty and the Beast, Bellamy and the Brute proves true love really is blind.

When Bellamy McGuire is offered a summer job babysitting for the wealthy Baldwin family, she's reluctant to accept. After all, everyone in town knows about the mysterious happenings at the mansion on the hill—including the sudden disappearance of the Baldwin's eldest son, Tate. The former football star and golden boy of Wellhollow Springs became a hermit at the age of sixteen, and no one has seen or heard from him since. Rumors abound as to why, with whisperings about a strange illness—one that causes deformity and turned him into a real-life monster. Bellamy wants to dismiss these rumors as gossip, but when she's told that if she takes the job, she must promise to never, ever visit the third floor of the mansion, she begins to wonder if there really is some dark truth hidden there.
Tate's condition may not be the only secret being kept at Baldwin House. There are gaps in the family's financial history that don't add up, and surprising connections with unscrupulous characters. At night there are strange noises, unexplained cold drafts, and the electricity cuts out. And then there are the rose petals on the staircase. The rose petals that no one but Bellamy seems to be able to see. The rose petals that form a trail leading right up to the 3 rd floor, past the portrait of a handsome young man, and down a dark hallway where she promised she would never, ever go…
As Bellamy works to unravel the mysteries of Baldwin House and uncover the truth about Tate, she realizes that she is in way over her head… in more ways than one. Can her bravery and determination help to right the wrongs of the past and free the young man whose story has captured her heart?
Kim's Review:
Bellamy McGuire needs a summer job and when a babysitting position opens with the town's richest family, she takes it. She doesn't let the local rumors of hauntings and the disappearance of the Baldwin's oldest son, Tate, stop her. But when she gets to the house, and begins to settle into her new position, weird stuff starts happening. Rose petals that no one else can see, an off limit 3rd floor, and parents who are distancing themselves from their kids, can Bellamy survive the summer? Is this job worth it?
So, Bellamy and the Brute is a retelling of Beauty and the Beast, so of course I was gonna pick this up! Plus, this cover is amazing, just sayin. I liked this book from the beginning. The characters were likable, the story kept me interested from the start, and Baldwin House fascinated me. The only reason that I gave this book 4 stars instead of 5, is because of the annoying teenage hormones. I love Tate Baldwin. He's that ideal, bad boy turned good, mysterious guy that all of us dreamed of in high school. But dang, before he turned good, he annoyed the crap out of me. Back and forth, sorry, screw up, sorry again, screw up again, over and over again . . . STOP! Please stop! Time to grow up, kiddies!!! Thankfully, both Tate and Bellamy matured significantly by the end of the book. I have nothing but great feelings about them.  Plus, Max and Emma Baldwin, the kids that Bellamy takes care of, are pretty darn cute. Emma made me giggle! I was also a little worried about yet another retelling of a popular fairy tale, but this one gave a twist that made it more interesting. I wouldn't even necessarily call this a retelling, I think Beauty and the Beast was just a jumping off point and the author just ran with it. At the risk of dealing with controversial issues, I will say that I greatly appreciated the fact that Bellamy is an African American girl, but the author doesn't make a big deal about race. If there's anything that doesn't matter to me, it's the race of a character. If I like the character, then I like the character, no matter race, creed, or orientation. But what I can't stand is when authors make a big deal of those things that should not matter. And the fact that this story took place in Georgia, with several African American characters, but without all the racial troubles every other sentence; I'm tired of authors beating a dead horse with how every book set in the South is surrounded by racial tension. I found it refreshing to read a book with normal teenagers, who don't care about their race, and a normal story without all the political undertones, that I could just read in the news. If I wanted to read about all that, I'd just turn on the TV. But I don't want to! I'm reading!
I would definitely recommend this book, but I would caution against younger kids and teens reading it. There are some mature themes, but mature themes handled maturely. It's a light read, that's perfect for summer!