Krampus
Author: Billy McLaughlin
Published: December 15, 2017
52 Pages
Reviewed By: Jessica
Date Read: November 29, 2019
Jessica's Rating: 4 stars
Short Story Description:
Krampus is a festive short that tells the story of two brothers, Kramp and Kris who have been placed on opposite sides of Christmas folklore. For one hundred years they've been separated. Now they must come together to save Christmas.
Jessica's Review:
Today is Krampusnacht, also known as Krampus Night. According to folklore, on the evening of December 5th, Krampus tags along with St. Nicholas. He visits houses all night with his saintly pal. While St. Nick is on hand to put candy in the shoes of good kids and birch twigs in the shoes of the bad, Krampus' particular specialty is punishing naughty children. Legend has it that throughout the Christmas season, misbehaved kids are beaten with birch branches or can disappear, stuffed into Krampus' sack and hauled off to his lair to be tortured or eaten.
Billy McLaughlin's take on Krampus is a bit different from the original folktale.  Instead of being evil, Kramp is innately good and comes to be with his brother Kris who has lost his faith in humanity. Kramp must show Kris that not all hope is lost with humanity in the form of a little boy and his Christmas wish. 
This is a pleasant little Christmas story that needs to be read by all! 
Read more about the actual Krampus folktale here.
Purchase Links:
Amazon US
Amazon UK
Today I get to kick off the Blog Blitz for Fractured by Billy McLaughlin!  I will be sharing the Prologue with you and there will be reviews later this week on the tour!
Book Description:
Ellie Caldwell lives in constant fear. Two deadly events in her life have left her forever traumatized. One, she relives in her nightmares. The other, so devastating she has completely omitted it from her memory. Once more she's staring into the face of death. Locked up in a psychiatric ward, she finds herself accused of murder. She'll have to run for her life if she wants to save it…
Marissa Hall lives in a constant battle with her inner voices after she was left with devastating burns on her face. In her mind, as she descends into madness, revenge is the only way of evening the score. She'll have to destroy someone else's life to take back her own…
Two women's lives will intertwine as one's quest for truth faces off with the other's lust for revenge.
Book Trailer for Fractured:
Pre-order Fractured here.
Publication day: August 31st
 209 pages

Prologue:
A red ribbon of blood slithered toward the toppled chair and broken table.
On the visible side of the kitchen, a body lay in a flattened heap, while a naked flame had burned up in the large pan on the five-ringed range. Flames flickered orange against the walls of winter grey. A clock ticked in unison, marrying the sound of crackling embers.​
The scent of burning flesh was like charcoal round the rim of her nostrils. She ran her tongue along her crusty dry lip, the taste of devoured Rioja rested on the tip of her tongue. She couldn't remember drinking the bottle. Nor anything that had happened afterwards.​
A glance in the mirror, its silver frame draped in a black, ornate foliage design, her ghostlike reflection pale and listless from shock.​
She forced herself to move forward. Just one step.​
The world slowed down. She felt numb. A flash, not exactly a memory but a snapshot of something horrid and almost forgotten. Her mind was frantic, her exterior perfectly poised and fashioned into the epitome of calm. When she looked back into the mirror, she saw nothing more than the frame of a mannequin in the window of a shop.​
She eyed the outside world at the far end of the kitchen. Where had daylight gone?​
Dread rattled; a ball of vomit forming in her gut and rising toward her chest. She threw her hands to her mouth and killed off a scream. Her eyes blinked frantically. She wanted to call his name. Maybe if she said it loud enough, he would hear her and open his eyes. Her legs began to quiver, almost as if they were no longer her own and she couldn't control them.​
As she gripped the frame of the kitchen door, she saw something move at the corner of her eye. A hand. Someone else was there. It crept slowly from behind the breakfast bar. It was then the woman realised she and her husband weren't alone. The clock continued to tick. She could no longer hold it back. The scream she had fought so gallantly to muffle finally exploded and rang through the air.​
---
About the Author:
Billy McLaughlin is the author of the Glasgow based DI Phil Morris series. Opening with the #1 thriller 'Lost Girl,' he followed it up with 'In the Wake of Death' & 'The Daughter'. Work on a fourth DI Phil Morris entry is now underway.
His novelette 'Invisible' first arrived in March 2016 to rave reviews and was then followed by stand-alone novella 'The Dead of Winter' and the award-winning 'Krampus', a novelette released to raise money for an illness called NKH.
Boasting nearly 20,000 downloads in 2 years, McLaughlin unleashes his seventh release 'Fractured' on 31st August. The story reveals the fate of a character who previously graced the pages of his work, whilst spinning an entirely new twisted tale about two traumatized women who seek vengeance.
To see more information on future releases, please see his Facebook Page or contact him via email.
**Jessica's review of Invisible is here.**
Contact Billy:
Email: billymclaughlinbooks@gmail.com
Twitter @bilbob2
Facebook
[Top]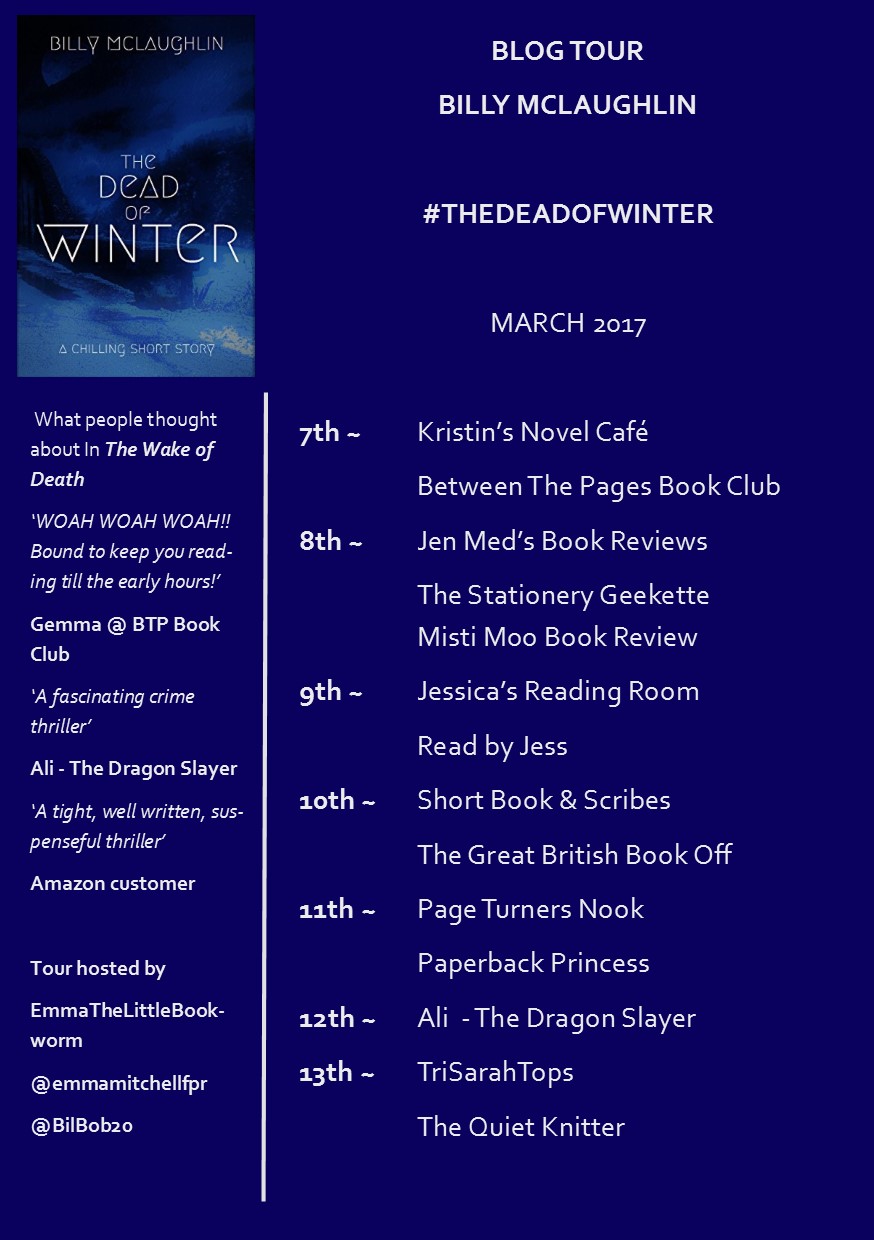 Today is my stop in the Blog Tour for The Dead of Winter by Billy McLaughlin. This is a 40,000 word novel that will be released on March 13th. Today he will be telling us about his Road to Publication with The Dead of Winter:
'The Dead of Winter' will be the fourth book that I've self-published. I was in the middle of writing my next book 'The Daughter' which is the third book to feature DI Phil Morris. I had hit a bit of a brick wall with that one so decided to take a break. Unfortunately, or fortunately depending on your outlook, my brain didn't let that happen. I kept getting these other idea's coming to me. So I thought I'd throw out a novella, something quick to fill a gap when people kept asking when the next book would be finished. That novella ended as a 40,000 word novel. So it is still a quick read but not as quick as I first promised. The book was edited by Emma Mitchell who also gave me great insight that I, as the writer, didn't fully have. This has allowed me to fix all those little nagging things that I might not have been insightful enough to fix myself. It took me approximately six weeks prior to the final edit to work through several versions of the manuscript. I took on board many of the suggestions for change from two very reliable sources and I feel that this made the book flow better and addressed a couple of things that were left hanging. I designed the cover myself and I think it's one of my favourite that I created myself. Whilst the book was away, I managed to finish writing 'The Daughter'. That is due in late Spring / early Summer, so there is plenty time to work on it. Right now, I'm just excited to get 'Winter' before reader eyes.
Pre-order The Dead of Winter: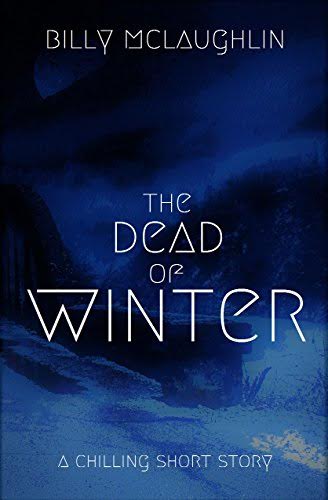 Description of The Dead of Winter:
One missing baby! One runaway teenager! Coincidence?
Detective Kevin Wallace doesn't think so. And neither do the residents of Golf Road, who are all too quick to point the finger at a man with severe learning disabilities. As Wallace and a colleague, who has already experienced the ugly nature of this particular community, get closer to the truth they may not like what is hidden behind closed doors.
This is a brand new mystery from the writer of 'Lost Girl' and 'In the Wake of Death'. Let the chills commence.
**The Dead of Winter is just under 200 pages, so go ahead and pre-order it! Then on March 13th it will magically appear on your kindle!
[Top]