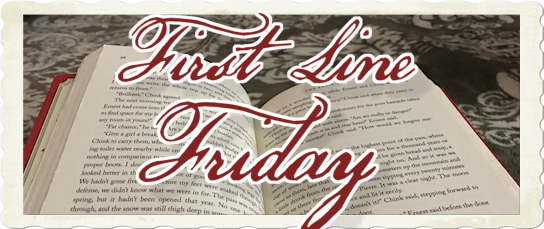 Today'sFirst Line Friday is by an author who is a favorite of mine. Still Missing is Chevy Stevens debut and it's one you can't put down! I re-read it last year and reviewed it here. It is a difficult read, but well worth it!
You know, Doc, you're not the first shrink I've seen since I got back.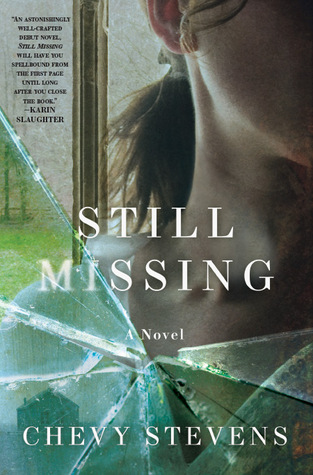 On the day she was abducted, Annie O'Sullivan, a 32-year-old realtor, had three goals—sell a house, forget about a recent argument with her mother, and be on time for dinner with her ever-patient boyfriend. The open house is slow, but when her last visitor pulls up in a van as she's about to leave, Annie thinks it just might be her lucky day after all.
Still Missing interweaves the year Annie spent as the captive of a psychopath in a remote mountain cabin, which unfold through sessions with her psychiatrist, with a second narrative following the events after her escape—her struggle to piece her shattered life back together and the ongoing police investigation into the identity of her captor.
Still Missing is a shocking, visceral, brutal and beautifully crafted novel.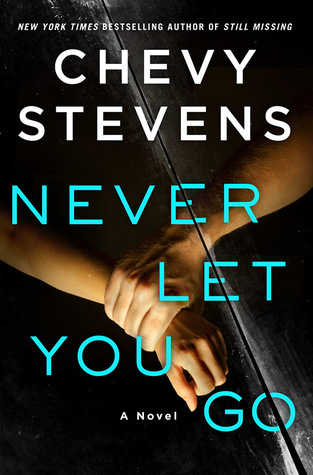 Author: Chevy Stevens
406 pages in hard back
Published: March 14, 2017
Dates Read: February 26 – March 11, 2017
My Rating: 5 Stars
Book Summary from Amazon:
Eleven years ago, Lindsey Nash escaped into the night with her young daughter and left an abusive relationship. Her ex-husband, Andrew, was sent to jail and Lindsey started over with a new life.
Now, Lindsey is older and wiser, with her own business and a teenage daughter who needs her more than ever. When Andrew is finally released from prison, Lindsey believes she has cut all ties and left the past behind her. But she gets the sense that someone is watching her, tracking her every move. Her new boyfriend is threatened. Her home is invaded, and her daughter is shadowed. Lindsey is convinced it's her ex-husband, even though he claims he's a different person. But has he really changed? Is the one who wants her dead closer to home than she thought?
With Never Let You Go, Chevy Stevens delivers a chilling, twisting thriller that crackles with suspense as it explores the darkest heart of love and obsession.
My Review:
Still Missing is Chevy Stevens' first novel and is my favorite of hers. You feel every emotion Annie has and Chevy's writing is compelling! With Never Let You Go, Chevy really does showcase that she is a master at what she does.
Never Let You Go is about Lindsey and her daughter Sophie. Lindsey is in an abusive marriage and wants to get out but isn't sure how. Eventually she leaves with Sophie and her husband Andrew goes to jail. Eleven years later, Andrew is released from prison and Lindsey begins to feel that she is being constantly watched. She believes it is Andrew even though he says he has changed.
Never Let You Go is narrated by Lindsey and her daughter Sophie. In addition to both narrators the novel also takes place in the past when Lindsey was in her marriage and present day. Both transitions of the points of view between Lindsey and Sophie and past and present are seamless. They merge together well and there is no confusion when each chapter occurs or who the narrator is.
As with all thriller/suspense novels there are twists that you may or may not see coming. My suspicions were narrowed down to two characters as to whom I thought was stalking Lindsey. I just was not sure why they might have been doing it. I was excited to see that one of my suspicions was right! I normally do not like it when I guess who the guilty party is, but I think because I was not sure of the motive, that was why I still had my mind blown. When I read who was stalking Lindsey and why I had two reactions: "I knew it! and OMG!" The OMG thought was the motive that I did not see coming.
Chevy Stevens does a great job with you having empathy for Lindsey. At the beginning you really want her to get away from Andrew. Chevy pulls you in and takes you for quite a ride with Lindsey and Sophie. You want Lindsey and Sophie to come out fine at the end.
This is a very intense book that I never wanted to put down!
I must give a couple of warnings to readers:
If you have issues with domestic violence you may want to stay away from this book. Some scenes are very intense.
If you are an animal lover there are a couple of scenes that may bother you. I had a hard time reading those scenes, but a lot of the feeling was fear as to what was going to happen next.
With Never Let You Go Chevy Stevens shows how superior she is with her writing in the suspense/thriller genres. With this book, she is becoming a favorite of mine!
Never Let You Go is very highly recommended! If you have not read her novels and interested in reading them, then start with Still Missing and then move onto Never Let You Go!
**Thank you to St. Martin's Press for my e-arc via NetGalley and my print arc copy!
[Top]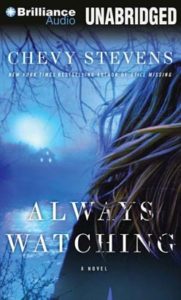 Author: Chevy Stevens
Audiobook
Published: June 18, 2013
Dates Read: October 25- November 9, 2016
My Rating: 3 stars
Book Summary from Amazon:
She helps people put their demons to rest.
But she has a few of her own…
In the lockdown ward of a psychiatric hospital, Dr. Nadine Lavoie is in her element. She has the tools to help people, and she has the desire—healing broken families is what she lives for. But Nadine doesn't want to look too closely at her own past because there are whole chunks of her life that are black holes. It takes all her willpower to tamp down her recurrent claustrophobia, and her daughter, Lisa, is a runaway who has been on the streets for seven years.
When a distraught woman, Heather Simeon, is brought into the Psychiatric Intensive Care Unit after a suicide attempt, Nadine gently coaxes her story out of her—and learns of some troubling parallels with her own life. Digging deeper, Nadine is forced to confront her traumatic childhood, and the damage that began when she and her brother were brought by their mother to a remote commune on Vancouver Island. What happened to Nadine? Why was their family destroyed? And why does the name Aaron Quinn, the group's leader, bring complex feelings of terror to Nadine even today?
And then, the unthinkable happens, and Nadine realizes that danger is closer to home than she ever imagined. She has no choice but to face what terrifies her the most…and fight back.
Sometimes you can leave the past, but you can never escape.
My Review:
I listened to the audiobook Still Missing by Chevy Stevens a couple of months ago and I was blown away (I had listened to it several years ago, but did not remember much about it). I decided that I wanted to listen to more of her books since my local library offers hers on audio. Always Watching is another good one by Chevy Stevens, but it does not live up to Still Missing.
Heather Simeon becomes Dr. Nadine Lavoie's newest patient after a suicide attempt. As Heather tells her story, Nadine realizes they have some similar circumstances in their lives. Heather was part of a commune (a cult) which Nadine was a part of when she was younger as she, her brother, and mother joined. Heather's story brings to light some of Nadine's repressed memories. And because of these memories which include sexual abuse, Nadine sets out on a mission to discover if there were any other victims. This decision brings danger to into her life.
Nadine's daughter Lisa has been on her own for a while and she has been a drug addict. She comes into the story and Nadine also tries to save her in more than one way. Lisa becomes very important to this story.
Will Nadine find out if there are other victims, and will she save herself and her daughter from the dangers that come about in the novel? You will have to read to find out.
Always Watching is written well and I wanted to know what was going to happen. Maybe I expected a lot out of it after listening to Still Missing, but I just wasn't pulled in to the story as much as I would have thought as I find cult type stories intriguing. I think I just wasn't as attached to Nadine's character. Always Watching did not have as much of a shock factor as Still Missing did. There are some intense scenes in Always Watching.
Warning: If you have issues with sexual abuse of a child, you might want to stay away from this book. There are not many scenes, but enough to possibly bother some more sensitive readers. There is also a tough scene involving an animal death.
If you want to check out some of Chevy Stevens' work, I would say read Always Watching first then read Still Missing. I don't really like to compare books, but I think having recently 'read' Still Missing affected my enjoyment of Always Watching. I do plan to read/listen to more of Chevy Stevens.
I would say overall that I would recommend this book.
[Top]