God's Blogs: Life from God's Perspective
Author: Lanny Donoho
Published:  June 1, 2005
256 Pages
Reviewed By: Jessica
Dates Read:  April 29, 2021- May 1, 2021
Jessica's Rating: 4 stars     
Book Description:
How would you feel if you thought God wrote a personal note to you…on His website…and it was about some of the stuff that makes you wonder if He really exists at all? This book does make you feel…while it makes you think. Maybe God isn't who we thought He was. Maybe His thoughts aren't what we have been taught. "God's Blogs" contains some insightful, fresh thoughts that help us see more of God's character, His love, and His grace as He reflects on marriage, death, laughter, dads, and questions like "Why are we here?" and, "What about tsunamis and poverty?" A fascinating read that will make you laugh and cry and search your own thoughts about who He is.
What Might God Say on His Blogsite?

Basically I'm entering into your blogdom because "somehow the rumor got started that I was kind of boring. "For those of you who bought into that craziness, you should know that I'm the one who created all the stuff you love…all the stuff that makes life exciting.
I invented funny and laughter.
I created adventure and romance…
I laugh a lot.
Jessica's Review:
God's Blogs is a book that can be read again and again.  It shows us If God had a blog what might he say?  And the author Lanny Donoho gives his interpretation of that blog, though the blog is in book format in this case.
This is a book I picked up at a local used book store several years back, but finally got the chance to pick up and I am glad I did!  Yes, I did pick it up because of the title, flipped through the pages in the store and saw that it would be a quick read.  But it is more than just a quick read, it gives lots of humor and entertainment (just look at the table of contents), is  an easy read,  is relevant, and the format is as if you are reading someone's blog: various use of fonts, drawing, notes, and also long and short posts.
There is a lot of humor throughout the book, but serious topics are also discussed. The short chapters make it hard to put the book down and it also leaves you thinking. This book is published by the Christian publisher Multnomah. I can see myself picking this book up again from time to time just to be refreshed in what God did and still does for us. 
God's Blogs is highly recommended.
Purchase Links:
Amazon US
Amazon UK

Today I am part of the blog tour for WTF, God? : Understanding God in the Midst of Transition by Michelle N. Onuorah which is being hosted by Itsy Bitsy Book Bits. I will be sharing my review.
Crossroads are an inevitable part of life. But how do you navigate them when your life is not your own?
At 22-years-old, Michelle Onuorah was a bestselling author, former runway model, and recent college graduate with the world at her fingertips…Or so she thought.
In a matter of weeks which turned into months…and eventually most of her twenties, the God of the universe systematically revealed that He was also the God of her life – and she was not. With breathtaking candor, razor sharp humor, and bold vulnerability, Michelle shares the ten key lessons she's learned about God, life and understanding both in the midst of ceaseless transitions.
In her words, "This book is for those of you who believed with all your heart that you would end up in one place and somehow, despite following God – or maybe even because of it – ended up on a completely different path. This is for those of you who, though you love God, sometimes wonder who He even is. This is for those of you who choose to believe He's still good."
This book is for you.
WTF, God?: Understanding God in the Midst of Transition
Author: Michelle N. Onuorah
Published: January 13, 2019
125 Pages
Reviewed By: Jessica
Dates Read: February 17-20, 2019
Jessica's Rating: 4 stars
Jessica's Review:

Imagine you have your life planned out the way YOU want, but God has other plans for you and it is a 180 from the reality you had in mind.  This is what happened with Michelle N. Onuorah's life in the 5 years from when she graduated college. And it started with 4 words: "We're letting you go".
WTF, God is Onuorah's memoir of her unexpected life that God had planned all along.  Yes, the title means just what you think it means. Imagine your frustrations with life take hold of you so much that you have to yell out "WTF, God!?!?!?" Yes, there is some foul language in this memoir, but it is not extreme as you may think it is going to be. 
Onuorah is candid about her life history, struggles, and her addictions despite her fears of admitting them to us, the reader.  As I was reading it felt as if she was talking directly to me. I know a little of her history as I have read all of her previous works and enjoyed them,  and even have communicated via email with her, but now I feel I know her more personally. WTF, God is a short memoir just over 100 pages and can be read very quickly. In the first 90 minutes of reading it I was over halfway done with it! 
Despite the roller coaster that life may bring us, Onuorah shows us through sharing about her life that God knows what he is doing and to have faith in Him. Despite the title possibly turning you off of the book, please pick up WTF, God. You won't regret it!
WTF, God is recommended.
Michelle N. Onuorah is the bestselling author of Type N, Taking Names, Remember Me, Jane and Atlas Died. WTF, God? is her debut non-fiction release. The daughter of Nigerian immigrants, Michelle grew up with a love of storytelling. At the tender age of thirteen, she wrote her first book, Double Identity, and self-published it the next year. For three years, she ran an independent magazine, MNO, and served as the main writer and editor-in-chief. Her writing has appeared in Vestiges Literary Magazine, Avalon Literary Review, and Medium.com among others.
A graduate of Biola University, Michelle is putting her film degree to use by producing a new teaching series under her company, MNO Media, LLC. The series, Life in His Light, is designed to help Christians who struggle with depression overcome it.
[Top]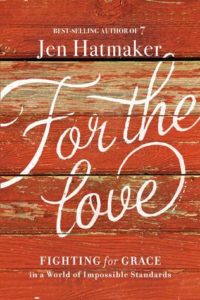 For the Love: Fighting for Grace in a World of Impossible Standards
Author: Jen Hatmaker
220 Pages in Hardback
Published: August 8, 2015
Dates Read: September 21-28, 2016
My Rating: 2 stars
Book Summary from Amazon:
Best-selling author Jen Hatmaker is convinced life can be lovely and fun and courageous and kind. She reveals with humor and style how Jesus' embarrassing grace is the key to dealing with life's biggest challenge: people. The majority of our joys, struggles, thrills, and heartbreaks relate to people, beginning with ourselves and then the people we came from, married, birthed, live by, go to church with, don't like, don't understand, fear, compare ourselves to, and judge. Jen knows how the squeeze of this life can make us competitive and judgmental, how we can lose love for others and then for ourselves. She reveals how to:
Break free of guilt and shame by dismantling the unattainable Pinterest life.
Learn to engage our culture's controversial issues with a grace-first approach.
Be liberated to love and release the burden of always being right.
Identify the tools you already have to develop real-life, all-in, know-my-junk-but-love-me-anyway friendships.
Escape our impossible standards for parenting and marriage by accepting the standard of "mostly good."
Laugh your butt off.
In this raucous ride to freedom for modern women, Jen Hatmaker bares the refreshing wisdom, wry humor, no-nonsense faith, liberating insight, and fearless honesty that have made her beloved by women worldwide.
---
My Review
I had never heard of Jen Hatmaker until two friends raved about For the Love in the same week. I looked it up and it sounded interesting, so I eventually bought it. She is on a popular HGTV show, has written a couple of books, has five children, and a pastor's wife (and daughter).
I expected a different book based off the title than what I read. I did not feel I got much out of the book. Part of it could be that she talks a lot about her kids and I don't have children. I did not feel that The "Fighting for Grace in a World of Impossible Standards" was met. Maybe I am just not in the target demographic for this book. It didn't have a "book" feel to me; it felt more like a blog. I was also surprised how much she talks about drinking. I don't have an issue with people drinking, but was surprised how much it was mentioned, especially being a pastor's wife.
Chapter 15 dealt with "Supper Club" where several couples meet together to fellowship, and they take turns cooking. I liked the idea, and she tried to show how easy cooking is and anyone can do it. I'm not a cook and it did not inspire me to want to cook. It's a good thing my husband enjoys cooking, because otherwise we would starve!
The book is written in four parts and she ends each part with humorous thank you notes. Those "thank you notes" were the best parts of the book. The chapter I got the most out of was chapter 21 "Poverty Tourism". It was talking about how can we really help the countries we visit where they actually get something out of the missionary work that is done for them. Not just painting the same building every year, but find out what that community actually needs and do that instead. And don't just visit one time after that terrible event, continue the relationship with the community.
Overall, I can't recommend this book. It just wasn't for me.
[Top]