Revelator
Author: Daryl Gregory
Published: August 31, 2021
352 Pages
Reviewed By: Kim
Kim's Rating: 4 stars
Book Description:
In 1933, nine-year-old Stella is left in the care of her grandmother, Motty, in the backwoods of Tennessee. These remote hills of the Smoky Mountains are home to dangerous secrets, and soon after she arrives, Stella wanders into a dark cavern where she encounters the family's personal god, an entity known as the Ghostdaddy.
Years later, after a tragic incident that caused her to flee, Stella–now a professional bootlegger–returns for Motty's funeral, and to check on the mysterious ten-year-old girl named Sunny that Motty adopted. Sunny appears innocent enough, but she is more powerful than Stella could imagine–and she's a direct link to Stella's buried past and her family's destructive faith.
Kim's Review:
This. Cover. That's it. Done. Winner, winner, chicken dinner. Ok, but we need to go more in depth. I liked this book a lot! It kept me interested during the whole thing! I wanted to know who this god in the mountain was. Why did he only communicate with the Birch women? Unfortunately, that's why I gave this book only 4 stars, cuz y'all know I need more info and there's just never enough! But that doesn't change the fact that I enjoyed reading this book. I actually liked most of the characters and hated the ones I was supposed to. Even the open ending didn't bother me, it enthralled me. I kinda want a sequel. Mr. Gregory very obviously doesn't like organized religion, but I couldn't deny that he was accurate on some things. Some of the stereotypes amused me! Overall, this was an interesting read that kept me turning the page!
Purchase Links:
Amazon US
Amazon UK

Standalone Sunday was started by Megan over at Bookslayer Reads and this week I decided to join in! I'm not sure how often I will participate, but if I can I will.  The image above is hers that she is shares with others who participate.
What is Standalone Sunday?
Each Sunday bloggers feature a standalone book (one that is not part of a series) that they loved or would recommend. The standalone can also be one you want to read. There is so much focus on books that are part of a series that standalone books seem to be forgotten.  They can be just as great as book series!
Without further ado, here is my selection for Standalone Sunday:
Raising Stony Mayhall by Daryl Gregory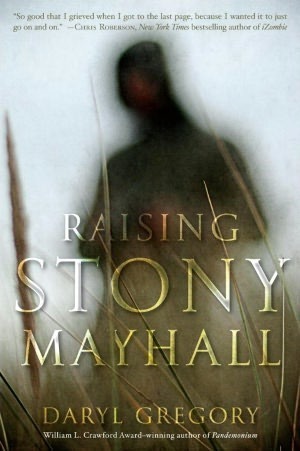 Book Description from Amazon:
In 1968, after the first zombie outbreak, Wanda Mayhall and her three young daughters discover the body of a teenage mother during a snowstorm. Wrapped in the woman's arms is a baby, stone-cold, not breathing, and without a pulse. But then his eyes open and look up at Wanda—and he begins to move.
The family hides the child—whom they name Stony—rather than turn him over to authorities that would destroy him. Against all scientific reason, the undead boy begins to grow. For years his adoptive mother and sisters manage to keep his existence a secret—until one terrifying night when Stony is forced to run and he learns that he is not the only living dead boy left in the world.
---
Raising Stony Mayhall is a novel I read back in 2012.  This was at the beginning of the 'zombie craze' and I feel the novel does not get enough credit. It is a different kind of zombie novel.  The description of the novel is what piqued my curiosity and I gave it a try and was glad I did read it! The way it ends seems like it was going to have a sequel, but as far as I know one was not written.
I hope to re-read Raising Stony Mayhall in the future so I can properly review it.  If you enjoy zombie books, give it a try!
[Top]