Halfway to Free
Series: Out of Line collection
Author: Emma Donoghue
Published:  September 1, 2020
Audiobook
Reviewed By: Jessica
Date Read: February 1, 2022
Jessica's Rating: 4 stars
Short Story Description:
Miriam was raised in a society without children. To offset the devastation of climate change, state-of-the-art birth control has made daycares and playgrounds things of the past. As tempting as the government inducements are to remain child-free, Miriam's curiosity about the people who "drop out" of society to become parents grows. When she finds a like-minded partner, she must choose between the rewarding comforts she knows and the unknowable mysteries of being a mother.
Emma Donoghue's Halfway to Free is part of Out of Line, an incisive collection of funny, enraging, and hopeful stories of women's empowerment and escape. Each piece can be read or listened to in a single thought-provoking sitting.
Jessica's Review:
Taking place in 2060, I would rather this short story be a full-length novel as all the beginnings of a dystopian tale will leave the reader thinking.  The world that Miriam lives in is overpopulated and having a child is looked down upon.  NOT having a child is the acceptable choice and only the extremely wealthy or celebrities procreate.  There are even government incentives, support and more to stay child free.  This includes having health care, housing, and even employment.  There are still those that go against the grain and decide to procreate thus losing everything. Those form their own communities to pull through together.
Miriam has come to a crossroads in her life with what she should do and what she wants to do.  She and her partner have to come to a decision.
This short story really makes you think with everything going on in this dystopian world, why would someone want to have a child as there is so much to lose.  This story with its 'anti-children' stance parallels what goes on in our world today if one does not have a child, whether due to life circumstances or health reasons. 
I really hope that Donoghue decides to expand upon this short story, there is so much potential here!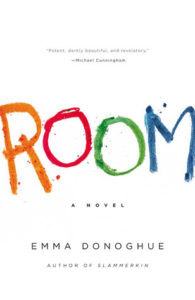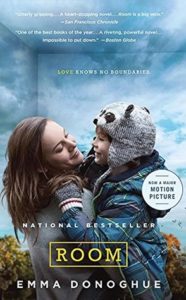 Author: Emma Donoghue
Audiobook
Published: September 13, 2010
Dates Read: November 10-24, 2016
My Rating: 5 stars
Book Summary from Amazon:
To five-year-old-Jack, Room is the world. . . . It's where he was born, it's where he and his Ma eat and sleep and play and learn. At night, his Ma shuts him safely in the wardrobe, where he is meant to be asleep when Old Nick visits.
Room is home to Jack, but to Ma it's the prison where she has been held for seven years. Through her fierce love for her son, she has created a life for him in this eleven-by-eleven-foot space. But with Jack's curiosity building alongside her own desperation, she knows that Room cannot contain either much longer.
Room is a tale at once shocking, riveting, exhilarating–a story of unconquerable love in harrowing circumstances, and of the diamond-hard bond between a mother and her child.
My Review:
I first listened to Room on audiobook just over three years ago. I decided that I want to watch the movie relatively soon, so I decided to listen to Room again so the book would be fresh in my memory.
Emma Donoghue takes a difficult subject matter (a kidnapping situation and rape multiple times) and gives us the book Room from the perspective of five year old Jack. This is a unique and original concept.
Jack has just celebrated his fifth birthday. All he has ever known in his life is Room, Ma, and Old Nick. Room is where Ma and Jack live. Ma has lived here for seven years after being kidnapped by Old Nick. Jack is the product of Ma being raped by Old Nick. Room is all that Jack knows. They do have a tv, and Jack believes that the rest of the world exists only on television. Ma does not tell him otherwise.
You can see how Jack experiences everything in Room and his curiosity about various things that all children become curious about. You can feel Ma's frustrations with their living situation and her hatred of Old Nick. Later on in the book, Old Nick informs Ma of a change in his living situation and Ma begins a plan to get her and Jack out of Room. They do escape from Room and their lives are just beginning at this point.  You can see the adjustment that Ma and Jack have to go through.
Throughout the book Jack talks about adult situations, but with the innocence of a child as he doesn't understand what is going on. But it is enough for the reader to know what is going on.
I really can not recommend this book enough! I think the book being from Jack's perspective makes it easier to read. It would have been a very different book if it had come from Ma's perspective. That would be an interesting book to read. Some authors have done that lately: rewrite their books from a different characters point of view. If Emma Donoghue ever chose to do that with Room, I would read it.
Audiobook Review:
I have listened to Room on audiobook twice now. It is superb! There are multiple narrators for Room and I find that makes it easier to listen to a book than a single narrator doing all the voices and changing their voice for the various characters. Changing their voice for multiple characters can be well done or not. I have heard both kinds of audiobooks. It really can affect your enjoyment of a book.
The narrator for Jack is Michal Friedman and she is brilliant! She voices Jack perfectly. She portrays the innocence, wonder, curiosity, and all the feelings that a five year old would express in this situation.
If I decide to read Room again in the future it will be the audiobook again. I can't imagine 'reading' it another way. The audiobook is perfect!
If you listen to audiobooks and have not read Room yet, get a copy from your local library or on Audible. If you don't really listen to audiobooks and are thinking about reading Room, give the audiobook a try!
Bonus PDF:
The audiobook I had of Room included a disc with a bonus PDF. The PDF is 'Jack's drawings' of Room. It gives you a perspective of how tiny the room that Jack and Ma lived in for his whole life and her for seven years. I am definitely looking forward to watching the movie now to see how it is interpreted onto the screen!
**If you do get the audiobook on cd, there are nine discs. I thought the ninth disc was just a bonus disc and I wondered why the book stopped suddenly at the end of the eighth disc. It was not over. The ninth disc does have more of the book on it. I'm guessing I didn't realize this three years ago when I listened to it the first time.
Room on audiobook is 100% recommended!
[Top]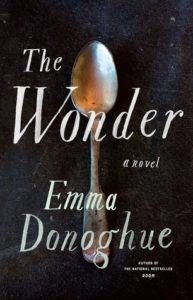 Author: Emma Donoghue
AUDIOBOOK
Published: September 20, 2016
Dates Read: October 10-24, 2016
My Rating: 4 stars for the novel, audiobook version receives 2 stars
Book Summary from Amazon:
In the latest masterpiece by Emma Donoghue, bestselling author of Room, an English nurse brought to a small Irish village to observe what appears to be a miracle-a girl said to have survived without food for months-soon finds herself fighting to save the child's life.
Tourists flock to the cabin of eleven-year-old Anna O'Donnell, who believes herself to be living off manna from heaven, and a journalist is sent to cover the sensation. Lib Wright, a veteran of Florence Nightingale's Crimean campaign, is hired to keep watch over the girl.
Written with all the propulsive tension that made Room a huge bestseller, THE WONDER works beautifully on many levels–a tale of two strangers who transform each others lives, a powerful psychological thriller, and a story of love pitted against evil.
My Review:
I enjoyed The Wonder. It is slow to start, but once it gets going I had to know what was going to happen!
English nurse Lib is brought the Ireland to watch 11 year old Anna O'Donnell. She is believed to not have eaten anything since her eleventh birthday, which was four months ago. Word has gotten out about Anna and people are traveling from everywhere to see or meet "The Wonder". Anna believes she is surviving on manna from Heaven and has no need to eat. Lib is a skeptic. Is Anna actually not eating or is food being sent to her secretly to eat in private? That is Lib's job: To not leave Anna alone for a moment to discover the truth.
There is an answer to this question, and once we have the answer, there is still more book to read! It becomes more than what the answer is as Lib tries to save Anna's life.
This book is very well written. Well done Emma Donoghue! You can sense the tension between Lib, Anna's family, and doctor. The book takes place in the year 1859 and much of the tension is that of the Irish vs English. You also see the honest faith of a child that Anna has, but is it misguided? You must read the book to find out! There is definitely more to this novel than you think going into it.
Audiobook Review:
I listened to the audiobook version of The Wonder. I don't usually write a review for the audiobook, but I feel I need to in this case. The narrator is Kate Lock. I had difficulty understanding some of the characters as the Irish accents were too strong for me. There were times when the mother was yelling- and I could not understand what was said. Also, at times I could not understand Anna. Lib is the main character in the novel, I had no problems understanding her. There were other characters where I had this problem as well.
I know with this difficulty that I missed some of what happened in the novel, so I can not recommend the audio version. If you choose to read The Wonder, stay away from the audio version and read the book.
The Wonder is recommended!
[Top]