Today is a double review!!! Kim and I both enjoy doing these. Everyone experiences life differently, and therefore has different reading experiences with books. That is why I enjoy reviewing so much: There are so many different opinions and with My Best Friend's Exorcism we get that. Kim and I have totally different reviews and thoughts of the novel. We both listened to the audiobook and one of us enjoyed it and one of us not so much….
Kim's Rating: 5 Stars
Jessica's Rating: 3 Stars
Published: May 17, 2016
Audiobook
Description from Amazon:
A heartwarming story of friendship and demonic possession. The year is 1988. High school sophomores Abby and Gretchen have been best friends since fourth grade. But after an evening of skinny-dipping goes disastrously wrong, Gretchen begins to act…different. She's moody. She's irritable. And bizarre incidents keep happening whenever she's nearby. Abby's investigation leads her to some startling discoveries—and by the time their story reaches its terrifying conclusion, the fate of Abby and Gretchen will be determined by a single question: Is their friendship powerful enough to beat the devil? Like an unholy hybrid of Beaches and The Exorcist, My Best Friend's Exorcism blends teen angst, adolescent drama, unspeakable horrors, and a mix of '80s pop songs into a pulse-pounding supernatural thriller.
---
Kim's Review: 
I listened to this book on audio, but I did read the physical book last year as well. This one is a bit more difficult to review because I'm kinda shallow when it comes to getting those subtle little things that songs and books try to convey. But after reading this book a second time, I do have a theory. I think this book is simply about the drama of high school. Yes, there is an actual exorcism and demon possession but I'm pretty sure it's all supposed to be a metaphor. It's hyperbole . . . boom, obscure literary term!
Abby and Gretchen have been friends forever. Inseparable since 4th grade and Abby's birthday party where only Gretchen showed up. They had grown up together, at least as far as their sophomore year of high school. And then, everything changed. As one of the unpopular kids, I completely relate to a lot of the things happening in this story. To be on the fringes of high school hierarchy. At least, I never even entered the popular group, so I didn't know what I was missing. But Abby and Gretchen were some of the most popular girls in their grade. I can only imagine the things that Abby feels when everything changes. A lot of it is typical high school girl stuff, but stretched to the fantastic and unbelievable. Anorexia, crushes on teachers, infidelity, friendship. All such big deals to teenagers and all dealt with here.
And though there is an exorcism of a demon, this wasn't meant to be a Christian book and I don't think Hendrix was trying to pass judgement on religion. Like I said, this is more metaphorical than realism. Aside from the language and soft sexual themes, I would actually recommend this to older teenagers. If nothing else, then to show that sometimes friendships last past high school, but most times they don't, and that's ok.
Jessica's Review:
Dates Listened: October 26-November 3, 2017
I had wanted to read My Best Friend's Exorcism for a little while and I got the chance to listen to the audiobook at Halloween time! For me that was perfect since it deals with an exorcism. It is labeled as horror, fiction, and young adult.  My Best Friend's Exorcism is not really horror though there are some scenes that are not for the squeamish.  Technically also a YA novel as the main characters are teenagers, this book will not be for younger teens.  There are adult situations and the language was extreme for me. Language does not tend to bother me unless it is extreme, and I got tired of hearing the F-word. I don't think I have read or watched anything with that much language since the movie Goodwill Hunting. I actually debated on stopping it because of the language, but the novel is well written and I wanted to get to the exorcism, so I continued on.
My Best Friend's Exorcism is all about Abby and Gretchen's long term friendship.  They have been best friends since they were children and bonded over E.T.  I was born in 1980 and this story takes place in the 1980s so I really enjoyed the references to everything from the music to E.T., and even VHS tapes!  There are so many kids now that will not know what some of these various media and 'relics from the past' are!
Then one night something happens to Gretchen and she begins to change.  Everything changes for Abby as well.  A lot of what happens is cliquish in that high school way that things are.  I did like that the novels shows how relationships can last or fall apart after high school.  This is true on so many levels. I have one friend I still keep in touch with that I have known since sixth grade. She has become like another sister.  She has moved to another state due to her husband's job and I miss her so much! She will be that lifelong friend that some of us are very lucky to have. I love you Jennie!
I was anticipating the exorcism and for the most part it delivered.  The narrator portrayed the demon's voice very well. It actually got me in the mood to watch The Exorcist.  Or maybe I'll listen to the audiobook… Or maybe I'll do both… But will reading The Exorcist give me nightmares????
**SPOILER:The one thing with the exorcism that I don't agree with was that the exorcist did not defeat the demon, Abby did.  For me that was saying that the girls' friendship is stronger than God. I can't agree with that. I did see the point that the author was making, which is the girl's friendship, I just can't agree with this direction.  END SPOILER**
Overall, I can't recommend My Best Friend's Exorcism as the language was too much for me. I gave it three stars since it was well written and again, I loved all the 80's references.
---
For you 'children of the 80's,' there is a second cover and I think you will like it!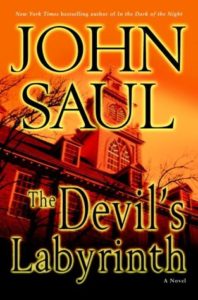 Author: John Saul
AUDIOBOOK
Published: July 17, 2007
Dates Read: June 25- July 8, 2016
My Rating: 1 Star
Book Summary from Amazon:
After his father's untimely death sends fifteen-year-old Ryan McIntyre into an emotional tailspin, his mother enrolls him in St. Isaac's Catholic boarding school, hoping the venerable institution with a reputation for transforming wayward teens can work its magic on her son. But troubles are not unknown even at St. Isaac, where Ryan arrives to find the school awash in news of one student's violent death, another's mysterious disappearance, and growing incidents of disturbing behavior within the hallowed halls.
Things begin to change when Father Sebastian joins the faculty. Armed with unprecedented knowledge and uncanny skills acquired through years of secret study, the young priest has been dispatched on an extraordinary and controversial mission: to prove the power of one of the Church's most arcane sacred rituals, exorcism. Willing or not, St. Isaac's most troubled students will be pawns in Father Sebastian's one-man war against evil–a war so surprisingly effective that the pope himself takes notice of the seemingly miraculous events unfolding an ocean away.
But Ryan, drawn ever more deeply into Father Sebastian's ministrations, sees–and knows–otherwise. As he witnesses with mounting dread the transformations of his fellow pupils, his certainty grows that forces of darkness, not divinity, are at work. Evil is not being cast out . . . something else is being called forth. Something that hasn't stirred since the Inquisition's reign of terror. Something nurtured through the ages to do its vengeful masters' unholy bidding. Something whose hour has finally come to bring hell unto earth.
---
My review:
I listened to the audio book version of The Devil's Labyrinth by John Saul. I purchased it for $3.00 at my local used bookstore. You can't really beat a $3.00 audiobook! The description of the book intrigued me. Exorcisms, but instead of driving out evil, evil is summoned!?!?!?
I did not really like the narrator's voice, but I was able to get over that. The voice was hard to hear at times in my car. I have hearing issues. But his voice was also deep. It could have also been my car stereo as I listened to one disc in the house and did not have as many issues with hearing the disc. At times I had to rewind a track to listen again to what the narrator said.
The beginning of the book pulled me in with the two boys and the lizard. I did like the way the author brought that together towards the end of the book. I liked Ryan's character. Overall, I was going to give the book three stars (3 stars is that the book is good- nothing particularity bad about it) UNTIL the end. I knew there were 99 tracks on each disc and it was on track 90 on the last disc and knew there was no way for the book to finish everything that had to be done. The book in fact was getting really good as it was reaching the climax….. and then it just stopped. Nothing….. No ending… No closure…. Really?!?!? I backed the tracks up several times to make sure I heard what I heard. When I say no closure I am not exaggerating. We don't know if the villain is going to get caught or get away. What is going to happen to the Pope? What's going to happen to Ryan and the other kids at St. Isaac's? WHERE IS THE ENDING!?!?!? This sudden stop point ruined what was otherwise a good book for me.
The audiobook has a "bonus disc" which is an interview with John Saul. I was hoping there was something in that interview that gave some understanding to this sudden ending. There was not. Whenever the narrator asked a question to Saul he was very coy and basically saying read the book to find out. Or that he didn't want to give anything away. Ummm… This was disc 9 – so the interview came AFTER you finish the book. At least give me something!!!
I can not recommend this book at all. Stay away from it. Now, I would be willing to read or listen to another of his books in the future. But if he did the same with that book (whatever it may possibly be) as The Devil's Labyrinth, I would not read a third by him.
[Top]