Today is September 1st:
This is the day that students come to King's Cross station, slip through the barrier to Platform 9 ¾, and board the Hogwarts Express. At Hogwarts, the first years will be sorted into their houses, after listening to the Sorting Hat's newest poetic creation, of course. After a speech from the headmaster, Professor Dumbledore, the feast in the Great Hall marks the beginning of another term! Welcome to Hogwarts and have an awesome school year!
---
As you all know, Kim is a HUGE Harry Potter fan, so today is all about Harry Potter at Jessica's Reading Room. Kim does a video review of the Harry Potter series (and more!), the link will be shared to her post about Harry Potter World at Universal, AND we have a video of Kim's wand experience! 
Kim's visit to Harry Potter World at Universal is here.
---
Kim's Ollivander's Wand Experience:
My wand experience at Ollivander's in Diagon Alley is easily one of my favorites while at Universal in Orlando. The first time we went to Universal, we had to cover the whole park in less time, so I missed some things. Going back, we had more time to just explore, and that's how we found Ollivander's. Ivan had promised me a wand ever since we decided to go back for Halloween Horror Nights, so I was shaking with excitement. As we walked up to the store, the park employee asked if we had been through the wand experience yet. We just looked at each other questioningly, and he smiled and directed us to another door. We walked in and found ourselves in a room lined with wands in every nook and cranny. A wandmaker walked down the stairs and over to me and asked if I was here for my wand. I said yes and so began the process of letting my wand choose me! I can tell you that it is just as magical as you can imagine! My wand is made of vine and has the core of a phoenix tale. Thankfully, Ivan caught it all on video, so y'all can see it all happen yourselves! Remember, the wand chooses the wizard!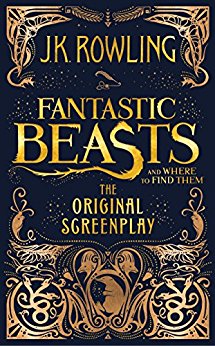 Author: J.K. Rowling
304 pages
Published: November 18, 2016
Reviewed By: Kim
Kim's Rating: 4 Stars
Description from Amazon:
J.K. Rowling's screenwriting debut is captured in this edition of the Fantastic Beasts and Where to Find Them screenplay.
When Magizoologist Newt Scamander arrives in New York, he intends his stay to be just a brief stopover. However, when his magical case is misplaced and some of Newt's fantastic beasts escape, it spells trouble for everyone…
Inspired by the original Hogwarts textbook by Newt Scamander, Fantastic Beasts and Where to Find Them: The Original Screenplay marks the screenwriting debut of J.K. Rowling, author of the beloved and internationally bestselling Harry Potter books. A feat of imagination and showcasing a cast of remarkable characters and magical creatures, this is epic adventure-packed storytelling at its very best. Whether an existing fan or new to the wizarding world, this is a perfect addition to any film lover or reader's bookshelf.
The film Fantastic Beasts and Where to Find Them received its theatrical release on 18th November 2016.
Kim's Review:
No more scripts for Kim! Seriously, the only thing keeping me from giving this book 5 stars is the fact that it's not a book, it's a screenplay. And it drove me nuts! The story was awesome, the characters where fun, the creatures were imaginative, and the artwork was beautiful . . . the format was horrible. Ok, I'm done. I did love the story. It was easy to get into and had all the wonder that belongs in the wizarding world. It wasn't on the scale that Harry Potter was, but I don't think it was meant to be. It was a great addition to the saga. My favorite character is Jacob Kowalski. Without him, this book would have been lacking all humor and realism . . . as real as a book about magic can be. And he's a baker; I love baking. Newt, Tina, and Queenie were also pretty cool! I'd like to petition J.K. Rowling to write a historical book about the Dumbledores. Or a Wizards' History. I just want to learn more. I'm a historian, so that book that Rita Skeeter wrote about the Dumbledore family fascinated me! And The Half-Blood Prince was my favorite book in the whole series because of all the history that Harry and Dumbledore saw in the Pensive. Fantastic Beasts makes me want those history books even more! If you haven't read the Harry Potter series, then you probably won't get this book. But to everyone who has read Harry Potter, then read this book, it's great!
[Top]